Sure, your Mac can produce some sweet sounds. (And we've dug up the audio accessories to prove it.) But you can find Mac software and gadgets that do more than expand your musical enjoyment—you can also use them to broaden your mind. That's why this installment of the Macworld Goody Bag profiles more than just four cool iPod accessories—we've also got the scoop on software programs, hardware devices, and online destinations that will boost your brain power.
A Better Remote
$50; Ten Technology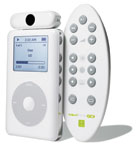 Most iPod remotes let you play, pause, skip, and adjust the iPod's volume. Ten Technology's naviPro eX is the first to let you navigate playlists, albums, and audiobook chapters, and to toggle repeat and shuffle modes. It also works with the iPod photo to control slide shows.— Dan Frakes
Play Dress-Up
$20 to $100; iPodJewelry
The riffraff are sporting your once überhip white earbuds. Regain your avant-garde edge with iPodJewelry. Your iPod Shuffle will go from drab to fab when you slip it into a sleeve of beads, ribbon, or yarn.— Scholle Sawyer McFarland
Homeward Bound
$399; Klipsch
There have been many just-for-iPod portable speakers, but Klipsch's new iFi is the first dockable sub-sat system for the home.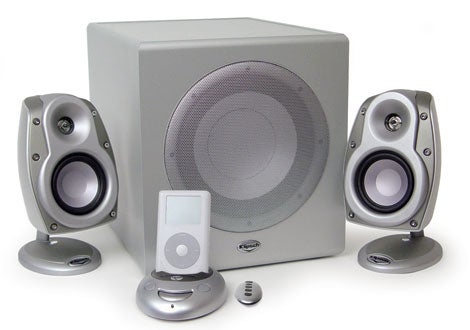 It delivers 200 watts of true stereo sound while charging your iPod, and the remote lets you control iPod playback and audio levels without leaving your couch.— Dan Frakes
Form and Function
$50; mini version, $45; Acme Made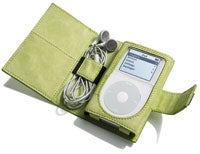 The stylish Acme Made iPod Wallet is a wonderful synthesis of form and function. Its brightly colored Italian leather exterior is attractive enough to show off in public. And the suede interior includes an elastic strap that keeps your earbuds tucked safely away when they're not in use—no more awkward attempts to separate tangled wires from everything else in your purse or backpack. There's even a small side pocket where you can stash your license or a few bills. The case accommodates second-, third-, and fourth-generation iPods, as well as the iPod photo (though the fit was a bit snug). The company also sells a version for the iPod mini.— Kelly Lunsford
Educate and Advocate
Here's a pair of programs, a handy gadget, and some online resources to make you the envy of all well-rounded Mac users.
The Final Frontier
T-shirt, $20; baseball cap, $20; pocket-sized Bill of Rights, $10; Electronic Frontier Foundation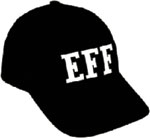 Want to support a worthwhile cause and establish your digerati bona fides? Then buy a tchotchke from the Electronic Frontier Foundation, the ACLU of the Net. From censorship to online surveillance, CALEA to WIPO, it's at the forefront in pretty much every battle of Netizen versus The Man. Of course, all that do-gooding doesn't pay the rent—so you should hit the EFF store and buy one of their T-shirts, baseball caps, or (our favorite) a pocket-sized copy of the Bill of Rights. EFF says 90 percent of every dollar you donate goes directly to fighting the good fight.— Dan Miller
Big Blue Marble
$40; Software MacKiev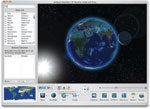 Yes, there's weather.com, the newspaper, Glucose's WeatherPop, and so on. But nowhere is there a cooler way to look at the planet than with Software MacKiev's amazing software, 3D Weather Globe & Atlas. Spin the world this way and that. Animate the clouds, the sun, and the moon. Zoom way in. Zoom way out. If you want a great way to spend a lot of time, look no further.— Tom Penberthy
Longing for Logos
The Missing Bite; RedLightRunner; Apple
Got a hankering to wear your favorite computer maker's logos on your body? Then head to the online stores The Missing Bite and RedLightRunner. Just be prepared to pay, as they collect their logo gear individually—no volume discounts from Apple. But if you're in Cupertino, California, you're in luck. Visit the Apple Company Store at 1 Infinite Loop to buy Apple-logo shirts, watches, caps, and more.— Rob Griffiths
Culture Vulture
free; The Museum of Online Museums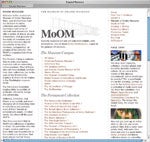 Forget the noisy groups of bored schoolchildren you endure in most museums. Instead, click your way through the Museum of Online Museums, a large online compendium of links to brick-and-mortar institutions. Exhibits range from the silly (the Gallery of Expo 58 Beer Mats) to the sublime (the Musée d'Orsay).— Terri Stone
Hobo Knows
$206; Onset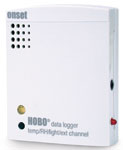 Would your basement make a decent wine cellar? What part of the yard gets the most sunlight? Where do your heating dollars go? If you're curious about your household climate conditions, the Hobo U12 Temp/RH/ Light/External Data Logger with Mac software and sensor can oblige. This gadget measures and records temperature, humidity, and light over time. Plug it into your Mac, and presto! Questions answered.— Scholle Sawyer McFarland
Note: When you purchase something after clicking links in our articles, we may earn a small commission. Read our affiliate link policy for more details.