Too cute
After years of making arcade games like Swoop, Mars Rising and Deimos Rising for Ambrosia Software, Swoop Software has struck out on its own and it's going the casual games route. The company's debut solo title is called Kitty Spangles Solitaire ( ), featuring the big-headed cartoonish likenesses of Kitty Spangles, and her friends Ferdiham the pig and Bim Bim the chimp.
Don't let the cuteness fool you, though: This game isn't easy to win, and is downright nasty when it comes to awarding you points. You'll get points for adding a card to a pile, adding four aces to the piles, and winning, but you'll also lose points if you double-click a card that can't be moved onto a pile, restock your deck, undo a move, or remove a card from a pile — so make sure you know what you're doing.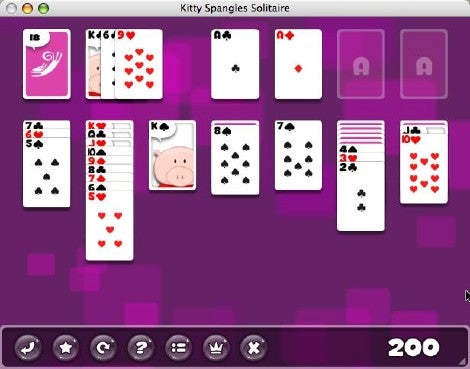 Kitty Spangles Solitaire features a remarkably simple to use interface comprising a selection of buttons at the bottom of the screen. You can deal a newly shuffled deck, restart your current deck, access on-screen help and view high scores. Options are limited to changing volume and choosing from one of more than a dozen and a half "themes" which modify the color of the deck and of the background (the background slowly animates color-coordinated patterns). You can't actually change the look or design of the cards, however — just the color of their backs.
The game has perfunctory sound effects like deck shuffle and card movement sounds, and occasionally rewards you with a little ditty if you accomplish a task like exposing all four aces or winning a game. Beyond that, however, there are few of the accouterments I'm used to in solitaire games, like being able to access my iTunes playlist (though nothing stopped me from firing up iTunes and playing some music myself) or Internet high score charts. And, frankly, Klondike solitaire gets boring fast. I'd like to see some other variations, like Pyramid or Spider.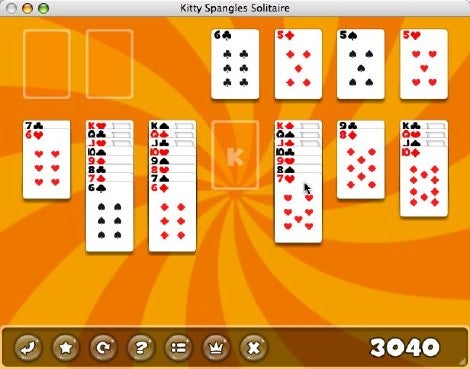 There is one really nice embellishment in Kitty Spangles Solitaire I'd love to see added to other card games: A resizeable screen. You can let the game take up your whole desktop or shrink it down to postage-stamp size if you'd like to keep Kitty Spangles Solitaire running while you're doing other things. The cards and game screen scale perfectly regardless of the size — it's really nice.
Swoop says that Kitty Spangles Solitaire is the first in a new line of casual games the company has planned featuring Kitty Spangles and her friends. It'll be interesting to see what becomes of the adorable cartoon characters.
Bottom line: If you're looking for a lot of variation in your solitaire play, you're probably better off another solitaire choice. But what Kitty Spangles Solitaire lacks in variation it makes up for in sheer adorability.