Men in Tights
Almost anyone with even a passing knowledge of British folklore is bound to be familiar with the legend of Robin Hood — the noble turned rogue who took from the rich and gave to the poor as he and his band of Merry Men hid out in Sherwood Forest. Now it's your turn to don the tights and the cap made famous over the years by everyone in Hollywood from Douglas Fairbanks Jr. to Cary Elwes in Robin Hood: The Legend of Sherwood, ( ) brought to North American gamers by Freeverse.
You start out this game playing as none other than Robin Hood himself, as you gather together your band of Merry Men. If you've read the legend or seen the films, you'll be familiar with the basic plot: Robin and his cohorts must find a way to defeat the Sheriff of Nottingham and the corrupt Prince John Lackland, who conspire to keep King Richard the Lionheart away from the throne.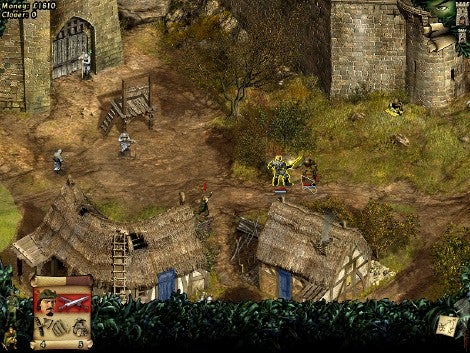 Over the course of the first couple of missions you learn the game's basic play mechanics, and once you've assembled your band, you can actually play as different characters. All game controls are handled through on-screen interfaces like menus and buttons, and are pretty easy to learn.
The Legend of Sherwood is a squad-based real time strategy game, rendered from an isometric perspective in 2D. Robin Hood: The Legend of Sherwood uses a more simple graphics engine than many of the sophisticated 3D games out there, which helps keep its system requirements remarkably low (a G3/300MHz system, 128MB and 8MB VRAM are all you need to play). Despite the relatively primitive graphics, this game is quite fun to play if you're fond of the genre.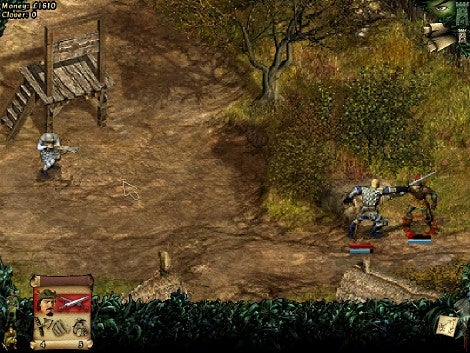 That playability across a wide variety of Macs does have a downside, though: the graphics don't look all that great when you "zoom" in — after all, these are 2D graphics, even if they're given a faux 3D look. Multiple screen resolutions are supported. Still, for a 2D game, Robin Hood: The Legend of Sherwood has gameplay that holds up quite well, and its interstitial sequences look quite pretty. Voice acting and music are of acceptable quality, but the rapid recycling of the dialogue makes you run for the options menu immediately.
Each new sequence of missions rolls out before you non-linearly. The decisions you make affect how the game turns out, in other words. Over the courses of single missions you may have to combine stealth with brute force, and figure out how best to use your environment and your resources.
It's simple enough to beat some guards over their head that have their backs turned to you, for example, but it might be wise to make your merry men create a distraction that will bring a large group of guards away from an area you're targeting. Or you may have to coordinate a raid. You may need to ambush some soldiers, or set a prisoner free. You'll need to stay fast on your feet and adjust your gameplay with what's happening.
There are dozens of missions to keep you busy. That's good as Robin Hood: The Legend of Sherwood has no multiplayer mode, nor does it have any sort of support for one-on-one skirmish action against the computer as some other strategy games do, so once you've played through, you've probably played as much as you'll want to, unless you want to start over at the beginning and play through a different way.
You'll find a demo available for download from Freeverse Software's Web site; I'd definitely recommend checking this game out if you're a strategy game fan.
Bottom line: Though it might not hold a visual candle to more sophisticated fare and is lacking in the replay department, Robin Hood: The Legend of Sherwood will appeal to users of older Macs looking for some fun strategy gaming.
For more games news and info, visit Macworld's Games Subject Page.