Here's the lineup of apps our distinguished panel of experts fire up every day on their own machines:
Rob Griffiths
Butler As a launcher, Peter Maurer's Butler is similar to both LaunchBar and QuickSilver. Just press control-spacebar and start typing the name of an application, folder, Web shortcut, or file—Butler shows you the matches as you type. Press return to launch the selected item. But Butler does much more than that. It can also control iTunes and enable Fast User Switching without taking up space on the menu bar, and it supports simple but useful macros and multiple clipboard items. Butler isn't the friendliest application around—its user interface takes work to master. But once you've done so, it's a hard tool to live without ($18).
MenuMeters To keep an eye on my system's innards without opening and closing something like Activity Monitor, I use MenuMeters, from Raging Menace. Its space-efficient graphics on the menu bar let me keep an eye on CPU usage, disk activity, memory utilization, and network activity, and each module can be individually enabled, disabled, and customized. CPU-hogging processes become obvious, excess disk activity is easy to spot, and I can monitor upload and download speeds—all with nothing more than a glance at the menu bar (free, donations accepted).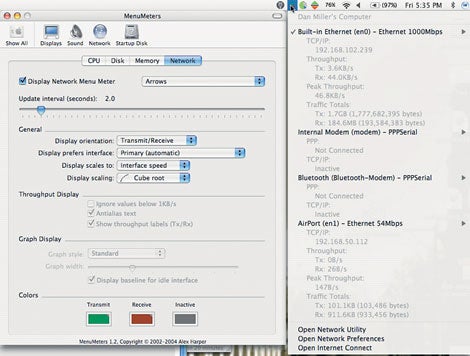 System spy : MenuMeters puts a small, at-a-glance system status report in your menu bar. (Click image to open full screenshot)
Print Window Sometimes I need to know—or show someone else—what's in a folder on my system. But OS X doesn't make it easy. There's no File: Print Window command, and while I could drag and drop a Finder window onto a printer in the Printer Setup Utility, the output isn't pretty. But when I drag and drop that same Finder window onto the dock icon of SearchWare Solutions' Print Window application, I can specify what I want printed, how I want it sorted, whether I want icons included, and whether I want to include and expand any subfolders. The Advanced, for-fee version adds even more control to the process ($15 ,free version available).
Jeffery Battersby
WireTap Pro I admit it, I have a weakness: I'm a radio junkie, the kind of guy who will sit in his car until a program is over rather than turning off the radio and going in to work. Unfortunately, sitting in the car for hours isn't exactly productive. So I use WireTap Pro ($19), from Ambrosia Software. Like TiVo for the Web, this little app can record my favorite audio streams. It'll record audio on schedule and, once the recording is done, save the results in one of several audio formats. It can even save the audio into an iTunes playlist.
Keyboard Maestro Call me a heretic, but I think OS X's Command-tab application switcher stinks. It's poorly designed, poorly implemented, and ugly as sin. My favorite program-switching app? Stairways Software's Keyboard Maestro ($20). With a simple, user-customizable interface, it lets me switch among open apps and windows, launch or close applications, and kick off time-saving macros.
iSeek Google, Froogle, Dictionary.com, the weather in Maine: No matter what kind of Web search I need to do, Ambrosia Software's iSeek lets me run it and grab the information from a single search field in my menu bar. If I want to run any other searches—say, first-edition books at BookFinder.com—I can create my own iSeek search modules or download any of dozens more from Ambrosia's Web site ($15).
Christopher Breen
DragThing When I configure a new Mac, the second thing I install (after the latest version of Mac OS X) is James Thomson's DragThing. With this palette-based launching utility, I can create any number of palettes that can hold anything I like—applications, documents, URLs, folders, and more. I can then assign hot keys, view the contents of folders, quit and force-quit applications, switch applications while hiding others, and move items to the Trash ($29).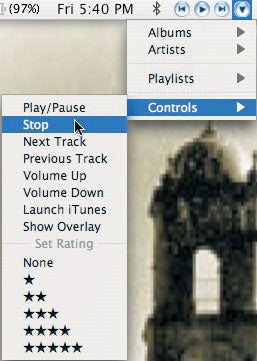 In control : You Control lets you control iTunes, as well as all sorts of system functions, from menus it places in the corners of your desktop.
You Control Much like the old Now Menus, You Software's You Control lets me pack a load of helpful utilities into menus conveniently hidden in the corners of my Mac's desktop (or invoked via a hot key). My You Control menu includes a weather module, a news reader, an iTunes controller, a calendar, a list of recent items, a list of mounted volumes (with hierarchical menus), and a list of the users I've created on my Mac ($20).
Adam C. Engst
LaunchBar You know a utility has become indispensable when the keystrokes that invoke it have become part of your muscle memory. No tool has done this for me as completely as Objective Development's LaunchBar. I press Command-spacebar; type a few characters from the name of the application, preference pane, document, Web bookmark, or contact name; and press return—and then, poof! LaunchBar opens the right thing. When I'm using another person's Mac, I find myself futilely pressing Command-spacebar, frustrated that I have to find and launch applications manually in the Finder ($20).
iKey Ever since I bought CE Software's QuicKeys back in 1988 (the first program I ever bought for my Mac), I haven't been without a macro launcher like it. Now I rely on Script Software's iKey, but my two main uses remain the same: switching among my most commonly used (and always open) applications with the function keys (F1 for Nisus Writer, F2 for OmniWeb, F3 for Eudora, and so on) and typing small bits of boilerplate text such as my snail-mail address, Web URL, and more—surely, you couldn't expect me to type
Cheers, Adam
manually at the end of every e-mail message ($30). (Disclaimer: I wrote the manual for the latest version of iKey.)
[ Contributing Editor Rob Griffiths is the author of Mac OS X Power Hound, Panther Edition (O'Reilly, 2004) and runs the Mac OS X Hints Web site. Jeffery Battersby is a network analyst at the law firm of Finkelstein & Partners in Newburgh, New York. Contributing Editor Christopher Breen is the editor in chief of Playlistmag.com and author of Secrets of the iPod and iTunes , fifth edition (Peachpit Press, 2005). Contributing Editor Adam C. Engst is the publisher of TidBits. ]
Note: When you purchase something after clicking links in our articles, we may earn a small commission. Read our affiliate link policy for more details.