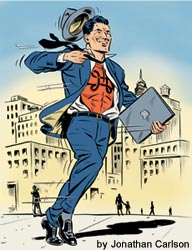 We are all creatures of habit. But sometimes those habits aren't doing us any good.
Take the way we use our Macs. All too often, we figure out a way to do something—surf the Web, handle e-mail, or any other little computing chore—and then keep doing it that way forever.
How often do we take a critical look at the way we do things, figure out a better method, and change our habits?
Well, here's a chance. We asked some of the most knowledgeable users we know to let us in on a few of the secrets that help them make the most of their time and get the most from their Macs. Specifically, we wanted to know about their computing habits—not just keystrokes and commands (though we got those, too), but comprehensive approaches to using applications efficiently.
For example, Merlin D. Mann has some advice for handling your e-mail inbox. He also explains how he uses Entourage to implement the ideas of productivity guru David Allen. Dan Frakes suggests some AppleScripts that make quicker work of e-mail chores. Kirk McElhearn offers tips on using your browser's newer features for nimbler surfing. Troubleshooting ace Ted Landau lists the first six things you should do when your Mac gets balky. And some Macworld contributors explain which utilities they couldn't work without.
None of our experts' suggestions are exactly revolutionary. While all of us could be doing these things, few of us are. But it's never too late to break a bad habit—and adopt some good ones.