Each week Playlist's Glenn Peoples looks at exclusive and featured tracks from the iTunes Music Store and other online music services. Check out these tracks for the week of April 18th.
At the top of the iTunes list this week is "Blue Orchid" by the White Stripes. The song is taken from the duo's upcoming album Get Behind Me Satan, which won't be available until June 7th.
The only fans more ravenous than White Stripes fans are definitely Star Wars fans. iTunes has something to hold them over until the final installment arrives in theaters: John Williams' "Battle Of The Heroes" from Star Wars Episode III: Revenge of the Sith. It runs 3:42 and has the kind of dramatic tension that portends a great end to the Star Wars saga.
Coldplay fans are pretty rabid, too. They'll be thrilled that the band has made available their new single "Speed of Sound." It's at all the online stores and, a day after its release, is already #1 in the iTunes Music Store. Fans will also be thrilled that the golden Coldplay formula hasn't been altered in any way. It has familiar notes on a piano, Chris Martin's lovable voice and the kind of uplifting feel that sways shoulders. Instant hit.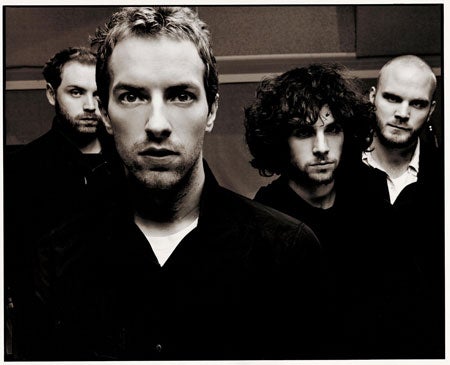 Coldplay
Prolific singer-songwriter Ryan Adams has a prerelease single at iTunes called "Let It Ride." It's from Cold Roses (out May 3rd), one of three new albums to be released this year by the alt-country hero/lightning rod. "Let It Ride" is good news for fans of his old band Whiskeytown. With slide guitar and sweet harmonies, this short and bouncy song is steeped in country roots.
Notable and available at many music stores is the Smashing Pumpkins' Rarities and B-Sides collection. It's 114 songs and $112.86 at iTunes, 99 songs at MSN Music and 114 songs at Rhapsody. The "digital box set" collects B-sides, live songs and rarities and has been a hit with Pumpkins fans.
Actor Russell Crowe has broke free from his backing band, the 30 Odd Foot of Grunts, and will soon release a solo album. iTunes has an exclusive on the song "Raewyn."
iTunes' free single of the week is a good one: The Kaiser Chiefs' "I Predict A Riot." The British band has been talked about in the same breath as other bands such as Bloc Party, The Bravery and Maximo Park. Yes, the buzz on these guys is pretty heavy. They've won over jaded New Yorkers with some energetic live shows, and they were a hit at this year's South By Southwest. "I Predict A Riot" was a UK Top 40 hit and was called "one of the year's catchiest singles, a Clash-style anthem about street hassles in their native northern England town" by Rolling Stone.
Rhapsody has added a bevy of Roy Orbison albums, such as Hits! Hits! Hits! (all two songs), Black & White Night , Roy Orbison 1965-1973 Vol.1 (There Is Only One Roy Orbison + The Orbison Way) and Live From Batley Variety Club- May 9, 1969 Batley, England . Also just added are a few albums by legendary krautrock band Faust, Faust and 71 Minutes Of… .
The latest boutique online music store is by celebrated German dance label Kompakt. Prices are a little high by American standards ($1.29) but for the fan that wants a digital version of a song that would normally be available only on vinyl, it's well worth it.
MSN Music has a promotion going on where you get 12 free songs when you subscribe to Rolling Stone magazine.