Dashboard has been variously described as the return of Desk Accessories, the return of HyperCard, and a rip-off of Konfabulator. But the real point is that Dashboard is supposed to make basic computing tasks easy and quick—and at that it's a success.
The concept behind Dashboard is new but straightforward: It's like an alternate Finder desktop, launched (and later hidden) by pressing F12, containing small mini-applications called widgets. These apps range from calculators, games, and weather reports, but you can also expect to see things like search tools and front-ends for more complex apps. (See "Early Favorites" below for a few of the ones I like best so far.)
Tiger ships with 14 widgets, including that aforementioned weather report (complete with cool animated graphics), world clock, stock ticker, iTunes controller, among others. Apple has also made it easy to add to those 14: Clicking on More Widgets (either from the Dock or from the Dashboard layer) takes you to Apple's Web site; once there, you'll be able to check out and download additional widgets.
Because widgets are, at their most basic level, made up of HTML, CSS, and JavaScript, plenty of third-party developers will be cranking them out, too. Prior to Tiger's release , there were already dozens of third-party widget sites (a full list can be found at my Web site, www.dori.com ).
Wherever you get your widgets, Apple's done a little behind-the-scenes magic to make them install themselves: If the site you're downloading from has done its work correctly, you should be able to click on a link in your browser and download the widget. When you see an alert warning you that your download contains an application (pictured below), click "Continue" and the widget will move itself into ~/Library/widgets/. From there, it will automatically be available the next time you're in Dashboard.
Because Apple has put Dashboard's preferences in the Exposé preference pane, it's natural to think the two have something in common. Actually, they're about as related as your Desktop picture and your screen saver—which is to say not very. That said, if you're used to the way Exposé makes application windows appear and disappear, switching to and from the Dashboard layer should quickly feel like second nature.
Once you've switched over to the Dashboard layer, click on the plus-sign-in-a-circle icon in the lower left corner to call up the Widget Bar, where you'll see an alphabetical, graphical list of all the widgets installed on your Mac.
It's easy to get carried away downloading cool widgets; I currently have to scroll through up to five bars to find the one I want. Because relaunching widgets is a multi-step process, the easiest thing to do is just leave widgets open once you've launched them. Here's another tip: When you want to close a widget, you can just hold down the option key while hovering over a widget—the close box will then appear for just that widget.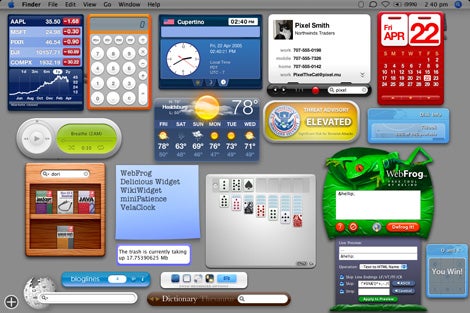 My guess is that most Mac users, who might once have thought twice about launching an additional app or heading out on the Web to look up a bit of information, will soon find themselves clicking F12 dozens of times a day.
Early Favorites
As I write this, the flood of Dashboard widgets hasn't yet hit. But I've been playing with dozens of first-generation efforts for a while now. Here are a few that I like best so far.
• Delicious Monster Library ( Delicious Monster, included with Delicious Monster Library 1.5)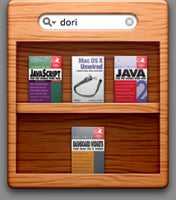 Just want to make sure quickly you don't already own a book/CD/DVD before ordering it on Amazon? If you're already using Delicious Monster Library—and you should be—this widget will do a quick lookup of whatever you enter.
• Wikiwidget ( DashboardWidgets, freeware)

Apple's including widgets that do dictionary and thesaurus lookups in Tiger. But if you ever use Wikipedia, the online, open-source encyclopedia, this widget comes in handy. Enter a search term, hit Return, and the Wiki page for your search term loads in your favorite browser.
• VelaClock ( Vela Design Group )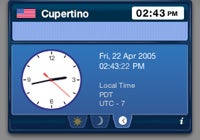 If Apple's WorldClock isn't good enough for you, check out Vela Design Group's VelaClock widget. It gives you cities around the world with not just their current time, but also moon phase, country flag, daylight duration, and more.
• miniPatience ( VanillaSoap Design )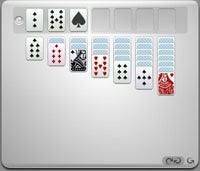 Dashboard makes it easy to hide what you're working (or not working) on. This Klondike-like solitaire game puts 52 cards in a tiny space and it's easy to swap out of it when the boss comes by. This is just one of many cool widgets from Chris O'Brien.
• Kelibo WebFrog ( Kelibo Toolsmith )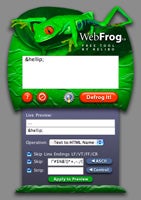 Very useful for Web developers and bloggers: Forgotten what the HTML code is for curly quotes yet again? Just paste your text in and click and WebFrog will translate it into the proper HTML coding, which you can then copy and paste. Coolest part: It'll do it backwards, too.
[ Dori Smith is author of the upcoming Dashboard Widgets for Mac OS X Tiger: Visual QuickStart Guide (Peachpit Press, 2005). ]