When Apple took the wraps off Tiger at last June's Worldwide Developer Conference, you could sum up the bulk of their planned changes to the Safari Web browser—at least those changes they felt like talking about publicly—with three letters—RSS.
That's RSS, as in Really Simple Syndication (or Rich Site Summary, or RDF Site Summary, or one of an apparently endless number of other phrases that can be "acronymed" down to RSS), a way in which Web sites can provide summaries of articles and other new content via a simple summary page, called a feed . (These feeds don't use HTML, but rather one of several RSS formats that few Web browsers can understand.) With Safari 2.0, included with OS X 10.4, Mac users no longer need a dedicated RSS client such as Ranchero Software's NetNewsWire to view these RSS feeds; instead, they can enjoy the latest feed updates right in Safari.
There's certainly more to Safari than RSS—more on that in a moment—but with Tiger now shipping, we can finally see the features Steve Jobs described last summer in all their glory. As Jobs outlined, when browsing a site that features an RSS feed—both RSS and Atom formats are supported—a blue RSS icon appears in Safari's address bar. Clicking the icon displays the feed right in your Safari window, and a simple slider control lets you adjust the size of article summaries on the fly.
But Safari's RSS-related features also include a few neat tricks that haven't been widely covered: You can bookmark a feed just like you would any other Web site; but unlike normal bookmarks, Safari automatically monitors RSS bookmarks for new content, displaying the number of new articles next to the bookmark name. And Safari's RSS Personal Clipping Service goes one step further, by allowing you to search a particular RSS feed for a specific topic and then bookmark that search —Safari will automatically watch for new articles in that feed that fit your search criteria, and notify you when such articles appear.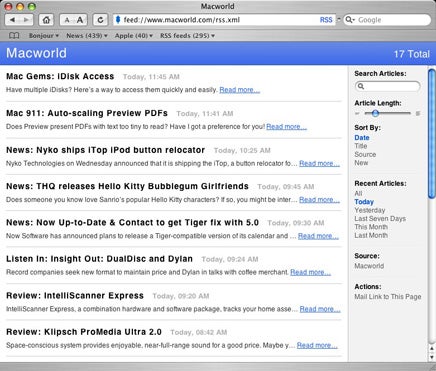 If you're already using a dedicated RSS client, will Safari's support for RSS be good enough to convince you to switch? On the one hand, I haven't seen a feature like Safari's Personal Clipping Service in any other application. On the other hand, dedicated RSS clients generally offer features that advanced users will appreciate, such as more options for browsing, searching, and viewing articles; the ability to flag and filter articles; and more powerful feed management capabilities. The good news is that you have a choice: If—like me—you'd rather read RSS feeds in your current RSS client, Safari lets you set your default RSS reader as another application; clicking on an RSS icon in the Safari address bar will display the feed in that application.
But Apple has also added many significant features to Safari unrelated to RSS. Here's a rundown of the highlights:
Improved Performance Apple says Tiger's Safari loads pages "1.8 times faster than Safari 1.2 on Panther" and that it's the fastest browser on the Mac. We say it's noticeably faster than the previous version.
Saving Websites One of the most common complaints about Safari since its 2003 debut has been that you can't save a complete Web page to disk. (You could save pages as PDF files, but then you lose links and other HTML features.) As Apple indicated last June, with Safari 2.0 you can now choose to save pages as Web Archives, which preserve all page content, including images, text, and formatting. You can also e-mail these contents, or just a URL link, via simple menu commands.
Private Browsing Your browsing history, cookies, and cache files can contain information about where you've been, and even the content of those sites. Safari's new Private Browsing feature, announced by Apple last year, disables these features while browsing—great for browsing on a public computer or even for the extra-cautious at home. (However, note that Private Browsing isn't retroactive. If you've visited a site prior to enabling Private Browsing, remnants of that visit—cache files, cookies, and possibly even auto-fill values such as your name and password—may still be sitting around. So to fully benefit from Private Browsing, you'll likely want to make sure that you don't already have cookies and auto-fill data for "private" sites.)
Parental Controls If you've got tykes in the house and don't want them visiting the seedy underside of the Internet, Tiger lets you restrict Safari's reach. With this feature enabled for an account, the user can only browse to sites included in the Bookmarks Bar; to visit an unapproved site, an administrator has to add that site to the user's Bookmarks Bar.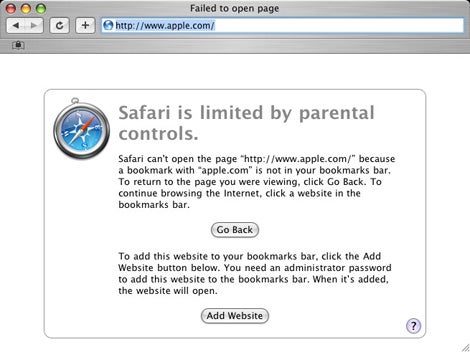 PDF Viewing You no longer need to install a third-party plug-in in order to view online PDFs in Safari. That being said, plug-ins such as Shubert|it's PDF Browser Plugin or the one installed by Adobe Acrobat Reader 7 still provide more viewing options than Safari 2.0's built-in functionality.
Bookmark Changes Safari now features a "filter" search field, just like the one found in iTunes, that lets you quickly search through your bookmarks, RSS feeds, and history—or within any single group. For example, now you can restrict your search for "iPod" to just those sites you've visited recently.
You can also easily export your Safari bookmarks to an HTML file and import HTML-formatted bookmarks—eliminating the need for third-party software to share your bookmarks between computers or with friends.
Image Tools See a great image on a Web site? Control/right-click the image and choose the new Add Image to iPhoto Library command to send it to iPhoto. Or save the image file to your Desktop via the Save Image to the Desktop command.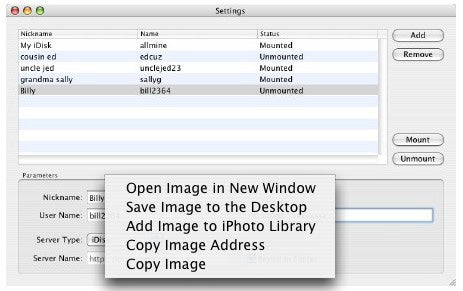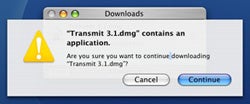 More Obvious Download Security When you download an application—or even just a disk image that contains an application—Safari asks you if you're sure you want to do this. If so, the download finishes; if not, Safari stops the download and deletes the file.
Better Text Editing In Tiger, Safari offers significantly improved text editing (for example, when typing text in a text entry box). Two of the handiest new features include undo/redo and support for standard Mac OS X keyboard shortcuts (e.g., Command-left/right moves to the beginning/end of the line). The new version also supports "contenteditable" content, which allows for WYSIWYG/RichText editing right on a Web page.
Security Certificate Details If you're ever curious about a secure site's certificate, click the lock icon at the top of the Safari window to get the complete details.
Looking at this list, it's clear that Tiger's edition of Safari is much more than just "Safari with RSS," as it was originally described last June. Over the past couple years, a good number of Mac users have migrated from Safari to browsers such as Firefox, Mozilla, OmniWeb, and Opera; by adding features users have been requesting for some time, and including other new features many people will appreciate, Apple just may bring some of these users back into the Safari fold.
[ Senior writer Dan Frakes is the author of Mac OS X Power Tools , second edition (Sybex, 2004). ]