QuickTime does more than just act as the multimedia player that lets you watch those video clips on the Internet your co-workers are always forwarding to you. When you launch a video chat using iChat AV, edit video clips in iMovie or encode audio files in iTunes, you're relying on the QuickTime architecture built into Mac OS X. So it's important to review the new features in QuickTime 7, the updated application that ships with Tiger.
Perhaps the biggest advancement in QuickTime 7 is the addition of the H.264 video codec (compressor/decompressor). Similar to how the AAC audio codec in iTunes creates better-sounding music than the MP3 codec at the same file size, H.264 offers very high-quality video at much lower bitrates than other codecs. With H.264—part of the MPEG-4 standard—you get the same quality as MPEG-2 video at one-third or one-half the data rate. What's more, you can create full-resolution HD video at roughly the same data rate as today's standard DVDs (8Mbps).
H.264 is also a scalable codec, meaning it works equally well for content for cell phones and high-definition video, and everything in between. (You'll also notice the power of H.264 in Tiger's updated version of iChat, which produces better video and allows for multi-person chats.)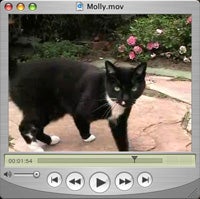 The QuickTime 7 Player also adds some nice features. Full-screen controls let you play, pause, stop, fast-forward, or rewind a movie, as well as adjust volume and scrub through a movie—all while remaining in full-screen mode; previously, you had to switch out of full-screen mode to make any adjustments.
QuickTime 7 also features live window resizing, which keeps playback smooth and continuous when you adjust the player's window—it actually stretches or compresses in front of your eyes rather than jumping from one size to the other. This addition, along with many other QuickTime 7 improvements, comes courtesy of Apple's new Core Video technology, which allows for hardware-accelerated video processing.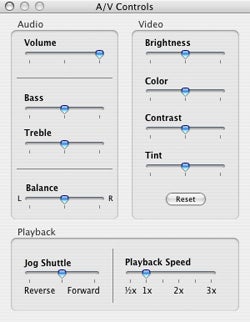 Finally, a new A/V Controls window (shown on the right) offers Jog Shuttle controls, for determining how quickly you jump forward or back through a movie's frames, and a new Playback Speed slider to slow down playback to one-half speed or quicken the pace by up to three times.
Completely new to QuickTime is the ability to quickly capture and share movies from an iSight or other FireWire-based camera. The Share command in the File menu offers several default sizes for compressing your movie to attach to e-mail messages or post to your .Mac Web site.
And while the DVD Player in Panther added multi-channel audio output for watching DVDs, QuickTime 7 is the first version to offer surround-sound through the QuickTime Player itself. That means any app built on QuickTime can take advantage of QuickTime's surround-sound capabilities. (As with past versions of QuickTime, to upgrade to the pro version, you'll need to pay $30.)
[ Jonathan Seff is the Senior News Editor at Macworld . ]