When it comes to syncing data from your Mac to your .Mac account after you've switched to Tiger, don't use iSync. In the updated OS, iSync only shuffles data between your Mac and other devices, such as your cellphone, iPod, or PDA.
Instead, if you want to sync data from your Mac to your .Mac account or to another Mac, you'll need to use the .Mac preference panel's new Sync pane (System Preferences/.Mac/Sync).
That Sync pane acts as a conduit for syncing data between your Mac and your .Mac account. Once you register other Macs with the .Mac Sync Server—for this, use the Advanced pane—you can synchronize data among them all.
In Tiger, however, Sync Services goes far beyond the Address Book, iCal, and Safari bookmark synching you get in Panther. Now you can synchronize your keychains, Mail accounts, and even Mail rules, signatures, and Smart Mailboxes, too. You can also set the preferences in the Sync pane on each of the Macs so they automatically sync with your .Mac account at regular intervals, making it simple to keep both Macs synchronized, even when you're on the road.
Of course, all this requires a $100-per-year .Mac membership since you're using your .Mac account to act as a connection to the .Mac Sync Server for shuffling data between Macs. It also requires Tiger, too; it doesn't appear that Apple will retrofit Panther to work with .Mac Sync.
Note that you can do more with .Mac Sync than just keep your own Macs synchronized. For example, I've synced my Address Book with the .Mac servers then authorized other .Mac members access to my contacts. Note that this is a degree more secure than iCal sharing—I'd hate to put my contacts in public view for anyone (spammers included) to slurp down and use.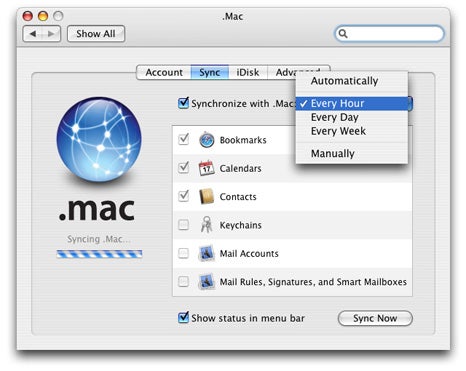 Still, Tiger misses the Holy Grail of Sync Services: synchronizing system and application preferences between multiple Macs. You can't, for example, drag your Preferences folder (Home/Library/Preferences)—or anything else for that matter—to the Sync pane. That means there's no easy way to make sure your Dock, Dashboard, Exposé, Desktop and Screen Saver behave the same way on all your Macs. Sure, you can hack your way around this. (I log in remotely via SSH and copy .plist files from one machine to the other.) But if Apple's going to let me sync my keychains, why not let me sync my system and application preferences too?
So while Tiger's synchronization is better than it was in Panther, it falls short of everything it could be. I'll let .Mac Sync handle the small stuff, but I'll keep using RsyncX from macosxlabs.org or Econ Technologies' ChronoSync for syncing preferences and files between machines.
[ Chuck Toporek is author of the Mac OS X Tiger Pocket Guide (O'Reilly, 2005) and Inside .Mac (O'Reilly, 2004). ]