Apple has long offered help to those Mac users with vision, hearing, and motor skills disabilities via Universal Access. These capabilities, built into the Mac OS, make it easier to manipulate the keyboard and mouse and see what's displayed on the Mac's monitor. With Tiger, Apple seriously steps up the scope of Universal Access' powers.
Universal Access' marquee feature is VoiceOver, a scheme that will read any onscreen text, in any application, with OS X's built-in Speech voices. That includes Web pages, e-mail messages, and other documents. In addition to reading text, VoiceOver can be configured to display the currently selected text in a window that contains large text, thus providing both aural and enhanced-visual feedback.
VoiceOver can be completely keyboard controlled. From the keyboard you can not only switch it on and off and control how text is read—by character, word, or paragraph, for example. But you can interact with onscreen elements such as menus, scroll bars, and checkboxes with the keyboard—no mouse required. In addition, VoiceOver allows you to alter the pitch, speed, and volume of each voice.
Because VoiceOver is built into Tiger, Apple believes its spoken-word application has an advantage over third-party screen readers—it should work seamlessly with OS X 10.4 the moment users press Command-F5 to activate VoiceOver. Indeed, VoiceOver already is supported by Mail, Safari, Preview, and Terminal. And it works with familiar key commands like Command-S for Save and Command-C for Copy.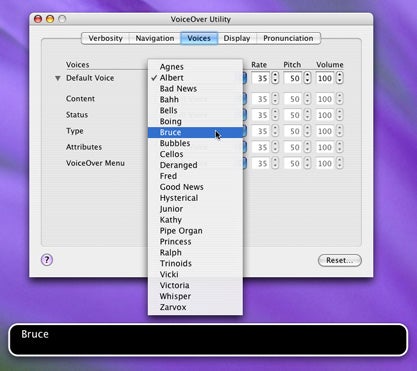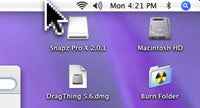 VoiceOver may be the most notable addition to OS X's accessibility features, but it's hardly the only one. In addition to its existing ability to magnify the Mac's screen to make it easier to read, the Mouse tab of Universal Access now offers a feature long-sought by those with vision impairment—a slider to make the cursor larger (shown at the largest of its 12 available sizes on the right).
[ EDITOR'S NOTE : This story has been updated to remove a paragraph that misidentified Tiger's ability to display the screen in grayscale as a new feature. ]