As Tiger arrives on retail shelves across the country, Mac users appear to be eagerly awaiting the OS X update, according to a survey of the Macworld Reader Panel. The majority of the 1,894 Macworld readers participating in the survey indicated that they are very likely to buy the Tiger update, with roughly half planning to purchase it within the next two months.
In another encouraging sign for Apple, the panel's attitude toward OS X 10.4 has become more favorable since a similar poll was conducted last July following the first public unveiling of Tiger at last year's Worldwide Developer Conference.
The latest survey, conducted between April 25 and April 28, 2005 by market-research firm Karlin Associates, found that 61 percent of respondents have already pre-ordered or plan to buy Tiger in the next three months. Another 22 percent described themselves as somewhat likely to buy Tiger, while 10 percent said they were somewhat unlikely. Only 7 percent described themselves a very unlikely to purchase the OS X update in the coming months.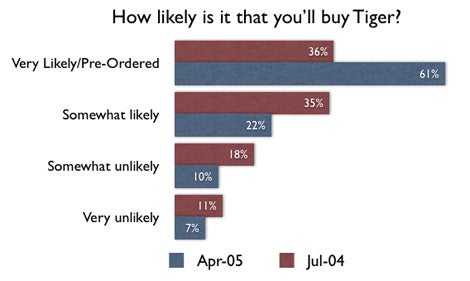 The percentage of early adapters has jumped since last year. Back then, only 36 percent of the readers we surveyed said they were very likely to buy Tiger; 29 percent said they were somewhat or very unlikely to buy the OS update.
Among the 1,046 respondents in the most recent survey who said they were likely to buy Tiger, 38 percent said they would purchase it within a month, with 13 percent planning to buy it in the next week. Twenty-two percent see themselves buying it one to two months from now while 26 percent plan to buy in two to three months.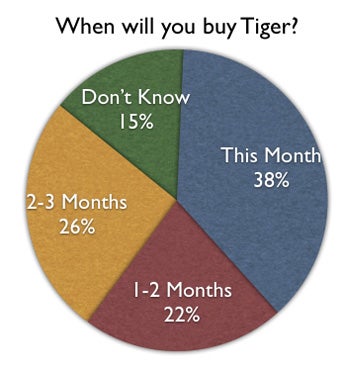 "Tiger doesn't seem to be as groundbreaking as previous OS X [updates]," said one respondent, who nevertheless plans to upgrade to OS X 10.4 immediately. "But that is a testament to how great Apple has made the previous versions."
Tiger's release "puts more pressure on me to upgrade from my [Power Mac] G4 to a G5 computer," another participant said.
Readers adopting a more wait-and-see approach cited Tiger's $129 price tag, questions about third-party software compatibility, and concerns about the ease of upgrading. "I prefer to let the manufacturer work out the kinks after a release of something, especially when it involves 200 new features," one respondent said.
Survey participants feel positively toward Tiger, with 71 percent expressing a favorable impression. That's up from 52 percent in last July's survey. The number of respondents who said they had no opinion on Tiger fell from 40 percent last year to 23 percent now; the number of negative responses to OS X 10.4 also dipped from 8 percent to 6 percent.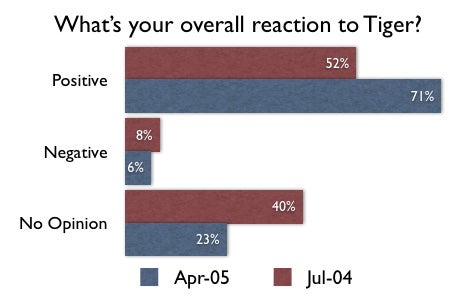 Macworld Reader Panel participants agree that their impressions of Tiger have become more positive. Nearly half — 45 percent — of those surveyed say they have a more favorable opinion of Tiger since its June 2004 unveiling. Only 2 percent have a less favorable opinion, while 40 percent say their attitude about the OS X update has stayed the same.
Spotlight remains the most popular feature, with 29 percent of respondents calling it the most important feature in Tiger. That compares to 24 percent last July. Dashboard has also gained in popularity, with 16 percent now calling it the most important feature versus 12 percent in our first survey.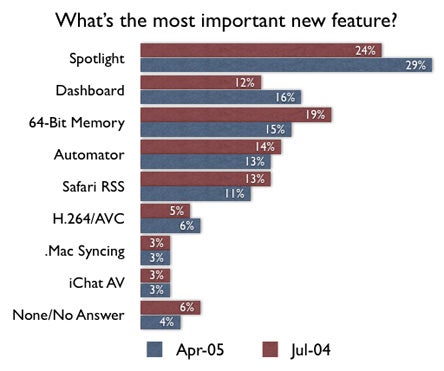 "I think I'll probably end up using Spotlight and Dashboard the most, though I'm most excited about the features that add scriptability to the OS," a respondent said. "Spotlight and Dashboard are great apps," another agreed, "but Tiger is making leaps under the hood."
Still, not every respondent was impressed with the changes. "It seems like they've optimized the underpinnings for G5s, added Core Video for G4s, and some little trinkets to appeal to older G3 owners," one participant said. "It's way over-hyped."