At a Glance
Expert's Rating
Pros
4 USB 2.0 ports for the price of Apple's single-port iPod shuffle dock
Our Verdict
When we reviewed Apple's own iPod shuffle accessories, my colleague Christopher Breen was justifiably harsh on Apple's iPod shuffle Dock. It's an attractive accessory that makes it easy to "dock" your iPod shuffle for charging/syncing, but since it's really just a glorified USB extension cord, the $29 price tag seems quite high—you can get a basic extension cable for a few bucks (or for free with many USB keyboards). By comparison, Belkin's $30—and poorly named (at least for iPod shuffle users, who might not think to check it out unless someone points them to it)—Hi-Speed USB 2.0 4-Port Hub is a bargain.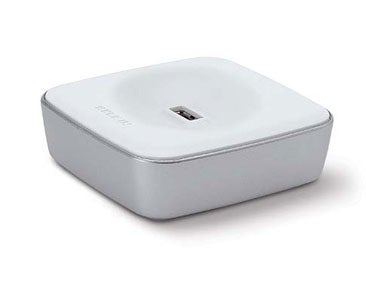 About the size of a large Klondike bar (3.25" square x 1" high), the silver and white Hub is exactly what its name describes: a four-port, USB 2.0 hub. An included AC adapter provides power to all four ports (you can connect up to two devices without the adapter, though you can't charge a shuffle without it), and an included USB Type A-to-Type B cable connects the hub to any free USB port on your computer. But what makes the Belkin hub unique is that it's clearly designed as an iPod shuffle accessory: Although three of the USB ports are on located on the back of the hub, the fourth is positioned right smack in the center of the top, thus making it a handy "dock" for the shuffle.
The gloss white top of the Belkin Hub doesn't match the iPod shuffle perfectly, and the bottom doesn't have a non-slip base like Apple's own shuffle Dock, but for basically the same price as Apple's accessory, you get a "dock" as well as as three additional USB 2.0 ports—and the entire package requires only a slightly larger footprint on your desk. It's an easy choice to make, in my opinion.