Is your music collection in need of an update? Have you scoured every corner of the iTunes Music Store only to be left wanting more? With the decline of broadcast radio and everyone jacked into their iPods, how is anyone supposed to discover good new bands these days? As with many modern-day dilemmas, several good solutions can be found on the Internet.
The web offers a variety of resources for those searching for new music to listen to. Websites connect fans with bands and their music. Encyclopedic online directories catalog musicians and their works. Other websites allow you to compare your favorite artists to others' favorites in order to receive personalize music recommendations.
Connecting with Fans and Bands
Fans of most any kind of music can find others with similar tastes online. Sites such as Flamenco-World, KlezmerShack, and Ukulelia cater to fans of even the most obscure genres. Common features include news, album reviews, and live performance calendars. Some sites even offer bulletin boards where you can connect directly with other fans to discuss favorites and get recommendations.
Dedicated message boards also cater to special interests. Both Yahoo! Groups and Google Groups allow users to communicate via email or web forums on a wide variety of topics. Many groups are dedicated to individual artists and various genres.
A variety of chat programs, such as IRC and Yahoo! Chat, also have forums devoted to music. The website for mIRC, one of the most popular IRC clients for the Windows operating system, offers a beginner's guide that can help get you started chatting.
Band websites and sites devoted to your local music scene are also useful resources for finding new music. Specifically, check the performance calendars to see if your favorite band is opening for anyone else or if someone is opening for them. If you like one of the acts on the bill, there's a good chance that you will like the others. Many bands also run their own mailing lists and artists often write about what they're listening to on the road as they tour.
More Music
A number of MP3 blogs have sprung up recently. These websites, regularly post MP3s to help spread the word on new and recommended artists. For a more thorough guide to MP3 blogs, check out our article MP3 blogs: Enough Free Music to Make Your Head Spin in the Winter 2005 print edition of Playlist magazine.
Once you find a blog with songs you're interested in, you will need to download them. A utility called DownThemAll! can help with this step. DownThemAll! works as an extension of the Firefox web browser to allow users to quickly download all files linked to from a particular page. DownThemAll! even allows filtering by file type, so you can quickly select and download all the songs from an MP3 blog or band page.
Online radio stations and programs present yet another resource for finding new music. Broadcasts from around the world cater to a variety of tastes. Fans of world music or local genres are likely to find programs or even entire stations dedicated to their favorites. Freeform and college radio stations are especially good for escaping a musical rut. For more information about online radio, see our recent article Finding the best of online radio.
Directories
The web also offers directories that catalog and cross-reference artists and their music. By far the most comprehensive online music directory is a site called Allmusic, which lists an overwhelming amount of information on musicians and their work. Allmusic includes artists in just about every style, with coverage extending as far back as the early 1900s.
In addition to comprehensive discographies of each artist, the site also lists similar artists, and artist influences. Artists are also cross-referenced by the style, genre, and mood of music they play. Signing up for a free account is require to access some areas of the site.
ARTISTdirect is a similar, though not nearly as thorough directory site. ARTISTdirect listings include short biographies, discographies, and a list of similar artists.
Online Retailers
Many online music retailers offer their own recommendations. In addition to the wealth of data contained in various playlists, the iTunes Music Store includes cross-referenced sections titled "Influencers" and "Contemporaries." Listings also include a section titled "Listeners also bought" to help guide you to similar offerings.
On Amazon.com, product pages include a section titled "Explore Similar Artists." Amazon also lists more personalized recommendations based on your buying habits, in a section called "Recommended for You."
Recommendation Systems
Another group of sites has sprung up solely to recommend new music using a technique called collaborative filtering to make personalized recommendations based on music tastes. By gathering your likes and dislikes and comparing them to the data collected from other users, sites such as Musicmobs, Audioscrobbler, and UpTo11.net are able to provide some of the most unique and insightful recommendations available.
An interesting feature common to several of the recommendation systems are dynamically generated maps of artist similarities. LivePlasma has some of the most information-rich of these maps. Colorful spheres represent each artist, with the size of the sphere indicating their relative popularity. Artists are grouped and connected by lines to indicate similarities.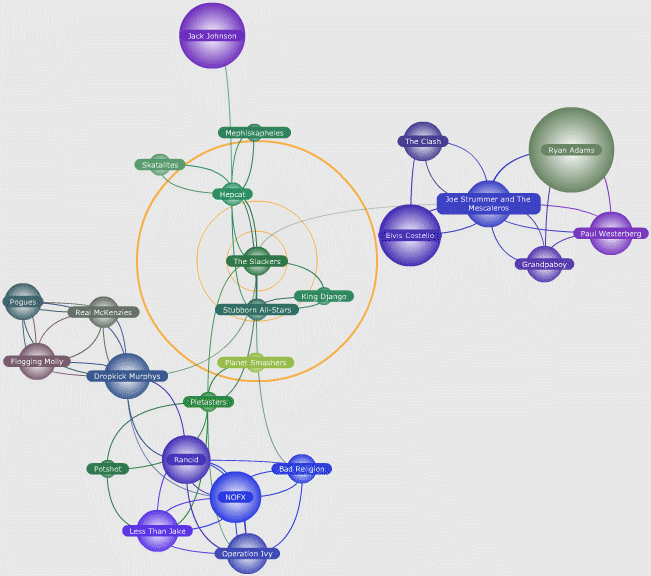 Other sites with similarity maps include Gnoosic, GenieLab, and an off-shoot of Audioscrobbler, called Audioscrobbler Browser. Clicking on different artists will reorient the map and load a new group of similar artists. Browsing these maps can give you a more thorough understanding of the similarities between specific artists.
Each recommendation site offers it's own unique set of features. GenieLab band listings include background information culled from various other websites, such as Amazon.com and Wikipedia, as well as links to MSN Music and the iTunes Music Store for buying the music you like. MusicStrands includes links to purchase songs from Amazon, Disco Web, the iTunes Music Store, and Walmart.
For more granular recommendations, both Soundflavor and MusicStrands each focus their suggestions on songs and playlists, rather than artists. Soundflavor also adds additional analysis, by digitally examining the actual sound of songs in its database.
Each of the recommendation sites also has it's own unique algorithm for determining similarities. A search for the same band will likely result in differing recommendations from each site. For instance, LivePlasma tends to group and suggest artists in closely related genres, while Gnossis seems to suggest the most obscure and least obvious recommendations.
Human Touch
As with any technological solution, don't be too quick to dismiss the human equivalent. While your friends may not share your exact musical taste, they can still be an excellent resource to tap into, especially if you want to try something far outside your normal comfort zone.
I've found many of my favorite artists by getting recommendations from my music-loving friends. Don't hesitate to ask your friends for recommendations; and perhaps most importantly, don't forget to spread the word when you find an artist that you think others will like.
Matt Vance ( www.minezone.org ) is a technology consultant, manager, and freelance writer living in Austin, Texas. He recommends checking out Fanfare Ciocarlia, The Rebirth Brass Band, and The Slackers.