Over at Engadget, Barb Dybwad offers a nice tutorial on using Mac OS X 10.4's (Tiger) Automator to automatically grab news items from the web, convert them to text, and the load them into iTunes so that you can later listen to them on your iPod. It's a great start but I'd like to embellish it a bit for other kinds of text. Rather than steal her fine work, I'll recommend that you take a gander using the link above and then come back when you finish.
I'll wait….
Still waiting….
Waiting just a little bit longer for the slower readers in the group….
All ready? Great.
Obtaining news this way is great, but there are easier ways to get the day's doings on your iPod—podcasts, for example. If I'm going to go to the trouble to automate this kind of process, I'd like to use this technique to grab material that I'd really like to listen to—namely, audiobooks.
You're probably aware that outfits like Project Gutenberg makes classic, public-domain texts available for free. There's a lot of great stuff here that you might wish to listen to. Using a variation of Ms. Dybwad's technique, you can do so. It's like this:
If you intend to grab text from the web you need to tell Automator where to find it. That takes a certain amount of rummaging. In the end you may find it easier to simply grab the text from the book you want and paste it into a TextEdit document. That allows you to remove any extraneous material that you don't want to listen to (the first couple of paragraphs of these files invariably contain copyright information that you should read but not necessarily listen to).
If you do decide to create TextEdit copies of the stories, skip the first two Safari actions in Barb's workflow and instead begin the workflow with a couple of TextEdit actions. The first will be Get Contents of TextEdit Document—this grabs the text within the frontmost TextEdit document and passes it along to the next action. That next action is Text to Audio File. As suggested by its name, this action converts the text to an AIFF audio file.
I'll interrupt the proceedings to strongly suggest that if you're going to listen to just about anything narrated by a computer's synthesized voice, you skip the voices included with the Mac OS. Even the best of them sound like someone reading with a mechanical Swedish accent. Short news items I could stand, but listening to an entire novel read by Bruce-the-Mac-Speech-Guy-Who-Sounds-Like-The-Talking-Moose would drive me to distraction. Instead, travel to Cepstral's website and listen to their voices (the new David and Diane voices, in particular). Yes, each voice costs $30, but they're quite good—good enough that you could listen to them for a couple of chapters before ripping off your headphones and stopping a passing stranger to ask directions solely so you could soak in the timbre of a real human voice.
As I mentioned earlier, the Text to Audio File action converts text to AIFF files. These are large, uncompressed files (consuming 10MB of storage per minute of stereo audio) that you may not care to pack onto your iPod. To slim them down, you'd then insert an Import Audio File action as the next step—an action that imports the audio file from the last step into iTunes and converts it to a compressed format. Regrettably, the current version of Automator appears to be impatient. A book can take several minutes to convert and this action will wait only a couple of minutes before it times out. If you've downloaded short bits of text, you should be fine, but unless someone knows a way to extend the amount of time the Import Audio File action is willing to wait, you may have to forego this step and either live with the AIFF file or stop the process here and convert the file manually in iTunes.
The next action apes Barb's step—Add Files to Playlist. Just create a playlist for your converted files and you're good to go.
To finish the job I'd add an Update iPod action. This instructs iTunes to update a connected iPod with the current contents of the iTunes Library, which now contains my converted text.
The finished flow looks like this: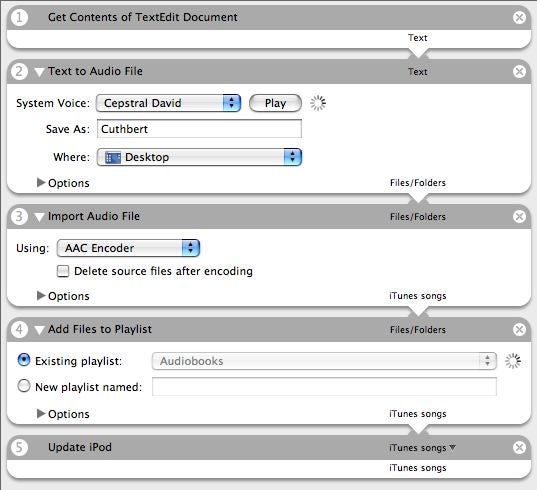 I'd like to offer my sincere thanks to Barb for coming up with the idea. If you have ways to improve on it, I'd love to hear them.