Old School Joystick Action
I'm occasionally asked to recommend a joystick that isn't overly complicated or elaborate, and the Speed-Link Competition Pro USB ( ) fits the bill. It's particularly good if you play shoot em ups or are fond of emulators that let you play classic arcade games. Finding it may be tough unless you don't mind paying overseas freight costs from a European reseller.
The Competition Pro USB is a simple design that harkens back to the joysticks that were available with the Apple II and Commodore Amiga. It rests on a slightly rectangular base equipped with four rubberized feet to help keep it in place securely on your desk. The simple stick emerges from the top like an upside-down exclamation point. Thanks to an internal architecture that uses microswitches, the Competition Pro USB makes a satisfying and tactile "click" when you move it in any direction. Four buttons grace the top – two large buttons that look they came off an arcade game console, and two smaller buttons rest on a slightly upraised base.
The '80's fashion sense of the Competition Pro USB doesn't make it very comfortable to hold in your hands while you play, though it's nice and sturdy when it sits on a desk. It has a USB cord that measures about five feet long, molded in black to complement the Competition Pro USB's base. If I could make one concession to modern controllers, though, I'd coat the stick in rubberized material to soften its feel.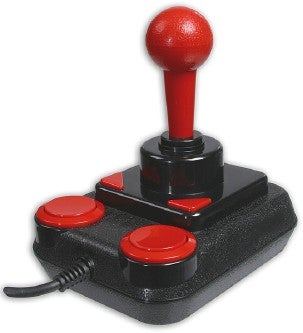 Speed-Link doesn't provide any Mac software for the Competition Pro USB, but it's recognized by games that support Mac OS X's HID Manager application. It's a digital stick, too, so you shouldn't have to mess around with calibration to get it to work effectively in your games. If you have games that don't see the stick, you can install a shareware utility like USB Overdrive, though it'll cost you more money.
There's also a "Turbo" switch on the underside of the stick. Turning this switch on simply toggles the fire buttons rapidly to save your thumbs the trouble.
If you're in Europe you can find Jöellenbeck GmbH's Competition Pro USB for 15 euros, or about $19.25. Unfortunately, a Joellenbeck rep tells me they don't have distribution in the United States, so that's probably the only place you'll be able to find it for now.
Bottom line: If playing old-school games is your bag, though, this is the stick for you.