Apple has released iTunes 4.8—an update that can be found on Apple's website, though not through Mac OS X's Software Update system preference as I write this.
In typical fashion, Apple's release notes tell us little about what the update fixes and changes—only that the new version "includes new Music Store features and support for transferring contacts and calendars from your computer to your iPod (requires Mac OS X version 10.4 on your computer)."
I've poked around a bit in the new version and here's what I've observed.
Contacts and Calendars
When you plug an iPod capable of holding contact and calendar information into a Mac running iTunes 4.8 and click the iPod preferences icon at the bottom of the iTunes window, two new tabs appear in the resulting iPod window—Contacts and Calendars. These tabs are similar to what Mac users have seen in iSync. Here you can choose to synchronize all the contacts in Apple's Address Book or just the contacts in groups that you choose. Likewise, you can synchronize all your iCal calendars or just selected calendars.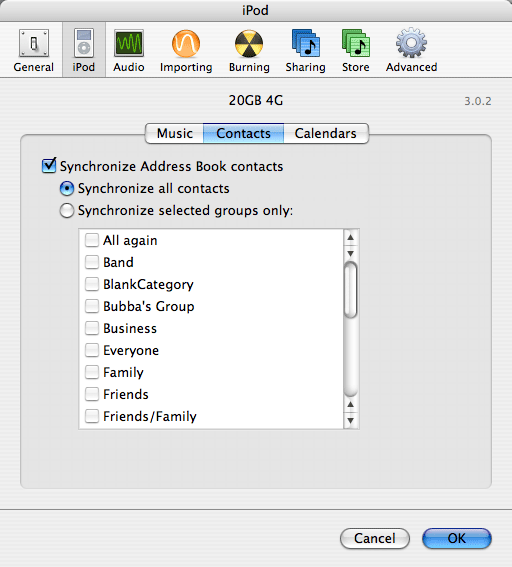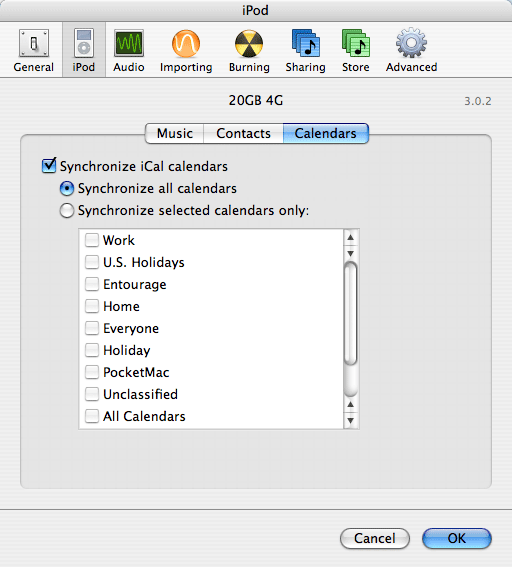 iTunes Does Video
Also at the bottom of the iTunes window is a new Show Video Full Screen button. This button hints that iTunes 4.8 plays movies, and indeed it does. These videos are available from two sources—videos on your hard drive and those sold as part of an album on iTunes. Videos on iTunes? No, not the music videos and movie trailers found at The Store. Rather, the iTunes Music Store now includes videos that are included with select albums sold by The Store. [Thanks to Playlist forum visitor mrhsean for being the first to bring this to our attention.] To see the system in action, check out the Dave Matthews Band's latest, Stand Up, and you'll discover that along with the album's music you also get a digital booklet that contains the album artwork and a video. This 5 minute 28 second MPEG-4 video weighs in at around 55MB and is of the "making of the album" variety, showing some interview clips along with scenes from the studio.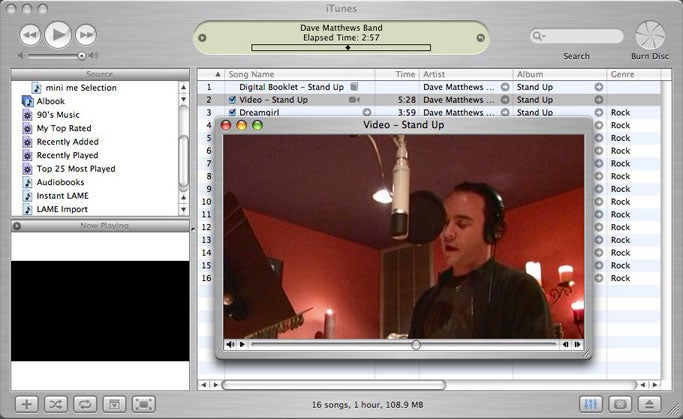 This is an interesting development for the iTunes Music Store in an age where recording companies are beginning to release DualDiscs—discs that contain music on one side and DVD video on the other. While bandwidth limitations may keep the iTunes Music Store from offering the same content as a DualDisc, it does put The Store in the video space and allows it to charge more for an album than the usual $9.99 (the Dave Matthews album costs $11.99).
As I hinted earlier, the music videos and music trailers available from the iTunes Music Store can't be played in a separate window and don't take advantage of this full screen button. If you want to view these movies you must download them (some trailers can be downloaded, other can't) and then drag them into iTunes.
The new iTunes can also play movies that you drag into it. When you drag a compatible movie file into iTunes, it appears in the Library with a movie camera icon next to it. Select the movie and press Play, and up pops a small window that displayed the movie and the Show Video Full Screen button became active. Click this button and the movie plays full screen.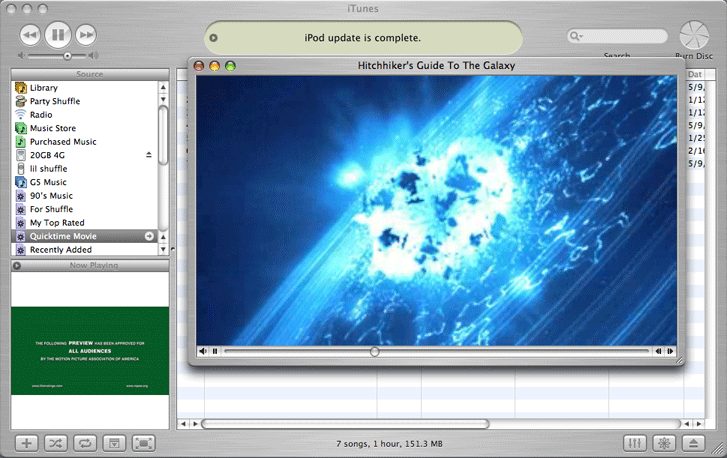 Movies can not be shared using iTunes music sharing service. And iTunes doesn't support all the files types that QuickTime does. For example, a .avi file that plays perfectly well within QuickTime Player Pro 7 on my Mac running Tiger can't be imported into iTunes 4.8. The Windows version of iTunes has the same limitation—QuickTime movies will play, movies in formats such as .avi and .wmv won't.
Varying the Video
You can change how iTunes shows movies in iTunes' Advanced system preference—choosing to show videos in the main window, in a separate window, or full screen.

You can also resize movies by holding the Control key and clicking on the movie—selecting Half Size, Normal Size, Double Size, or Full Screen from the resulting contextual menu. If you close the movie window, the Now Playing window (the window that displays album art) will play the video. Just as with audio tracks you can rate movies and iTunes will keep track of the number of times you've played them. You can also create Smart Playlists that sort your stored movies—just create an action that reads Kind contains QuickTime Movie and you're in business.
Another interesting movie feature is that you can convert the soundtrack of a movie file to the encoding format selected in iTunes Importing preference. For example, if you've configured iTunes to import tracks using the AAC encoder, you can select a movie file you've brought into iTunes and choose Convert Selection to AAC. iTunes will take the movie's soundtrack and create a new AAC audio track of that soundtrack (without, of course, altering the original movie file).
More Stores
This update also supports the new iTunes Music Stores that are opening in Denmark, Norway, Sweden and Switzerland.
Added Security
And, according to a posting on an Apple security list, iTunes 4.8 closes a possible security exploit. Versions of iTunes prior to 4.8 could parse a malicious MPEG-4 file that could cause iTunes to crash or execute arbitrary code. iTunes 4.8 improves its validation checks of MPEG-4 files to prevent such exploits.
Have you discovered other interesting features? Use the comments link below to talk about it in Playlist's forums.