Like many people enamored of owning the digital music they purchase (and thus the wares sold by Apple's iTunes Music Store) I've looked askance at subscription-based services. As evident by the 1,200 LPs shelved against my office's southern wall, I tend to hang onto my music and the idea of it suddenly becoming unavailable to me because I failed to pay a subscription fee is unacceptable. Reinforcing my distaste for such services is the unintuitive interfaces offered by most of them and the goofy advertising campaigns that assume consumers have forgotten how to add and multiply.
Oh, and the fact that none work with my iPod.
That said, I know a bargain when I see one. When I learned of the Yahoo! Music Unlimited service—a subscription music service that offers access to over a million tracks for an introductory fee of $6.99 a month (or $4.99 a month if you sign up for a year) and downloads for $.79—I put my objections aside and decided to give it a spin. With a 7 day free trial, what do I have to lose other than the usual inconvenience associated with installing another multimedia application on a Windows PC?
Signing up
In order to use the service you need a Yahoo! account—that Yahoo! email account you signed up for a couple of years ago in order to troll message boards will do. Once you've logged onto Yahoo! with this account, you sign up for the service—choosing either the month-by-month option at $6.99 per or a year contract for $59.88. You also see a large notice that you can try the service free for 7 days (you must cancel within those 7 days or you'll be charged for whichever option you signed up for).
Yahoo! can remember your credit card information. If you don't allow it to do so, you must enter your credit card information plus contact information each time you make a purchase. Such are the drawbacks of browser-based music emporia. Additionally, if your default browser is something other than Internet Explorer, those settings may not stick as Yahoo! may not be able to set a cookie. In this day and age of countless reports of IE problems I'm a little surprised by this requirement—IE no longer rules the roost and for Yahoo! to require it is silly. My hope is that Yahoo! will figure this one out when it moves from beta to full release.
Installation
You have a couple of options when installing Yahoo! Music Unlimited. The more bloated of the two includes some other Yahoo! tools—a spyware detector, for example. The slimmer install includes the Yahoo! Music Engine, an application that functions much like Apple's iTunes, complete with access to the music store as well as your music collection and a collection of streaming radio stations. Regardless of which you download, you get a copy of Yahoo! Messenger, Yahoo!'s instant messenging client.
Like many WIndows multimedia applications, Yahoo! Music Engine would like to be the default player for many of your media files. You can tell it to butt out if you like the settings you currently use. Likewise, it can configure your browser so that Yahoo! becomes the default search engine and Yahoo! becomes your home page. Because I find this kind of thing presumptuous, I thwarted the program's attempts to make these changes.
The view inside
The Yahoo! Music Engine interface is a bit iTunes like. You'll find play and volume controls at the top of the window along with a large box that describes the currently playing track and shows the album art, if available. Along the left side of the page is a list that contains links to Home, Now Playing, Y! Unlimited, My Music, Download Manager, LAUNCHcast Radio, Portable Devices, My Playlists, and Messenger Music. I haven't used the service enough to provide rich details on what all these things do. The purpose of most should be obvious from their names.
You'll spend much of your time in the My Music area, an area equivalent to iTunes' Library list. Here you'll find not only the music you're ripped from CD and obtained from other sources, but the music you've subscribed to as well.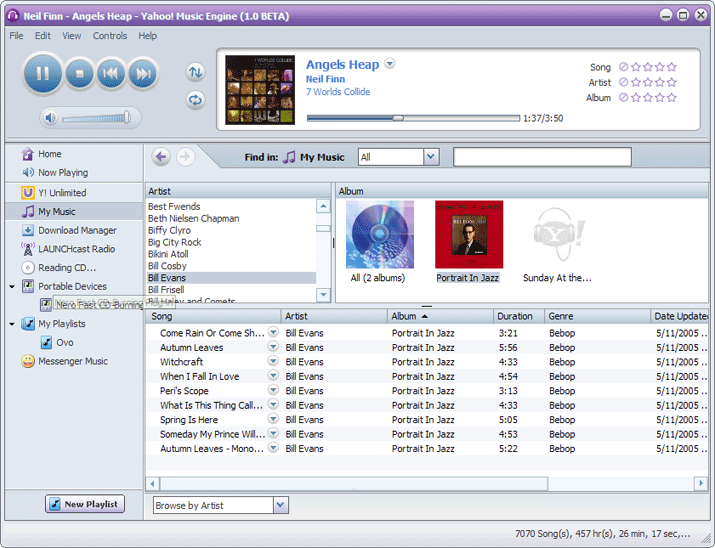 On its first day of release, Yahoo! Music Unlimited's Home page is pretty stark—listing a few highlights on the site along with links to a quick start guide. If you've signed up for Music Unlimited, Y! Unlimited is the more helpful link. Like the iTunes Music Store, this page lists new album releases, top songs, and newly added albums (seeing more than a couple of entries requires that you click a link that takes you to another page). This page also advertises exclusive tracks (among today's tracks is Trick Daddy's "Sugar (Gimme Some)."
The page also includes a Genre pop-up menu that can take you to pages devoted to particular styles of music. Once you go to one of these genre pages you can choose from sub-genres—Cool Jazz, Fusion, Latin Jazz, and Dixieland in Jazz, for example. iTunes doesn't bet nearly so fine in its sub-genres and should consider copying this feature.
The service's catalog has some gaping holes. For example, there are no classical recordings. Similarly, Yahoo! offers no audiobooks (but considering that people might listen to an audiobook a single time, offering them makes little sense for a subscription service). On the other hand, Yahoo!, unlike the iTunes Music Store, carries most of Frank Zappa's music.
How it works
As a subscriber you search for an artist, album, or song you like and when it's located, select it and press Play to hear it. You can also choose a track or album and click a button to add the item to your My Music folder. By default, this downloads the protected files to your PC where you can play them as long as your subscription is paid up. Because these files are protected, you can't burn them to CD—you must purchase the tracks to do so. You can, however, drag them to a supported portable player and, again, play them on that player for as long as your subscription bills are paid. As with all subscription services, the iPod isn't supported by Yahoo! Music Unlimited.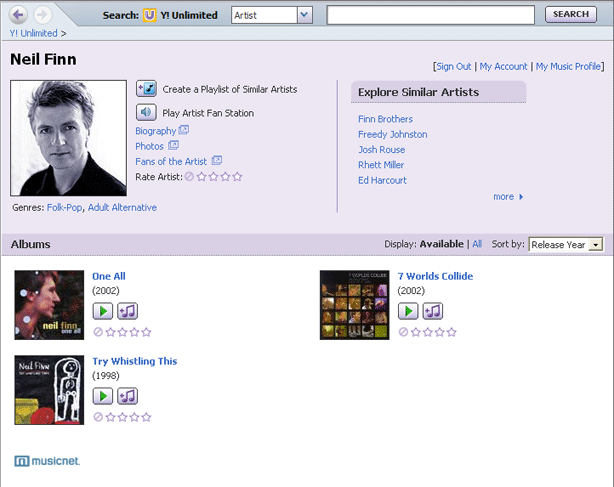 Unprotected tracks can be burned to CD from within the program. Within the program's window you'll see an icon next to each track that tells you if it's burnable or not. To burn a CD create a playlist, drag the the tunes you want to burn into that playlist, insert a blank CD, and click the Burn CD button.
The LAUNCHcast Radio option shows a nice integration with the rest of the service. Like iTunes' Radio area, you can listen to streaming radio broadcasts through the program. The difference here is that if you're a subscriber you can click on a small icon next to the track name and be taken to the song's (or album's) location on the service. From there you can add it to your music collection. This is a great way to discover new music.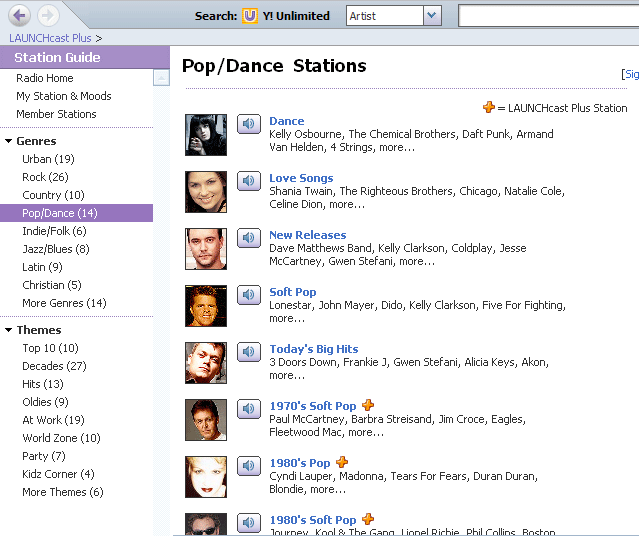 First impressions
Considering this is Day 1, Yahoo! Music Unlimited works fairly well. I ran into a few glitches. As I mentioned, the "sorry, we can't remember your settings without you running Internet Explorer" thing is a pain in the neck. I couldn't create a new playlist until I quit and relaunched the program. Even over a T1 line, moving from page to page was pretty slow (though music streamed and downloaded fairly quickly). Not all albums on the service are available for you to add to your My Music folder. For example, I heard a track by the Trash Can Sinatras on LAUNCHcast Radio that I liked. When I tried to add that song to My Music I was told I couldn't. When I later tried to search for this album it was nowhere to be seen. And, of course, the service works only with Windows PC and is currently available only to those in the U.S.
Despite the glitches, this thing has potential. I can easily see dropping $5 a month and treating Yahoo! Music Unlimited as my personal radio station—a place to listen to the music I want at that moment and explore lots of music I've never heard before. I suspect that this initial pricing is too good to be true and Yahoo! is taking the opportunity to grab market share before it jacks up the price to something that matches the other subscription services. Before it does, however, I'm tempted to buy a year's worth of access. If and when the price increases I'll reevaluate its worth.