At a Glance
Expert's Rating
Pros
Bargain price
Seamless printing
Cons
Poor multimedia performance
Poor Mac integration
No USB support
Slow performance
Limited window size
Our Verdict
Like Microsoft's Virtual PC ( ; January 2005 ), Guest PC 1.2 lets you run a virtual Windows computer on your Mac. At almost half the price of Virtual PC 7 (which costs $129 in a similar configuration), some users will find it a money-saving way to run the occasional Windows program.
To compare the two emulators' performance, I created virtual machines in both programs with identical configurations running Windows XP Home Edition, then ran a battery of Windows performance benchmarks. Virtual PC outperformed Guest PC across the board, but neither program offers much speed. It's like watching a race between a tortoise and a … turtle. One of them will win, but it's not a very exciting event.
I also ran a handful of Windows-only applications and 2-D games (neither Virtual PC nor Guest PC support 3-D graphics), as a typical user would. Virtual PC is noticeably faster. Programs launch faster and windows redraw faster. But Guest PC's relative slowness didn't keep me from opening documents, running programs, browsing the Web, or playing Solitaire. I had no problems connecting to the Internet or printing (Guest PC prints to the printer you have selected as default in Mac OS X, with no setup required).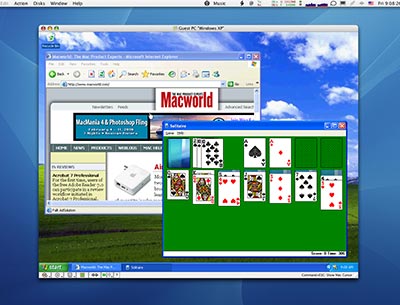 Guest PC does a fair job of running Windows on your Mac, making it easy to test your Web site on Windows or indulge in the occasional game of Solitaire. (Click image to open full screenshot)
I did encounter some problems with Guest PC. Audio files skipped, crackled, and hissed. Windows Media Player stuttered and screeched when I tried to play a movie clip (Virtual PC also struggles with multimedia files). The company says these issues should be fixed in the next version.
Guest PC lacks some important features available in Virtual PC. There's no support for USB devices (the company says it's coming in a future version). If you want to share information between your virtual PC and your Mac, Virtual PC offers seamless copy and paste (and drag and drop) between them, while Guest PC requires you to set up Windows Sharing to share a folder with your Mac. Virtual PC has a Fast Save feature that automatically saves open files and puts your virtual PC to sleep when you quit the emulator. To quit Guest PC, you first have to shut down and then turn off your virtual computer.
The Guest PC window is limited to 1024-by-768 pixels in 16-bit color; Virtual PC supports 1920-by-1200 pixels in 32-bit color. You can drag to resize the Guest PC window, but it doesn't resize your Windows desktop (you'll get scrollbars instead).
Guest PC requires a G3, G4, or G5 processor running OS X version 10.3 or later. It will run on Tiger, but currently does not support networking (Lismore says this will be fixed in an update that should be released by the end of May). You'll need 2GB or more of hard-disk space and a decent amount of RAM (256MB or more; but I wouldn't recommend running it with less than 512MB devoted to Guest PC). You'll also need your own copy of Windows (any version).
Macworld's Buying Advice
Guest PC 1.2 lags Microsoft's Virtual PC 7 in polish and performance, and if you can afford it, Virtual PC 7 is worth the premium. But if you have more patience than cash, Guest PC is an inexpensive way to run the occasional Windows program and will do a passable job for almost half the price.
[ Robert Ellis is a freelance writer who publishes the blog Futurosity. He reviewed Virtual PC 7 and regularly reviews digital cameras for Macworld.]