Other trade show markets may be suffering, but you wouldn't know it from this year's Electronic Entertainment Expo (E3) in Los Angeles. The show's promoters noted that floor space sold out in record time this year. This is a multi-billion dollar industry, and it's absolutely booming.
Although I can't show you pictures of the show floor itself (it's a no-no with the strict security guards who patrol the floors), I've taken a few shots of the convention center itself to give you an idea of what's to come in the days ahead. E3 itself kicks off on Wednesday, though Monday and today have been busy with various press events — on Monday, Sony blew the doors off with its official public introduction of its PlayStation 3 console, which looks spectacular.
If your trade show experience is limited to Macworld Conference & Expo, the scale of E3 is truly mind-boggling. It takes up every corner of the massive L.A. Convention Center, which spans two city blocks for a total of 770,000 square feet of exhibit space (plus many meeting rooms and a 299 seat theater).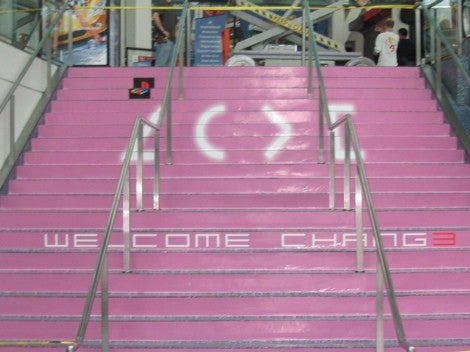 What's more, vendors fall over themselves to buy advertising space in every corner of the place — on the vertical rises between steps, as shown here (this, the entrance to the smaller West Hall, is where Sony bought some space to hawk its new products). When I checked into my hotel, I got a wristband to allow me to take the shuttles that service the convention center, and this too was plastered with the sponsor's name and logo. Even the key cards for the hotels vetted by the E3 travel office give out keys with show vendor information on them. Vendors in this business lose no opportunities to get their name out there and help others in the business identify their brand.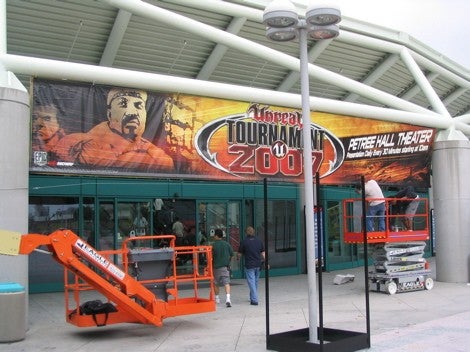 On Monday, when I snapped these photos, workmen were busy setting up banners and hanging posters and getting lights and wiring in place to be ready for the big day. But setup began weeks ago — literally, weeks ago — as the big companies — Microsoft, Sony, Nintendo, EA and others — began the work to set up their massive booths. Their booths dwarf even the biggest setup I've seen Apple do for a Macworld Expo, and the scale is quite impressive — multi-story affairs, some of them complete with lounge areas serviced by waitstaff and bartenders, for VIPs who want to sit down and refresh themselves while they're talking to their reps.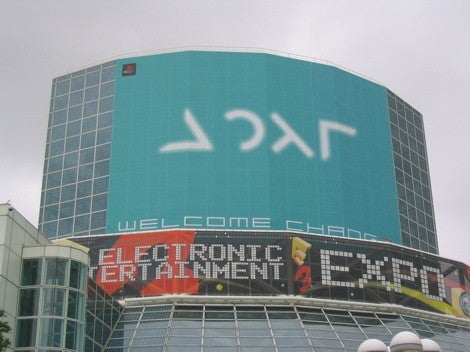 Outside the halls is also an excellent place to advertise, and stories-high banners grace both the entrances to the giant South Hall and the West Hall. Inside it's no different — anywhere you can put a banner or sign that people are bound to see, you'll see one. And games aren't the only things being advertised here; even Jeep has a new vehicle parked in the lobby, hoping to attract the interest of upwardly mobile gaming professionals interested in upsizing their wheels.
As I mentioned yesterday, E3 is a trade-only event intended for media, developers, publishers and buyers in the game business. They're not supposed to admit anyone under 18 (including those travelling with infants). And if you're planning on coming down to check out the exhibits, bring a fat wallet, because it'll cost you $325 for an exhibits-only ticket. Passes to attend conferences will set you back more than $500.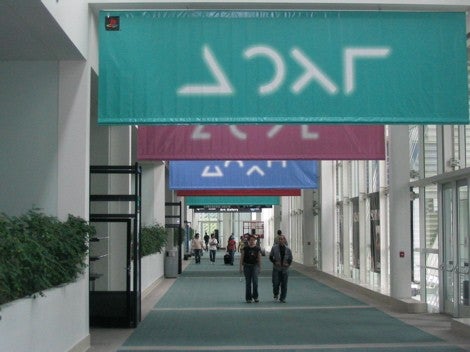 The concourse hallway that connects the South Hall to the West Hall is the longest walk you'll take at E3. You can also get between those spots by walking outside — a favorite gathering point for smokers, people looking for some sun and folks enjoying the barbeques and other outdoor food and beverage vendors that line the way.
Tomorrow morning the show will open with a media briefing sponsored by the Electronic Software Association (ESA), the show's owner. ESA President Doug Lowenstein will talk, and if previous years are any indication, his speech to the media will provide some insights about how the game industry continues to grow and evolve.
For all the latest Mac game news, reviews and information, please visit Macworld's Game Room.