Sometime this past weekend, the hard drive on my 15-inch PowerBook G4 decided life wasn't worth living anymore and departed into the spirit world, taking my work files, photos, music, and entire livelihood with it. Don't weep for me, though—as sporadic as my backup strategy is, last Friday turned out to be one of the days I remembered to run Retrospect before shutting down, so all I wound up losing were some e-mails and a few iCal events. Even better, I happen to have access to a very talented IT staff, highly capable of saving my figurative bacon.
There's only one inconvenience to this otherwise relatively-painless lesson in the importance of backing your data up—I'm based out of Los Angeles, and the IT folks are up in San Francisco. While they were certainly capable of restoring my laptop to its former glory, they were still going to need a day or so to get things up and running again before shipping the working PowerBook down to me in Southern California. That meant finding another machine to work on if I wanted to remind my employers that I'm a productive member of society.
After surveying the Old Mac Retirement Home that my office has become, I settled upon a model to serve as my fill-in computer—a 500MHz iBook G3 running OS X 10.2.8. It had most of the applications I needed for my day-to-day activities—albeit older, nearly antiquated versions of those applications—and it could be up-and-running in a matter of moments. I booted up the iBook, made a few minor adjustments, and began what promised to be a full day of work.
It also turned out to be a reminder of how much I've come to appreciate features I didn't even know I had come to rely on.
About 30 minutes into my workday with roughly half-a-dozen applications open, I needed to cut through the clutter and make some of those windows disappear. I hit the F11 key—instead of whooshing off to the side of my screen, every window stayed put. I pressed F11 again, a little more frantically this time. Still nothing.
That's when I remembered that Exposé, OS X's window-minimizing feature, didn't make its triumphant debut until Panther. Jaguar users, like I had suddenly become, were out of luck.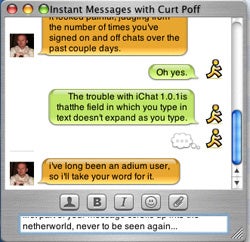 Then, there was iChat. Forget video-conferencing, another addition that came with the OS X 10.3 Panther update. This rudimentary version—1.0.1, I believe—sported the clunky interface pictured on the right. The messaging field didn't even expand to fit what you were typing, for crying out loud.
After just one afternoon of work, I counted five other Panther-introduced features and enhancements whose absence was keenly felt in Jaguar—everything from using Command-Tab to cycle between open applications in a floating palette to colored labels in the Finder. None of these missing features made Jaguar unusable, obviously. But their absence did force me to rethink how I got things done, slowing me down considerably. And the whole experience drove home how much an OS X revision affects the way you go about using a Mac, no matter how seemingly innocuous the features involved.
Which brings us to Tiger. I haven't made the leap to OS X 10.4 just yet, though that switch is happening sooner rather than later. Part of the reason for the delay—other than, you know, that whole hard drive dying thing—was my gut suspicion that Tiger's major enhancements would have little effect on my day-to-day operations. Sure, Spotlight seems clever, and Dashboard looks promising, I thought, but do I really need those features to be a fully functioning Mac user.
Of course, I now realize that it's easy for me to say that at this point. A few months from now, after I've installed Tiger and started using it in ways that I never even fathomed, the OS X 10.3.9 software that seems perfectly adequate to me at the moment while doubtlessly feel as woefully under-featured as Jaguar seems today.