Ultimate Ears has long been known in audio and music industry circles for its custom personal monitors—in effect, in-ear-canal headphones (or canalphones ) with custom earmolds, made to fit each user's ears perfectly. However, at prices from $550 (the UE-5c) to $900 (the UE-10c), the market for these products has been limited to mainly professional musicians and serious audio geeks.
However, over the past five years, as more and more people have discovered the benefits of good canalphones—impressive sound quality and better noise isolation than even the best noise-canceling headphone models—the market for "off the shelf" models that don't require a trip to an audiologist has grown significantly. In fact, if you look at the headphones section of Playlist's Product Guide, you'll find that we've given very high ratings to a number of off-the-shelf canalphones, including the Etymotic ER-4P ($200-$270 street) and ER-6i ($120-$150 street) and the Shure E5c ($350-$500 street) and E3c ($120-$180 street). Although pricey by Best Buy standards, all of these models are less expensive than custom-made canalphones while still providing stellar sound quality compared to the headphones with which most people are familiar. And the appeal of these types of headphones is growing—at January's Consumer Electronics Show, representatives from Etymotic Research, one of the biggest players in the field, told Playlist that whereas three years ago the company's hearing aid products comprised the bulk of retail sales, last year consumer earphones accounted for more than 45% of those sales.
So it came as no surprise when Ultimate Ears announced they would be entering this growing market. The company recently disclosed the details of their new super.fi series of "consumer" canalphones, with prices ranging from $149 to $249, and Playlist got an early look at the line last week.
The Models
Like offerings from Shure and Etymotic, Ultimate Ears' super.fi models are universal-fit products that don't require custom earmolds; they will be sold off-the-shelf with "fit kits" that include four different sizes of rubber eartips along with one pair of foam eartips. (You attach the tips that best fit your ears.) Two models will be available starting this week—initially via Apple's online and retail stores, Guitar Center stores, and the Ultimate Ears Web site—with a third model available later this year.
The flagship of the super.fi series is the $249 super.fi 5Pro. Aimed at both the professional and consumer markets, the 5Pro features dual, balanced armatures—one for higher frequencies, one for lower frequencies—identical to those found in the company's $550 UE-5c. Ultimate Ears says that the 5Pro provides a balanced, neutral response. With a proper seal, they should also provide approximately -26dB of noise isolation.
The super.fi series also includes a model aimed mainly at consumers, the $199 super.fi 5EB. The "EB" stands for "Extended Bass," which is provided via a dual-driver architecture that consists of a single balanced armature along with a ported diaphragm for low frequencies. The company says that although the overall sound of the 5EB isn't as refined as the 5Pro, the additional bass response provided by the 5EB will appeal to many consumers, especially those who listen to hip-hop, rap, and rock. (A frequent criticism of canalphones is that even when they provide extended bass response, they don't provide the visceral "feel" of bass found in speakers and larger headphones.) Because the 5EB uses a ported diaphragm, isolation is less than the 5Pro, at approximately -16dB.
Both models are available in white or black, and both come with an accessory package that includes the aforementioned fit kit; a 1/8″-to-1/4" adapter; a 1/8" attenuator for use with overly-loud airline headphone jacks; and a wax cleaning tool (hey, you're sticking these things deep in your ears—wax happens). You also get two cases: a brushed aluminum hardcase that can accommodate the headphones, adapter, attenuator, and wax tool; and a leather travel case that holds just the headphones.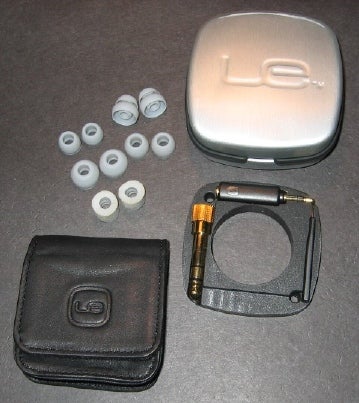 The third model in the super.fi line will debut later this year at the $149 price point; Ultimate Ears did not provide additional details.
Inexpensive Impressions
One of the features of more expensive canalphones is custom-fit earmolds—you visit an audiologist or hearing aid center and have a professional take impressions of your ear canals. These impressions are then sent to the canalphone manufacturer, who makes custom earmolds that fit your ears—and your ears only—perfectly. The advantages of these earmolds are immediately obvious once you've used them: You get a more comfortable fit and a more airtight seal, both of which have the added benefit of providing significantly better sound quality. But what many consumers don't know is that you can get custom earmolds made for most off-the-shelf canalphones, as well. The only problem is that the process isn't cheap—$75 to $125—and can be a hassle if you don't get it done through the canalphone manufacturer. (Few manufacturers offer the service for off-the-shelf models.)
Ultimate Ears aims to solve this problem with a special program for super.fi customers. The program, which should be unveiled on the company's Web site in the next few weeks, will put custom earmolds on any super.fi model for an additional cost of only $50. This fee includes a visit to a local audiologist for ear canal impressions; Ultimate Ears then gets the impressions from the audiologist, constructs customized earmolds, and ships the final product to the customer. [CORRECTION: After the publication of this article, Ultimate Ears contacted us with a correction. The $50 ear impression program is only for the company's custom-made models, not for the super.fi line.]
First Impressions
Ultimate Ears provided Playlist with a pre-production sample of the super.fi 5Pro for preliminary evaluation. The company says this early sample sounds identical to the production models that will be released this week, the only differences being minor aesthetic details. Playlist's policy is to only review the same products consumers will be able to buy, so we won't conduct a full review of the super.fi models until we receive production samples. However, I can provide some initial impressions of the sample I auditioned.
At first glance, the 5Pro's earpieces appear to be significantly larger than some of the other off-the-shelf canalphones on the market. They also stick out from your ears quite a bit more than models from Shure and Etymotic, leading one observer to my audition to comment that I had more than a passing resemblance to Frankenstein—I'm pretty sure she was talking about the 5Pro. However, after a good many hours of auditioning, I was surprised at how comfortable the super.fi 5Pro earpieces were. In spite of the large size and different "fit angle"—or perhaps because of them—it was easier to forget I was wearing the 5Pro than with some of the other canalphones I've used.
I also like the 5Pro's cables, and hope that the shipping version includes similar versions. Besides the attractive gray color, the cables are thin and flexible enough that they don't exhibit much microphonics—a common issue with canalphones where bumps and scrapes of the cord are transferred up the cord and to your ears. (Because canalphones are effectively coupled to your ear canal, such scrapes and bumps often get amplified.) And I also like the fact that the cables are only 46" long. Although this length may be too short for those who want to use the 5Pro with a home stereo, it's perfect for use with a portable player, which is generally going to be at waist level or higher—in other words, fairly close to your head. (When you consider the issue of microphonics, and the fact that accidentally ripping canalphones out of your ears is often quite painful, having a long cable on canalphones can be a major hassle.)
On the topic of cables, one other interesting detail about the super.fi models is that the cables are easily detachable from the earpieces. This is a nice touch in and of itself, since it means that if you ever have a problem with the cables you can replace them for little cost. But even more significant is that the accessories page for the super.fi line shows "spare cables" as a $20 option, along with a picture of four different cable types. Those who aren't headphone geeks may be surprised to hear that the topic of canalphone cables is a hotly debated one, but it's true—for various reasons, some people are quite picky about the color, composition, length (see above), and/or casing material (cloth, plastic, etc.) of their canalphone cables. The fact that Ultimate Ears plans to sell replacement cables in different materials and colors is sure to generate excitement in some quarters.
I was impressed by sound of the 5Pro sample, which exhibited excellent detail as well as good overall balance between the treble, midrange, and bass. Although Ultimate Ears' $550 UE-5c clearly bests the 5Pro across the board, the 5Pro is still quite good at less than half the price. (And to be fair, the 5Pro sample doesn't have custom earmolds—adding custom earmolds to it for $50 would likely close the gap somewhat.) When we do our full review of the 5Pro, we'll compare it to some of the other products in this price range, such as the Etymotic ER-4P and the new Shure E4c, which we also expect to receive soon.
Keep an Ear Out
If the buzz on the headphone sites is any indication, the release of Ultimate Ears' super.fi line is a big event for headphone lovers. It's also significant for iPod users in general, as they'll have even more choices for quality canalphones. We should be receiving our review units soon, so keep an eye out for our upcoming full reviews.