At a Glance
Expert's Rating
Pros
Easy to use
Exports albums to HTML accurately
Full complement of photo editing and arranging features
Our Verdict
You have 200 digital pictures of your most recent vacation sitting on your hard drive. How do you show those photos to your friends? You can plop your friends in front of your Mac and fire up an iPhoto slideshow, you can have your photos printed, or you can use SmileOn MyMac's PhotoPrinto1.2 to create and print a personalized photo album almost instantly.
PhotoPrinto isn't an iPhoto replacement—there aren't any tools for organizing your photos, and it lacks photo-editing features such as red-eye removal. It's a digital scrapbooking tool that allows you to create albums from your iPhoto libraries or any other digital photos stored on your computer. The program ships with a full complement of tools for arranging photos on the page, letting you add text, borders, masks, and even cropping or adding soft edges to your photos.
You can start with a blank page or select a PhotoPrinto template to create your project. You then select an iPhoto library or a folder full of pictures, and PhotoPrinto creates the complete album, inserting photos and adding pages as necessary, until all your selected photos are included. You can rearrange photos, add text, or edit your pictures until your album is perfect. Then, just print the album or export it to HTML for posting on the Web—a feature that worked great. PhotoPrinto does not let you print professionally bound albums from within the program like iPhoto does.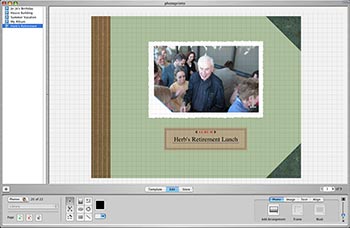 PhotoPrinto lets you drop your digital photos on a page, add borders, text and effects, and then print custom photo albums on your own printer. (Click image to open full screenshot)
If PhotoPrinto has a weakness, it's a lack of multipage templates, which really should be one of the program's crowning features. It ships with more than 30 templates, but most of them are single pages on which you can place photos of varying sizes. While a little ingenuity can easily resolve this issue by creating some of your own templates or placing graphics, the program's templates added more fluff than value.
Macworld's Buying Advice
PhotoPrinto 1.2 is a well-designed, easy-to-use application that makes quick work of creating albums from your digital photographs. The program lacks quality templates, but if you don't mind tweaking your design, templates won't be necessary for you to create albums of all your digital memories.
[ Jeffery Battersby is a photography enthusiast and frequent Macworld contributor .]