Shareware game developer DanLabGames is something of a hidden gem. The company has a knack for creating top-notch casual Mac games that are refreshingly original and fun. Jammin' Racer ( ) — an arcade-style racing game — is their most ambitious release to date. Fans of kart racing games will love it.
Jammin' Racer isn't a simulation game like the popular Gran Turismo series. It doesn't offer real-world physics modeling or AI-based opponents who hold a grudge from race to race. Instead, Jammin' Racer focuses on casual arcade-style racing. And it does a great job of it. The game puts you behind the steering wheel of a customizable vehicle. You can apply paint jobs, ground effects such as spoilers and trim, different body styles, and even custom embellishments such as a surfboard or roll bar. Win races and you'll access even more body styles.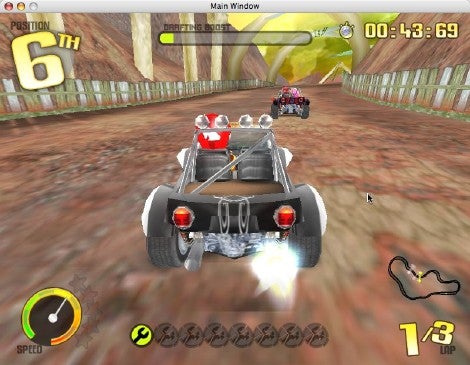 The goal of the game is to finish first. But to cross the finish line, you'll need to be careful. Scrapes with other racers or walls will damage your kart. Wrench icons will help you monitor the health of your vehicle. If you lose to many wrenches, you'll have to park it for a minute and fix yourself up — adding precious seconds to your lap time in the process. Powerups will improve your health or boost your vehicle's speed. But watch out for oil slicks and puddles, they'll slow you down.
There are six different racing cups to compete for and two dozen tracks to play (some of which you can access only by winning earlier races). The game takes you to a variety of locals including a tropical island full of lush scenery and brilliant azure waters, urban streets, desert tracks, outer space, and more. The graphics are top-notch, and so is the original soundtrack — lots of uptempo music with a good beat to get you around the track in record time.
You can choose from three different race classifications. Larger engines will produce higher speeds, but they're also more difficult to control. A training mode will help you get the hang of new tracks or new vehicles.
You can control the car with basic keyboard commands. However, DanLabGames has put in the effort to add support for gamepads and steering wheels. It also supports rumblepads and force-feedback wheels — a rarity.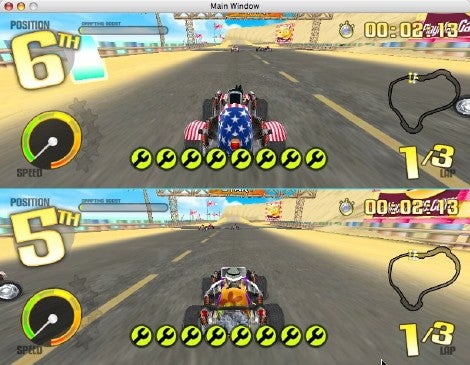 If you tire of racing against the computer, you can run Jammin' Racer in two-player mode, as long as your opponent is there in the room with you and doesn't mind looking at your race in split screen mode. There's no network support, however.
Jammin' Racer requires an 800MHz G3 or faster and an OpenGL video card with at least 32MB VRAM. You can adjust graphics options such as full-scene anti-aliasing, glow effects, full-screen mode, and sun glare to optimize the graphics to suit your Mac's capabilities.
By the way, Jammin' Racer is also family-friendly. There's nothing in it to offend parents or folks with delicate sensibilities.
The Bottom Line If you love kart racing, then make a pit stop at DanLabGames and download Jammin' Racer.
For more Mac game news, reviews and information, please visit Macworld's Game Room.