At a Glance
Expert's Rating
Pros
Combinator feature is perfect for both simple and complex routing
Deep collection of instruments and tools
Fun to play with
Great-sounding new effects and presets
Supports many keyboards and control surfaces without any configuration
Cons
Still no external audio recording or third-party effects hosting
Zero configuration works only with a few newer devices
Our Verdict
For electronic musicians, there's something irresistible about a studio filled with gear that has lots of buttons and knobs for experimenting with sound, and a web of cables for rigging sonic creations. The translation of some of that hardware experience to software with a virtual rack of musical instruments and effects made previous versions of Propellerhead's Reason a big hit. Reason 3 adds a stronger emphasis on live performance, though some will be disappointed that this version still lacks features, such as the ability to record external audio inputs and better sequencing that would make it an all-in-one solution.
There are plenty of cool-sounding presets in Reason 3 to keep beginners happy, but at its heart, this is an upgrade geared for power users. The new Combinator feature adds to the creative possibilities of Reason's already-robust routing. The Combinator lets you combine multiple instruments and effects into a single instrument for more flexible, simple MIDI assignments and signal routing (you'll want to use Reason 3's new Line Mixer software device to combine multiple instruments' audio output). Propellerhead's presets use the Combinator to create enormous, layered synth textures, complex effects, and automated drums, but I found it just as useful for everyday instrument creation and routing. It's easy to map MIDI keys to different instruments and effects, route modulation for live sound control, build grooving pattern-based patches, and combine multiple settings into simple rotary, pitch, and mod-wheel controls that are perfect for live performance. Once you've tried the Combinator, you won't want to give it up. It's a big relief from other software and hardware in which each instrument routes MIDI differently and adds audio effects globally instead of allowing precise control over affected sounds.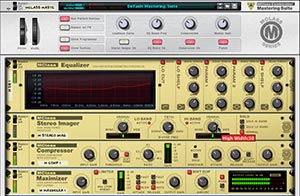 The new MClass Mastering Suite includes four effects for sweetening your sound—shown here combined in a Combinator patch. (Click image to open full screenshot)
Reason can now automatically detect and configure supported keyboards and control surfaces via a feature called Remote, so you can use the hardware instead of your mouse for adjusting everything from synth settings to mixer volume levels, without the manual configuration process this would usually require. Unfortunately, Reason can automatically detect only a handful of newer devices; others require manual configuration. But this feature could be reason enough to buy a new keyboard or control surface if you don't have supported hardware.
The new MClass mastering suite sounds terrific and offers all the controls you need for getting rich, punchy sound, including an equalizer, stereo imager, compressor, and maximizer. The suite combines nicely into a default mastering Combinator patch so you can readily access basic, overall controls. Then, if you want, you can drill down to fine-tune controls on the individual effects. Other improvements are more minor, but also welcome, like improved performance and a new file browser that makes it much quicker to find and audition sounds and patches.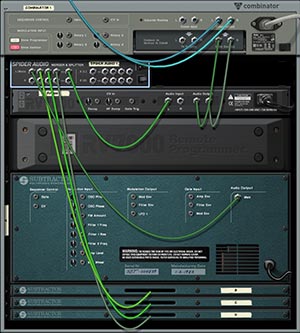 Tuck several sound and effect modules into a Combinator, and you can consolidate sophisticated routings into a single module. (Click image to open full screenshot)
Reason 3 gives me more of what I love about Reason, but it doesn't address many of my complaints about previous versions. The built-in sequencing capabilities are still clumsy compared to those of full-blown sequencers like Apple's Logic Pro, MOTU's Digital Performer, and Steinberg's Cubase (reviewed in April 2005), with a hard-to-read display, no tempo or meter-change capabilities, and other omissions. Also, you can't host third-party VST or Audio Units plug-ins, and most importantly, you can't record external audio. For people whose sequencing needs are light, and who never record guitars, vocals, and other external inputs, Reason will stand on its own, but anyone else will need another application. Fortunately, pairing Reason with a sequencer like Apple's Logic Pro, Ableton's Live ( , January 2005 ), or even Apple's GarageBand ( , April 2005 ) is easy thanks to Propellerhead's own ReWire technology, and Reason is as reliable and CPU-efficient as ever. Reason works well as a way of adding fun-to-play instruments and sounds to these digital audio workstations (DAWs), even though it's incomplete as a true standalone workstation.
Macworld's Buying Advice
If you're already a Reason lover, you'll want Reason 3. Expanded presets, great mastering effects, and improved integration with newer keyboards and instruments, are great, but the Combinator justifies upgrading. For newcomers to Reason, the choice is a matter of taste. There are plenty of other individual instruments out there, like Native Instruments' Battery drum machine, as well as other combined synth workstations, like Arturia's Storm Music Studio. But there's nothing else on the market that offers this kind of simple, powerful routing and hardware-style control, or that packs this many instruments into one box at this price. If you need more than light sequencing or do any recording, you'll still want to couple Reason with a full-fledged sequencer or DAW.
[ Peter Kirn is a composer, musician, and music technology teacher based in New York. He's the author of the upcoming book Real World Digital Audio (Peachpit Press). ]