Flip on the San Francisco Bay Area's most popular AM station— KGO AM 810 —between 7 and 10 PM on any given Saturday or Sunday night and you'll hear a brand of talk radio that's rare these days—unabashedly liberal, thought-provoking, heartfelt, musical, and, occasionally, hysterically funny. These elements are brought together by the show's host, Karel—an accomplished singer, actor, comic, radio and television personality as well as an established journalist and writer.
While some may take issue with his views on politics and society, few would argue with his choice of technologies. A die-hard fan of the Macintosh and iPod (Karel's Apple tattoos are featured in Leander Kahney's Cult of Mac ). The man knows tech. In this sphere, as in all others, he isn't afraid to make his opinions known.
We've asked Karel to share his views on how digital music and the iPod have changed his life, both on-mic and off.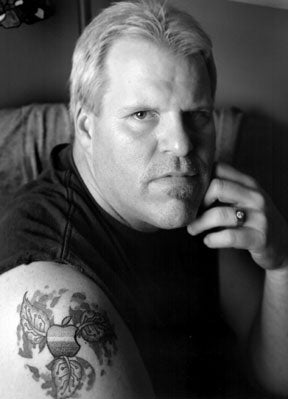 Playlist: Which iPods do you currently own?
Karel: I own the 60 gig iPod photo and the original 5 gig.
Playlist: Do you do more with your iPod than play music? For example, has it replaced your PIM?
Karel: I'm a purist. I like my cell phone to be a cell phone and not a camera or TV or videophone. The same applies to my MP3 player. Do one thing, and do it well. I have a Palm Pilot (Treo 600) for contacts and the like. But my pod is for my music, and photos. Although I must say I seldom use the photo feature. Just laziness. I can't seem to organize my over 6000 photos into albums to show people on demand. I have used it a few times as a clock, but that's about it.
Playlist: Is there anything Apple could add to the iPod to make it more useful to you?
Karel: Better voice recording so I can get rid of my minidisc, and a way to record from another audio input source via stereo miniplug. I know, Belkin makes some things that can do this, but build it in.
I would also like a way to "network"—meaning if an iPod is within a certain distance of mine, I'd like to see what's on it and maybe even tune in. And give me a search feature, where I can enter alpha characters somehow to find a song more quickly.
And yes, I want more space. I have 80 gigs of music, why not let me take it all with me?
And a WiFi finder might be fun, so I know when I'm in range of a wireless network. I know, there's a widget for this for my laptop, but if my iPod told me I was near a wireless network it could save me time.
Playlist: You often mention your iPod on the show. What part does it play and how difficult was it to incorporate into the studio?
Karel: I use my 'pod for all my bumper music in and out of breaks. I also put any interviews, etc., on it. At first it took the engineer a minute to swap the cable from stereo mini-plug to balanced XLR, but luckily, at KGO, we have great people to help out. Now it's patched directly into the sound board and during the break I choose the songs I want.
It helps if I'm doing theme music, such as creating a playlist with the words love if I'm doing a topic on romance. Or war if I'm doing something on Iraq. I often publish the playlists on the iTunes Music Store, since so many fans want to know the name of this or that song that I played during the course of an evening. [You can find Karel's playlists here.]
Playlist: Which artists do you play on your show? And how tied are the themes of the songs to the theme of your discussion?
Karel: Well, every evening, for my last segment, I play Anastacia's "Overdue Goodbye (Reprise)" from her Freak of Nature album. Outside of that, it's varied.
Yes, I do themes at times, but for the most part it's my mood. The 'pod gives me that freedom—so many songs at my disposal. Emma Shapplin is a big hit with my listeners, as well as Anastacia, 3 Doors Down, Linda Eder, Evanescence, Green Day ( American Idiot ), lots of fun '80s stuff like Boy George and Culture Club, some Babs (Streisand) thrown in for good measure and even the Verve 3 Remixed album featuring remixes of people like Nina Simone and Billie Holiday. Fans say they love my music almost as much as the show. I often sing along, which adds to the fun, I hope!
Playlist: If the iPod didn't exist, would you still do these custom openings?
Karel: It was harder without the iPod. My engineer used to have to search for tracks that I wanted for specific topics, otherwise, it was a potpourri from various music CDs. I used to burn a CD before each show of songs I wanted played and we would go from that, but it was often very limiting.
Playlist: In your view how is digital music—music available on the Web via streaming and download, podcasting, etc—influencing radio and what we listen to? How about giving voice to those who are barred from traditional broadcasting? Is it a good idea or just another way to put more noise into the ether?
Karel: Podcasting is definitely an influence already, as a station in the Bay Area [ KYOU AM ] has gone to an all-podcast format. Music on the web has always been a way to break new bands, and let some get a following they might never have gotten. Fiona Apple even released her album strictly on the web after her label turned it down.
Anything that gives people a voice is great, one man's ether is another man's entertainment. iPods will drive FM to be talk, AM to be ethnic, and minority-based radio and music will move to satellite and iPod.
Playlist: As a successful radio personality, do you have any advice for those wishing to produce their own podcasts?
Karel: Well, start with good gear—a great microphone and sound-editing software. I use a 16-track mixing board, vocal pre-amp—a real setup. I have it output to my Mac where I use either SoundStudio, Logic Pro, or GarageBand depending on my needs.
Be professional. If you want to be taken seriously, don't just sound like some fools with a mic and a cassette recorder. Put some production value in it. Use royalty free music for bumpers and be innovative. Take a minidisc out in to the streets and talk to people. Add some spice to the podcast. If you want to play in the majors, act like it. Do the segments like real radio. Listen to shows you like and pace them out—time them. Ideally work on seven- to ten-minute segments.
Playlist: What's your take on how traditional broadcasting is dealing with podcasting? For example, the media generally dismisses blogs as being beneath contempt. In your experience does radio view podcasts similarly? Should it?
Karel: I think we discredit anything new as untried and it's a big mistake. Look to the kids. What are they doing? Whatever it is, follow it. They're the future, and they want what they want when they want it. And if the media is so dismissive of blogs, then why does every news network now feature them or report on the Blogisphere? And what is real these days? Reality TV makes stars out of anybody nowadays. Who's to say where the next Limbaugh, Stern, or Karel will be found? Perhaps somewhere out there recording MP3s right now is the next big thing.
For more information on Karel visit The Karel Channel.