Sanrio put a lock on little girls' hearts in the early 1970's with its adorable mascot Hello Kitty. Thirty years later, she's still a marketing force to be reckoned with. Cartoons. Lunch boxes. Underpants. Kitty White's friendly yet disturbingly mouthless face graces thousands upon thousands of products.
ValuSoft is looking to cash in on the phenomenon with the release of Hello Kitty: Bubblegum Girlfriends ( ), a collection of eight simple games that feature Kitty and her friends all dressed up in soothing pastel tones. But while the game offers some benign and casual fun, it also has some major problems.
To keep things interesting for young players, each game in the collection features unique music and graphics as well as widely varied objectives and styles. Crazy Cookie Race, for example, puts you in the kitchen with Kitty as she matches cookies to the shapes on a conveyer belt, while making sure she has enough ingredients to bake. Tea Cup Croquet, on the other hand, tests your ability to judge angles as Kitty and her pals take to a croquet field and try to avoid obstacles. There's also Rainbow Garden, a color matching game; Pie Poppin' Dance, a shape-matching game; Bubble Gum Taxi, a fast-paced puzzler; Beach Bubble Frenzy, an action game; and Cup Cake Trampoline.
I'd love to tell you more about Cup Cake Trampoline but the game didn't work. Whenever I tried to fire it up, the game stopped cold with an error, telling me to insert the CD (which was already in).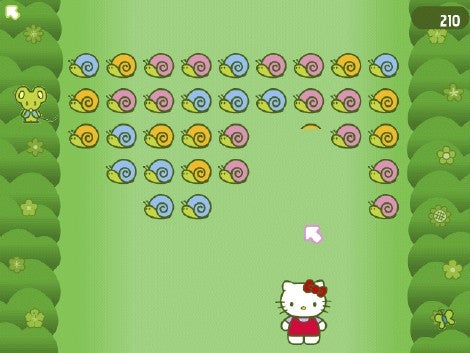 ValuSoft assures me that the problem only occurs on "a very small percentage" of Mac computers, but that's hardly reassuring. They couldn't tell me when it would be fixed or what the fix would be — although they did say the developer was working on the problem.
If you want to chance it, you shouldn't have trouble finding a system to play the game. It supports Mac OS 9 and Mac OS X, and requires only a 300MHz G3 or faster. It ships on a hybrid CD-ROM for both Mac and Windows computers, so you may be able to find it in your local retailers' casual games section even if they don't carry Mac games.
As you'd expect from a game targeted at this audience, there's absolutely nothing harmful here. It's like cotton candy — fluffy, insubstantial, but tasty regardless.
The Bottom Line In Hello Kitty: Bubblegum Girlfriends, lousy quality control sabotages an otherwise fine title for the underserved young girls' market.