Quickly add titles to iPhoto images
When you're working with Apple's iPhoto 5 ($79 as part of iLife ), the left- and right-arrow keys are useful keyboard shortcuts for moving from one photo to the next. But if you're working in the Information panel (click on the small i in the lower left corner) to set titles, dates, times, comments, and so on, you'll find that the arrow keys no longer switch photos. Instead, they allow you to move within the text you're modifying. This makes changing information for multiple photos difficult, since you're forced to use the mouse to move between them.
There are, however, two not-so-obvious shortcuts that can save you some mousing time. After you've clicked on one of the Information panel's text fields, just use Command-[ (left square bracket) and Command-] (right square bracket) to move to the previous and next images, respectively. Your cursor stays in the text field you were working in, so it's easy to quickly update information for a large number of photos (see screenshot). Note that if you're setting the field to exactly the same value for every photo in your selection, it's faster to select Photos: Batch Change.
Add photos to iPhoto 5 via the Dock
In earlier versions of iPhoto, you could add images to the library in only two ways: by using the Import feature, or by dragging and dropping images directly into the iPhoto library. Both of these techniques required that iPhoto be running. In iPhoto 5, there's another option: drag and drop an image, or a group of images, onto the program's Dock icon. You can do this even if iPhoto isn't running, and it works from most applications—drag an image out of Microsoft Word, say, and onto iPhoto 5's Dock icon, and the image joins the library.
Unfortunately, this trick won't work with Apple's Safari or Mozilla's Firefox; if you want to put Web images in your iPhoto library from one of these browsers, you'll have to save the images to your disk from the browser and then import them into iPhoto.
Fine-tune fonts in iPhoto 5 books
The Settings button in iPhoto 5's Book toolbar lets you control a photo book's font particulars—you can set the font size and type for the cover title and subtitle, headings, and more. But you're not limited to just this kind of global control.
Once you've created your book, you can modify any text as you see fit—just press Command-T to bring up the Font panel, select some text, and change the size, color, shadow, and so on. Since iPhoto sends a book as a series of images, not text, to the print house, what you see on screen will be what you get back from the printer.
Alert others to iCal events
If you're an iCal user, you're probably familiar with the alarm function—you can set up alarms that alert you to upcoming events via a pop-up message or via an e-mail message sent to the address stored in your own Address Book entry. Therein lies the rub—for whatever reason, iCal will not let you send alarms to e-mail addresses other than yours. This might make sense for personal events, but if you use iCal to track your whole family's commitments, it might be nice to use iCal's alarm function to remind everyone. With a bit of trickery, you can.
This tip takes advantage of the fact that Address Book will let you associate more than one e-mail address with any one person. Open Address Book, select your own card, and click on the green plus sign (+) next to your e-mail address. Address Book will create a new e-mail entry for you. Type in the address of the person to whom you'd like to send a message from iCal, and then click on the label to the left of that e-mail address. Select Custom from the pop-up menu, and type the person's name for easy identification. Repeat this process for each person you want to be able to include. When you're done, click on the Edit button to return to normal browsing mode.
Launch iCal (or quit and relaunch it if you already had it running), and select or create an event. Click on the Alarm field, set the alarm type to E-mail, and then click on your e-mail address. In the pop-up menu, you'll see all the new e-mail addresses. Select the one you'd like to use, and you're done.
But what if you want to send a message to more than one person? When you add a new e-mail address to your Address Book card, don't type an individual's e-mail address; instead, type the name of any already existing Address Book group. For instance, if you've set up a group named My Family, just type that name, complete with the space, in the e-mail address field. Then click on the pop-up menu to the left of the e-mail address, select Custom, and type a descriptive name for the group. When you next launch iCal and set an e-mail alert, you'll see your newly added group in the list of addresses. Select it, and everyone in the group will receive the alert when the time comes.
This isn't an ideal solution, of course—if you sync Address Book with your phone or PDA, you'll find your data record clogged with multiple e-mail addresses. A more elegant workaround is to create an AppleScript that sends an e-mail message to a bunch of users simultaneously, and then have the iCal alarm trigger that AppleScript. However, that method is much more complex. The one I've described will work just fine for most people.
Avoid chart snafus with Excel and iWork
Using Apple's new $79 iWork productivity suite—the Pages word processor and Keynote presentation program—you can create gorgeous charts with data you've copied from Excel workbooks. Most of the time, this works just fine. Copy the data range in Excel, and then insert a new chart in Pages or Keynote using the Objects toolbar button. In the Chart Data Editor window that appears, click on the leftmost column (named Region 1 by default), and select Edit: Paste. If all goes well, the labels from your data will show up in the first column and first row, and the remaining cells will contain the data points to graph.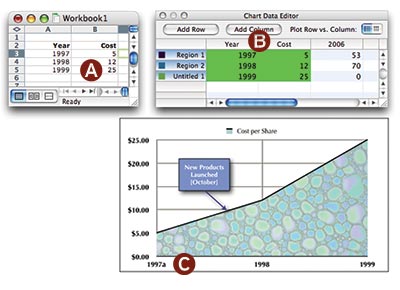 If your chart data in Excel has a numeric first column, such as Year (A), you'll have trouble pasting that column into Apple's Pages or Keynote. The Year column will become the first data column, which is not what you want (B). You can get around this by adding a character to the first year (C) so that Pages and Keynote treat the column as labels, not data. Delete the letter, and you're done.
But what if things don't go well? For instance, you'll run into problems if you're trying to create a chart that has an axis labeled with numbers. Say you're charting something across multiple years (1997, 1998, and so on). In that case, the paste will fail—the iWork applications will interpret the numbers as values that appear on the graph, instead of treating them as labels. A simple example demonstrates both the problem and the solution.
Consider the Excel spreadsheet in the screenshot at right. If you were to copy all of the spreadsheet's data and paste it into the Chart Data Editor in Pages or Keynote, you'd find that the Year column would become the first column of data on your chart, and the Cost column would become the second column of data.
To prevent this, you need to fool Pages and Keynote into thinking that the entries for the x- axis are real text, not numbers. The easiest way to do this is to just add a letter to the first label—change 1997 to 1997a, for instance. Then when you copy and paste, Pages or Keynote will properly place the labels in the label portion of the Chart Data Editor, as seen in the bottom half of the screenshot. Remove the a, and you're done. You'll have the same problem if your row labels are numerals; the solution is the same.
[ Contributing Editor Rob Griffiths is the author of Mac OS X Power Hound, Panther Edition (O'Reilly, 2004), and runs the Mac OS X Hints Web site. ]
When editing text fields in iPhoto 5's Information panel, you can use a keyboard shortcut to navigate between photos—no need to reach for the mouse.
Note: When you purchase something after clicking links in our articles, we may earn a small commission. Read our affiliate link policy for more details.