Macs are basically reliable beasts, but every so often, they behave badly. When they are good, they're very, very good, but when they misbehave, they can be horrid. And when that happens, you need to fix things fast.
With that in mind, this is the first in a occasional series of columns by the troubleshooting team of Mac experts at Doctor Mac Direct. Our goal: offer proven advice that you can try at home or at work before you bite the bullet and call in a professional.
Let's kick things off with a look at a very simple technique, called a Safe Boot , a troubleshooting technique we frequently ask clients to perform. It's easy, fast, and it won't hurt anything, so it's a good first choice when you're not sure what's causing a problem—and it often repairs hidden disk directory damage to boot (pun intended).
But before we explore the Safe Boot, let's talk about the one thing you should always try when your Mac does anything unexpected: Restart it. No matter what the problem is, whenever anything strange happens on your Mac—programs quit unexpectedly, things slow to a crawl, windows don't respond to clicks, or whatever—the first thing you should try is restarting your Mac.
In many cases strange occurrence are one-time only, and restarting may very well banish them permanently from your system. So before you even think about starting to panic, restart your Mac. It only takes a minute or two and it might make the issue disappear.
Playing It Safe
Of course, if the improper behavior continues after a restart, it's time for stronger medicine like the Safe Boot. A Safe Boot results in your Mac running in Safe Mode. It's a fantastic remedy as well as a great diagnostic technique. It can fix some issues with disk directories automatically and is unlikely to make things any worse.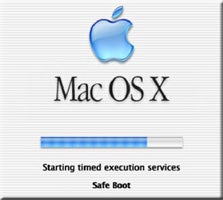 The Safe Boot routine is built into Mac OS X; to use it you simply start up your Mac while pressing the Shift key. You will see a message confirming your Safe Boot as your startup proceeds. If you don't see the words "Safe Boot" during startup (as shown on the right), shut down your Mac and try again, but this time press the Shift key before pressing the button to turn on your Mac.
If your Mac logs in automatically: If you don't type a password at startup, just keep the Shift key depressed until the Desktop appears, the Finder loads completely, and all menu bar items can be seen in the menu bar.
If you type a password to log into your Mac: Press the Shift key again after typing your password but before clicking the Log In button, and then keep it pressed until the Desktop appears, the Finder loads completely, and all menu bar items can be seen in the menu bar.
If you have anything that launches automatically when you log in, such as Startup Items you've designated in your Accounts System Preference pane or programs that can be configured to launch themselves automatically when you log in, they should not launch after a Safe Boot. If you do see them starting up, you didn't keep the Shift key depressed long enough and you'll have to log out (if you saw the words "Safe Boot" during startup) or restart (if you didn't see the words "Safe Boot" during startup) and try again.
A Safe Boot checks and repairs the disk directories on your startup disk automatically. Then, it allows only OS X-required kernel extensions and startup items to load.
Note that these startup items—which may include some but not all of the items in /Library/Startup Items and /System/Library/Startup items—are not the same as the Startup Items you see in the Accounts System Preference pane. In any event, a Safe Boot prevents most items of both types—startup items and Startup Items—from loading at startup.
We should mention that certain Mac features won't work after a Safe Boot. For example, DVD Player, video capture (in iMovie and other video-editing software), AirPort wireless networking, audio input or output devices, and internal and external USB modems may not function in Safe Mode. Only use this technique when you are having problems, and don't forget to restart the usual way before you try to do any of those things.
If your Mac boots in Safe Mode successfully, the issue almost certainly involves something you've installed, and not Mac OS X itself. Look for the culprit in /Library/StartupItems, Home/Library/StartupItems, or something in your Accounts System Preference pane's Login Items tab.
The Diagnosis
Safe Mode can not only fix problems caused by damage to your boot disk's invisible directories, but it also suppresses almost any gunk you've added. If you have a problem and it disappears when you Safe Boot, OS X is probably not to blame.
[ Bob "Dr. Mac" LeVitus is a leading authority on Mac OS, the author of 47 computer books, including Mac OS X Tiger For Dummies (Wiley, 2005), and the founder of Doctor Mac Direct, a team of veteran Mac technicians and consultants who provide top-notch Mac technical support and training via telephone, e-mail, and unique Internet-enabled remote control software in real time and at reasonable prices. You can find more troubleshooting techniques at Doctor Mac Direct's Free Advice page. ]