Readers occasionally ask me to recommend a joystick that isn't overly complicated or elaborate. And finally I've found one that fits the bill: Joellenbeck GmbH's Speed-Link Competition Pro USB, ( ). It's particularly good if you play arcade style shooters or are fond of emulators. However, finding it may be tough unless you're willing to pay overseas freight costs from a European reseller.
The Competition Pro USB has a simple design that harkens back to the joysticks that were available with the Apple II and Commodore Amiga. It rests on a slightly rectangular base with four rubberized feet to help keep it in place on your desk. A simple stick emerges from the top like an upside-down exclamation point.
The Competition Pro USB produces a satisfying click when you move it in any direction. It has four buttons two large buttons that look they came off an arcade game console, and two smaller buttons. There's also a Turbo switch on the underside of the stick, which rapidly toggles the fire buttons to save your thumbs the trouble.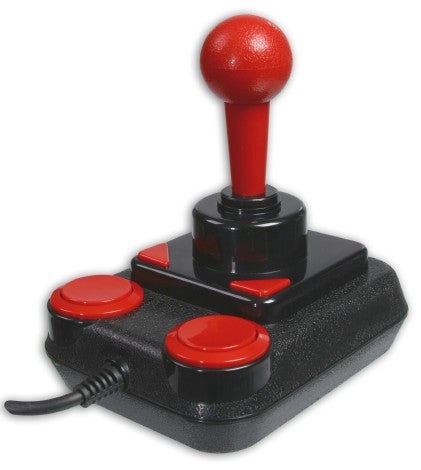 You'll want to keep the joystick on your desk when you play as it's not very comfortable to hold in your hands. However, it's nice and sturdy. If I could make one concession to modern controllers, though, I'd coat the stick in rubberized material to soften its feel.
Speed-Link doesn't provide any Mac software for the Competition Pro USB, but it's recognized by games that support Mac OS X's HID Manager application. If you have games that don't recognize the stick, you can fix the problem by installing a shareware utility such as Alessandro Montalini's $20 USB Overdrive.
Unfortunately, Joellenbeck doesn't currently distribute the joystick in the United States, so you'll have to buy it from a European distributor and have it shipped to you — it'll set you back 15 euros (about $18.50 at press time). However, if you're looking for a simple joystick with a classic style, the Competition Pro USB is worth the extra effort.
The Bottom Line Lacking the sleek ergonomics and special features of modern joysticks, the Competition Pro USB isn't for everyone. But if playing old-school games is your bag, you might just love it.