If you're an experienced gamer, you've undoubtedly heard of Mad Catz Inc., makers of peripherals for every major gaming console and handheld system. The company also makes a very competent USB gamepad called the PC Con. The PC Con ( ) is definitely worth a look, especially if you like the design of Microsoft's Xbox Controller S gamepad.
The $20 PC Con sports transparent plastics and gel grips on the side that give your palms good purchase for long fragging fests. You'll find twin analog triggers underneath each index finger, and pressable, dual analog sticks within easy reach of your thumbs. A four-way directional pad is a short hop for your left thumb, which also has easy access to two programmable buttons on the left edge of the pad's face, diagonally set above the left grip.
Underneath your right thumb is a diamond-shaped array of programmable buttons, arranged in the Xbox Controller S's familiar yellow, blue, red and green configuration. Two more programmable buttons rest on the right edge of the pad's face, right above the right grip.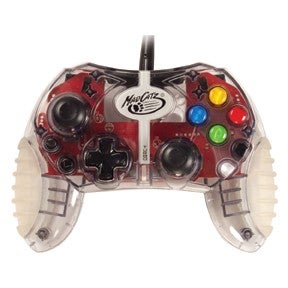 One particularly nifty feature of the PC Con is its Turbo button support. Let's say you're playing a game that would benefit from you repeatedly mashing one of the buttons — a shoot 'em up, for example. With the PC Con connected to your Mac, you can click the Turbo button — located in the lower center of the controller's face. Pressing any button and holding it for a half-second or longer programs that with "turbo" capabilities. You can cancel or reset those actions, and you can even adjust the Turbo speed.
The PC Con isn't wireless, unfortunately, but it's tethered to your Mac by a seven foot USB cable, which is enough distance to sit in a recliner or nearby seat. The transparent plastic gives you a look inside the device, which is a nice touch, and it feels durable and weighty. Mad Catz covers its controllers with a five-year warranty, though don't go throwing your PC Con against the wall if you get blasted by the Covenant in Halo, because abuse isn't covered.
The gel grips are soft and comfortable little pillows for your palms. They grips are ribbed, as well. Unfortunately, the gel material used in the grip collects dirt and muck at an alarming rate, and proved tough to keep clean.
The one significant downside of the PC Con is that Mad Catz hasn't developed any programmable Mac software, unlike another gamepad I recently reviewed — Nyko's AirFlo EX. That leaves you dependent on the good graces of Mac game programmers to make sure that they support game controller input. For games that don't, you'll need to add a third-party gamepad programming utility like USB Overdrive to the mix, but that'll cost you extra.
The Bottom Line Mad Catz' PC Con gamepad is solid value for the money, and welcome for anyone looking for an Xbox Controller S-style gamepad for their Mac. Its only downside is a lack of Mac-specific software.
For more game news, reviews and information, please visit Macworld's Game Room.