Kinetic puzzle games are certainly nothing new, but MacPlay has a good thing going with Luxor ( ), a new game that takes a page from ancient Egyptian mythology and mixes it with familiar gameplay.
You're the hero of Isis, the Egyptian goddess of fertility, and it's your job to battle Set, Egyptian god of evil and the desert. Set's scarab minions are pushing forth long trains of colored spheres down tortuous grooved tracks, and you must stop them from entering your pyramid. Isis has equipped you with a magical winged scarab that fires its own colored spheres.
If you can make your spheres land in a chain of three or more same-colored spheres, you'll make the spheres disappear. Make enough spheres disappear, and you'll be rewarded with powerups or ankh coins (gather 30 ankh coins, and you'll gain an extra life). Make the entire chain disappear, and you're rewarded with a special gem.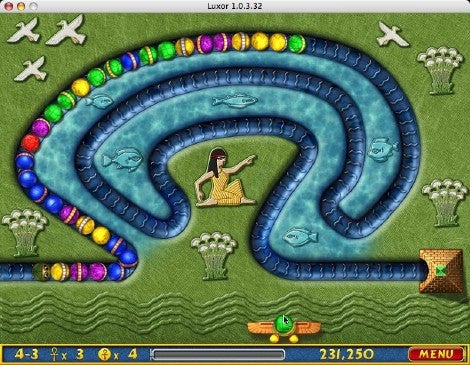 I admit that the "match three or more objects" puzzle game style has really been beaten into the ground over the years. Luxor manages to freshen it up a bit with some interesting strategic twists, however.
Powerups including fireballs, which will explode on contact with the chains and make a number of spheres disappear. Lightning bolts likewise make the spheres vanish, but do so with vertical blasts of electricity. Multi-color spheres will make matches of any spheres.
The basic gameplay mechanics are simple to learn: It's a combination of aim and timing. After the first couple of levels, the pacing speeds up and design of the mazes gets more complicated. What's more, the trains of spheres get longer, more numerous and and more complicated with new colors. And as the design of the mazes gets more complicated, you'll find the tracks weaving through tunnels or overlapping, which makes laying your own spheres into the chains that much more difficult.
Fortunately, Luxor doesn't presume you have all day — you can pause and quit a game and resume it later from the same point you left off. If you lose a game all together, you don't need to restart from the beginning, either: Luxor will allow you to play from the start of whatever stage you're currently playing.
There are 13 stages in all, taking you on a journey through ancient Egypt, starting in Alexandria and working your way back and forth across the Nile river until you reach Philae, the ancient island in the Nile famous for its temple to Isis. All told, there are 88 levels to play, with some designs repeated at increased difficulty levels and faster paces.
Luxor has a custom soundtrack and good sound effects that help keep and maintain your attention without being abrasive or repetitive to the point of annoyance. The game's rife with eye-catching animation and a colorful palette. System requirements are very mild: The game asks for a G3/400MHz or better with 128MB RAM and a video system with 16MB VRAM; it runs on 10.2.8 or later. Luxor also lets you play in full-screen or windowed modes; helpful if you want to play while keeping an eye on some background task like file downloads or e-mail. In windowed mode, the game automatically pauses if you click away from the window.
The Bottom Line Luxor is the kind of game that you can noodle with for hours between meetings, at lunch, or with the iBook or PowerBook in your lap resting in the living room.
For more game news, reviews and information, please visit Macworld's Game Room.