In February, Playlist reviewed the Sonos Digital Music System, a multi-room, wireless music system that allows you to play your digital music files in any room that has a Sonos Zone Player. The heart of the Music System is the Sonos Controller, a handheld wireless remote that features a full-color LCD display and an iPod-like scrolling touchpad.
Currently included with the System is the Desktop Controller software—Windows-only software that mirrors the functionality of the remote controller. Much like the hardware controller, this software allows you to set up your system, create and manage queues and playlists, and control playback. Although not required to use the Digital Music System, many have found it easier to manage playlists and queues than the remote Controller—thanks to the increased screen real estate provided by a PC's display. When the Digital Music System was first released, Sonos promised a Mac version of the software, but offered no details on when it would be available.
Playlist has since obtained screenshots and additional information about the upcoming release of a Mac OS X-compatible version of the Desktop Controller. Based on these screenshots, it appears that the Mac version will provide functionality comparable to the Windows version: The ability to control playback of any Zone Player, link and unlink Zones, create and manage playlists, manage the playback queue, and choose the audio source for a given Zone Player.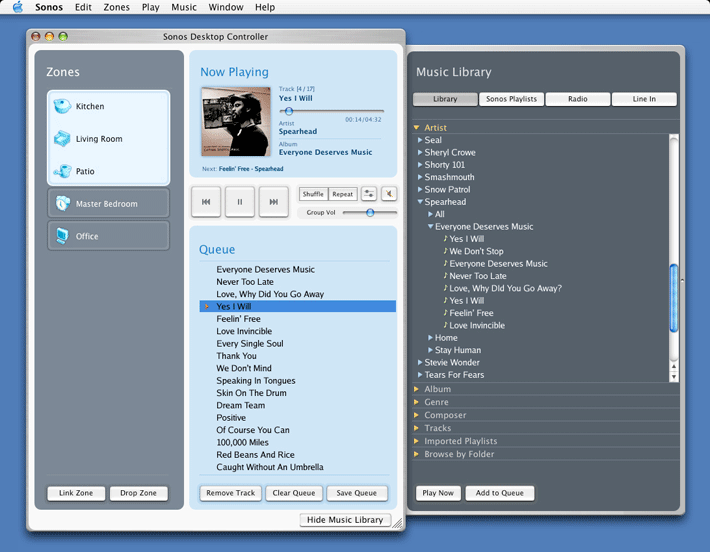 In addition, you will be able to use the Zone Equalizer feature to adjust the bass, treble, balance, and volume, as well as to toggle the Loudness option, for any Zone or Zone Group. The release of the OS X version of Desktop Controller should make the system even more appealing to Mac users.

According to a Playlist source, Sonos will likely release the Mac version of the Desktop Controller software later this summer when the company releases version 1.2 of the Music System software. Version 1.1, released in May 2005, added several new features, including support for the Rhapsody music service, as well as compatibility with AIFF, FLAC, and Ogg Vorbis music formats. Version 1.2 is expected to include a number of additional features and fixes.