At a Glance
Expert's Rating
Pros
Digital Cinema Desktop for previewing
HDV (high-definition video) support for HD editing
Soundtrack 1.2.1 and LiveType 1.2.1 included
Cons
Not a compelling upgrade for Final Cut Express 2 owners not working in HD
HDV capture not as flexible as DV capture
Our Verdict
Have you ever arrived at a party too early? Apple found itself in this situation at the beginning of the year when it threw its weight behind HD (high-definition) video editing. iMovie HD ( , April 2005 ) and Final Cut Express HD brought HD editing to the masses, even if the masses weren't aware that HD was an option.
With consumer-level HD cameras still costing between $2,000 and $5,000 (prices have dropped since January on new models), most video enthusiasts haven't walked through the HD door—but they're certainly eyeing the possibilities. And Apple is more than happy to welcome them to the party.
Unlike iMovie HD, the HD support in Final Cut Express HD is more likely to cater to event videographers and other professionals who want to take advantage of high-definition video for $299 instead of paying the full price for Final Cut Pro 5 ($999 for the application alone, or $1,299 for Final Cut Studio).
Editors shooting in DV format aren't likely to be excited about Final Cut Express HD, so Apple has sweetened the package by including the music-creation program Soundtrack ( ) and title-creation program LiveType, both of which were formerly included with Final Cut Pro or sold separately.
High definition, happy editor
Final Cut Express HD supports the HDV format, a consumer-level HD variant that employs MPEG-2 compression within the camera in order to fit more image data onto a standard 60-minute MiniDV tape. (The two main types of HDV are 1080i, which is 1,920-by-1,080-pixel interlaced resolution, or 720p, which is 1,280-by-720-pixel progressive-scan resolution.) The program doesn't support other versions of HD, such as DVCPRO HD or uncompressed HD, which Apple has left to Final Cut Pro 5.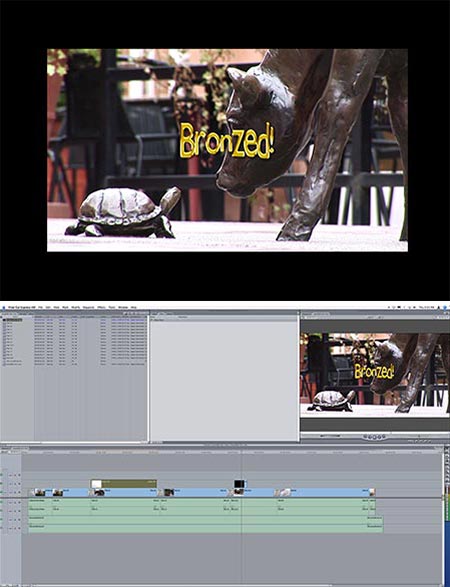 The new Digital Cinema Desktop feature in Final Cut Express HD enables you to view your HD footage on a second display (top) while working on the movie in the Timeline (bottom). (Click image to open full screenshot)
Also unlike Final Cut Pro 5, Final Cut Express HD can't edit HDV footage natively. Instead, HDV is converted to the Apple Intermediate Codec (AIC) for editing within the program (the same format that iMovie HD uses).
If you're accustomed to earlier versions of Final Cut Express or Final Cut Pro, importing HDV may be a bit of a disappointment. Because of the way the HDV format works, Final Cut Express HD lacks much of the flexibility of capturing DV video. You can't set in and out points to specify a section of footage to capture. Instead, you're prompted to enter a single name that is applied to all of the incoming footage, which is then grabbed as if you'd clicked the Capture Now button on the FCE capture window's interface. You also need to specify an Easy Setup preset that matches your camera; Final Cut Express HD will not automatically detect the camera's format.
After the video has been captured from the camera (which may not arrive in real-time, depending on your Mac's processing power), Final Cut Express HD scans the footage and breaks it into clips based on when scenes begin and end, just as iMovie does.
Once captured, however, HDV is editable in the same ways as DV using Final Cut Express HD's advanced editing features. Since HDV footage has much more image information, you'll need heftier hardware to play back high-def video in Unlimited RT (real-time) mode. I tested the software on a dual-2.7GHz Power Mac G5, which was able to play back the HDV capably, and on a 1.25 GHz PowerBook G4, which frequently required the clips to be rendered before playing back in the Canvas.
Digital Cinema Desktop
A welcome addition for people with multiple-display setups is the new Digital Cinema Desktop feature, which lets you use one screen for editing and another for playback without passing the signal through a camera or deck. If your second monitor is a 23-inch LCD or larger (such as Apple's 23-inch or 30-inch Cinema HD displays), you can view HDV footage at actual size. Even on smaller displays this feature is nice, giving you a view of your movie separated from the program's interface.
LiveType, Soundtrack, and iMovie HD import
The inclusion of LiveType and Soundtrack helps justify the cost of buying Final Cut Express HD or upgrading from previous versions.
Final Cut Express HD also features improved iMovie project import, which grabs transitions properly instead of stripping them out. However, it's still a good idea to remove titles and effects from an iMovie HD project before opening it in Final Cut Express HD if you want to edit their settings—they import as normal clips with the text or effect rendered to the footage, not as separate editable elements.
Macworld's Buying Advice
Final Cut Express HD is a solid entrant into the world of semi-professional editing at a reasonable price. If you're not rushing out to buy an HDV camcorder, the most compelling new features are the Digital Cinema Desktop and the additions of LiveType 1.2.1 and Soundtrack 1.2.1 (which, admittedly, are pretty cool). But given Apple's emphasis on HD, and the fact that each version of Final Cut Express is basically a stripped down version of the previous year's Final Cut Pro, this party is definitely going to be hopping in the future.
[ Jeff Carlson is Managing Editor of TidBITS and the author of iMovie HD & iDVD 5 for Mac OS X: Visual QuickStart Guide (Peachpit Press, 2005). ]