At a Glance
Expert's Rating
Pros
Style and color swatch sharing
Consistent color calibration
Handy object styles
Very rich typographic and layout capabilities
Autocorrection and in-line spelling checker
Strong text and graphics importing and formatting controls
Anchored-object feature
Cons
Autocorrection doesn't support special characters
Text-wrap feature doesn't work for master-page items
Inflexible data merge
A few interface quirks
Can't detect Photoshop blending modes
Web export is limited to GoLive CS2
Automatic numbered lists have limited formatting options
Our Verdict
Already the clear leader in typographic sophistication, object handling, multilingual publishing, and transparency effects for text and graphics, Adobe has significantly bolstered text- and graphics-handling functions in InDesign CS2. Many interface enhancements—including unique and powerful features to lure QuarkXPress and PageMaker users—increase its flexibility, extend its many core strengths, and for the most part, make it easier to use than previous versions.
Text Handling
Many of the new features provide capabilities long available in Microsoft Word (though not in most publishing programs), such as anchored text frames, automatic text correction, and bulleted lists. With InDesign CS2, layout artists and copy editors alike have the tools they need, reducing the back-and-forth between Word and InDesign and thus minimizing errors.
Layout artists will love the new anchored-object feature, which links an object (text frame, graphics frame, or line) to a specific place in text. So as the text moves, so does the anchored object. This is great for pull-quotes, cross-reference boxes, callouts, and figures. Through a complicated interface that could stand some simplification, you can control the positions of anchored objects (such as at the top of the page and to the left of the text containing the link). If you import Word files that have linked text frames, InDesign now detects and retains them, though not necessarily in their original position. It also lets you modify them.
When importing text from Word or Rich Text Format (RTF) files, InDesign CS2 now gives you real control over how styles are imported, letting you map Word styles to InDesign styles, and designating when the document uses the InDesign or Word style when both documents use the same style names. Even better, you can save these import settings for easy reuse. Importing styles from other InDesign documents is also improved: you can now select which styles to import, rather than importing all of them.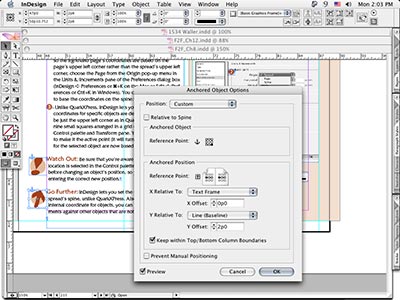 InDesign CS2 can anchor objects to specific points in text, so they follow the text as it reflows. (Click image to open full screenshot)
InDesign CS2 supports footnotes, which you can either import from Word or create in InDesign, and lets you control their formatting and placement. InDesign CS2 also supports automated numbered and bulleted lists with a feature adopted from PageMaker. This feature is adequate for many users but is hardly sophisticated. For example, you can't automatically align list numbers to the decimal. Also, when importing automatic numbered or bulleted lists from Word or RTF files, InDesign doesn't see them as automated lists, so their numbering becomes fixed as regular text.
One nice but easily overlooked new feature is the ability to have InDesign CS2 align text away from or toward a spine, a handy way to automatically align text such as pull-quotes, based on whether they are on a left or right page. Without this feature, you'd need to align elements on left pages separately from those on right pages, and then watch out for elements that need to be realigned as they move between pages. It's a subtle enhancement, but it shows the kind of fine-tuning that Adobe has brought to this latest version.
InDesign's spelling checker has been improved in several ways: it can now check spelling dynamically by flagging suspect words with squiggles à la Word; it offers autocorrection (to fix misspellings as you type); and it provides the option of making spell-checking case-sensitive. Rounding out the text-handling improvements are the abilities to drag and drop text; to apply styles to text and other objects with a Quick Apply palette so you don't have to switch between the keyboard and mouse when editing; to set baseline grids for individual text frames; and to associate multiple dictionaries to a file (so you can mix languages or regular and specialty dictionaries).
Layout Tasks
While InDesign's most significant new features involve text, not all do. For example, you can now drag layout objects onto your desktop, creating a separate XML snippet file that you can then drag into another InDesign layout, e-mail, or drop onto another user's shared folder. InDesign continues to have traditional libraries that let you store multiple elements for reuse among multiple documents as well.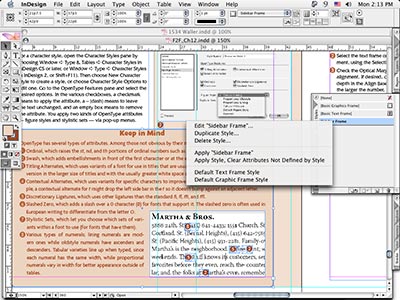 The new object style capability makes it easy to apply consistent formatting—and update it globally—to objects such as a sidebar frame. (Click image to open full screenshot)
InDesign CS2 can also rerun transformations, so you can apply the same effect or series of effects to multiple objects in turn, just as you can in Illustrator. While you can't save transformations as macros, the ability to rerun them is a great time-saver.
Creative Suite users will also like InDesign CS2's support for nonvector layers, which lets you selectively turn them on or off for imported Photoshop, Illustrator, and Acrobat documents. QuarkXPress 6.5 ( ; March 2005 ) added a similar feature through a plug-in, but it works only with Photoshop files.
Other changes extend existing InDesign features. For example, you can now create object styles, which let you apply and change formatting of lines and shapes consistently. So common graphic elements, such as sidebar boxes, can now easily be made consistently and updated throughout a document as the design changes.
It's no surprise that Adobe continues to integrate capabilities across its flagship products, given its decision two years ago to present them as a unified suite. InDesign CS2 shows that integration strongly: the file format for color swatches is now consistent across all CS2 applications, color management settings are now synchronized, and Acrobat job preferences can now be created and shared.
Helping Converts
Several enhancements copy long-standing QuarkXPress features, most of which aid InDesign's usability and flexibility. For example, you can now convert object shapes via a new menu instead of having to edit them manually. Also, InDesign now lets you select a new style for text when you delete an existing applied style; before, such text retained its formatting but no longer had a style associated with it. And InDesign can now finally save just selected color swatches (instead of all swatches) for importing into other InDesign documents; QuarkXPress has long let you control which swatches you transfer. Similarly, you can now choose which styles to import from other InDesign documents.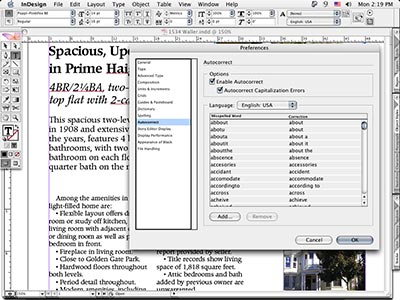 InDesign CS2 can automatically correct spelling and capitalization errors as you type, as well as highlight suspect words on screen with red squiggly underlines. (Click image to open full screenshot)
PageMaker users will also see several familiar features, including the PageMaker Toolbar that provides iconic buttons for quick access to controls, such as the Save button. The functions of Adobe's PageMaker Plug-in Pack ( ; June 2004 ), available for InDesign CS, are now part of InDesign CS2. These include the Position tool (a renamed version of PageMaker's Crop tool), automated bulleted and numbered lists, and data merge. The data merge feature is useful for highly structured documents such as mailing labels or form letters, but not so well suited for catalogs; that's because each variable item has to fit within a consistently sized text frame—a mailing label easily does this, but a product blurb in a catalog may not.
A Few Quirks
As amazing as InDesign CS2 is, it has some problems that Adobe should address in future versions. For example, many people will miss the No Paragraph Style option in the list of paragraph styles, to unapply styles to text selections, a standard practice in QuarkXPress workflows. Some designers—and Adobe, obviously—don't like the unapply capability because they object to having styleless paragraphs. InDesign can still unapply styles, but now you have to use a hard-to-find menu option for this basic task.
Despite better integration with other Adobe programs, InDesign cannot apply blending modes inside a Photoshop file to backgrounds in InDesign. For example, if you create an object with a drop shadow in Photoshop and you set the drop shadow to Multiply, InDesign uses Normal blending mode since it can't detect the Multiply setting from Photoshop, even though both programs use the same blending modes.
The new ability to display fonts in menus using the actual fonts is well-intentioned, but if you own many fonts, the menus get so large that you can't see very much of your layout. I turned this feature off.
Among the enhancements added to InDesign CS2 is the ability to save files to the previous version. But you can easily overlook this feature: you have to choose InDesign Interchange in the Export dialog box, rather than use the Save As dialog box as most other programs do. (InDesign CS users must download an update to be able to open these Interchange files.)
InDesign continues to limit its Web-export support to Adobe's own GoLive CS2, placing a barrier to people who use the much more popular Macromedia Dreamweaver ( ; January 2004 ). And I was unpleasantly surprised to see that InDesign still cannot replace two consecutive hyphens with an em dash as you type; the new Autocorrect feature won't accept the em dash (or other special characters such as ®) as a legitimate character, so you cannot use that feature to add automatic conversion. Another feature not thoroughly implemented is text wrap. InDesign document pages do not recognize text wrap set on master pages, so the text doesn't wrap the master-page items as it should.
Macworld's Buying Advice
There's no question that InDesign CS2 is the best layout program available. This upgrade enhances its traditional typographic and layout strengths by making text handling more powerful, while also adding dozens of improvements for a more well-rounded interface.
[ Former Macworld editor and veteran technology writer Galen Gruman has written 19 books on desktop publishing, including Adobe InDesign CS2 Bible and QuarkXPress 6 Bible (Wiley Publishing; 2005 and 2003, respectively). ]
Note: When you purchase something after clicking links in our articles, we may earn a small commission. Read our affiliate link policy for more details.