At a Glance
Expert's Rating
Pros
Mobile device authoring
Significant CSS improvements
Encrypted file transfer
Cons
Buggy first release
Lack of compelling new features
Our Verdict
Adobe has added key features to GoLive that make this veteran of the Web-design wars even more appealing to its key audience of designers. But bugs in the release version, coupled with an uncertain future, make GoLive CS 2 a tough product to recommend at this time.
The bugs include pages that can't be edited after switching between editing and previewing modes, crashing when opening an alias to a missing network volume, and numerous less-serious errors throughout the program. Adobe product managers say that the bugs will be fixed in an update, although the timing of the update was not set at press time.
Harder to predict is GoLive's future after Adobe's purchase of Macromedia is complete. Macromedia Dreamweaver MX 2004 ( ; January 2004 ) has dominated the market. Adobe's plan for both products is unknown.
GoLive CS2 has four significant changes: improvements to Cascading Style Sheets (CSS); page creation and preview for small devices (such as PDAs); secure file-transfer sessions; and rich file versioning for archiving and renditions (storing multiple versions in the same file). This version continues to omit support for database integration, a leading element in Dreamweaver's success.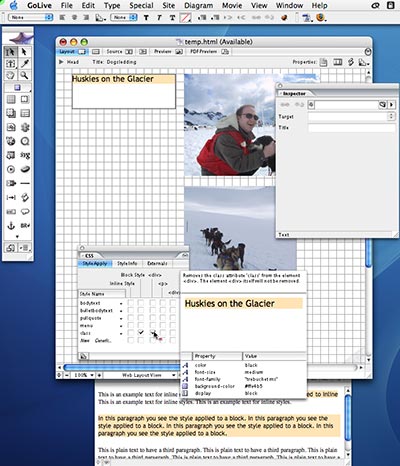 Adobe GoLive CS2's improved CSS tools allow better interactive design. You can more easily preview its typographically rich pages and sophisticated layouts. (Click image to open full screenshot)
Full Visual CSS
GoLive has long supported CSS, a method of consistently applying type and positioning specifications. The latest release offers much-improved tools for building and previewing pages using CSS.
For instance, CSS selectors can be previewed in Layout view, in a preview pane in the CSS Editor, and through the Live Rendering option.
Adobe finally abandoned the clunky approach to positioning items on a page using tables that produced code no human could read and some browsers disliked. Its Layout Grid feature now uses CSS behind the scenes. The CSS option in the Objects palette offers prefabricated layout blocks that appear to avoid many of the pitfalls in multicolumn and multirow CSS design.
Small Devices
GoLive CS2 has improved the range and quality of previews for small devices, which include handhelds, cell phones, and a growing host of small-screen Web browsers.
GoLive CS2 lets you keep a live preview of pages as they would appear on small screens. It also includes rich multimedia-creation tools for phone platforms that support it, including an MMS (Multimedia Messaging Service) designer that allows interleaving of text, audio, images, and video.
While Adobe has included support for this kind of authoring in two previous releases, GoLive CS2's approach lets designers without a lot of technical expertise design for phones and handheld devices.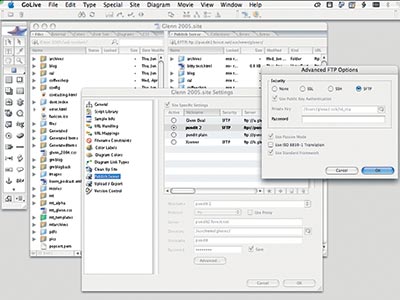 GoLive CS2 supports three styles of encrypted file transfer protocol (FTP) for securely transferring files from the program to a Web server. (Click image to open full screenshot)
Encrypted File Transfer
File Transfer Protocol (FTP) and Web-based Distributed Authoring and Versioning (WebDAV) are widely used to manage a Web site's files on a server, but the protocol doesn't protect passwords or files from prying eyes as data passes across unprotected public networks like Wi-Fi hotspots.
Dreamweaver added Secure FTP (SFTP) support last year to encrypt FTP data, and GoLive CS2 brings SFTP and two other methods to FTP (SSH tunneled FTP and FTP over Secure Sockets Layer, also known as FTPS), as well as scrambling WebDAV using SSL. You can even skip entering passwords by using public keys.
In testing, SFTP was unacceptably slow. And although GoLive CS2 has a new method of retrieving files via any form of FTP, this feature has a bug that causes the program to repeatedly retrieve listings of the same remote directories if they use aliases or Unix symbolic links. GoLive's FTP slows to a crawl compared with dedicated FTP programs like Interarchy or Fetch.
Version Cue CS2
Version Cue CS2 is the third release of GoLive's version-control and archiving system. In its previous versions, it was erratic. What's best about Version Cue and GoLive CS2 is that now they work together happily for their given purposes: checking files in and out to allow groups to collaborate with common files that can be archived.
GoLive CS2 also works with other popular systems like CVS (Concurrent Versions System) for maintaining a persistent archive of older files for comparison and reversion.
Macworld's Buying Advice
In a word: Wait. If you're a current GoLive user or planning to purchase a copy, there's little point in installing the upgrade or a fresh copy until the bugs are gone, and then only if the program's new features fill unmet needs. New users should wait until Adobe's plans for Web design applications are clear.
[ Glenn Fleishman writes daily about Wi-Fi and wireless technology on several Web logs. He is the author of Real World Adobe GoLive 4, 5, and 6 , (Peachpit Press; 2000, 2001, 2002) and Take Control of Sharing Files in Tiger (Tidbits, 2005). ]