Nick Jr.'s Dora the Explorer is a big-hearted, exuberant bilingual girl who teachers her viewers about the world in both English and Spanish. She's returned to the Mac recently with an edutainment game published by MacSoft called Dora the Explorer Animal Adventures. It's a good match for preschoolers who are already fans of the TV show.
In Dora the Explorer Animal Adventures ( ), Dora and her simian companion Boots are joined by Dora's cousin Diego as they find out about wildlife while learning. There's been a bad storm, and Diego, who lives at the Animal Rescue Center, has recruited Dora and Boots to help him make sure all the animals are safe.
There are several different habitats to explore, including Dark Mountain, Rainforest Treetops, River Rapids, Canopy, Riverbank and Understory. In each place Dora and Boots must find animals and, in many cases, rescue them or reunite baby animals with their parents. You can stay in touch with Diego using a PDA-like "Field Journal," which you can also use to snap pictures of the animals you encounter, play music videos, or even create your own custom habitats using "stickers" of the plants and animals in this wilderness.
Wildlife isn't the only lesson here, however. Dora the Explorer Animal Adventures is filled with learning activities like counting and number values, memory games, matching shapes and colors, and more, as kids participate in activities like matching up creatures on Dark Mountain, helping to feed animals, and racing down a river to rescue a baby jaguar. And as you might expect from a game based on the Dora the Explorer TV show, the game also includes songs and a little bit of Spanish vocabulary for good measure.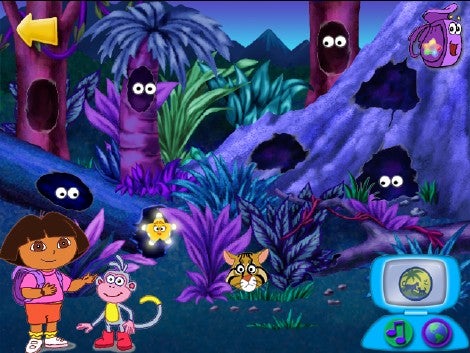 Most of the activities are of the "soft learning" variety. That is, they don't hit you over the head with a hard curriculum, but instead introduce activities that get you to go along with the relevant educational concept by engaging you in play. For example, the Dark Mountain Matchup is a Concentration-like game that tests your memory and matching skills by uncovering animals that are hiding in the dark — when you find two animals that match, you're rewarded and lavished with praise. Or in the case of the Move Like the Animals activity, you must use logic skills by instructing Dora to move to the baby animal stranded in the treetops by issuing her a specific command, like climb like a spider or jump like a monkey.
All the commands and interactions you'll make in Dora the Explorer Animal Adventures are graphical in nature, so there is no reading. This title is aimed at kids ages three and up, many of whom haven't developed reading skills, so that makes it a bit easier for the younger set. And three levels of difficulty make sure to keep kids busy for a while.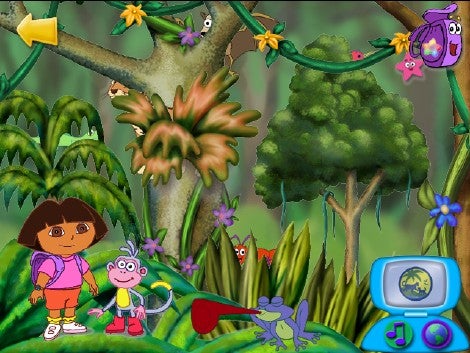 Dora the Explorer Animal Adventures follows the basic playlist of the TV well enough to be familiar to Dora fans and non-threatening even to kids who may not have used computers very much in the past. Given that this title allows kids to enter their names and proceed at their own pace, it would be nice if it had some tracking capabilities to let parents or teachers know how well their kids are doing in specific areas, as many other edutainment titles do.
MacSoft has licensed the PC version of Dora the Explorer Animal Adventures from Atari, so the Mac version is in a separate box from its PC counterpart. It's differentiated with the MacSoft logo and the word "Mac" on the spine of the box, and includes Mac-specific system requirements.
So please make sure when you go shopping that you have the right box, and if there's any question, you can order it from MacSoft's Web site directly to save yourself the trouble. Make sure to go to the "Store" area on their site, though. MacSoft has buried information on this release pretty deep, and it's rather tough to find.
System requirements for Dora the Explorer Animal Adventures call for a G3/400MHz or faster running Mac OS X v10.1.5 or later, an ATI Rage 128 graphics chip or better with 8MB VRAM and 128MB RAM — good enough even for older CRT-based iMacs that have been upgraded to Mac OS X. Don't look for any advanced features, though, like multiple resolution support or support for windowed mode.
The game is rated EC for Early Childhood by the ESRB.
The Bottom Line Dora the Explorer Animal Adventures is a fun and benign way to introduce little ones to important learning concepts while having fun with exotic animals.
For more game news, reviews and information, please visit Macworld's Game Room.