Ever since I left Macworld 's home office in San Francisco to move to Oregon, my attic has been crammed with stuff: wool sweaters, boxes of model horses, a complete set of Nancy Drew books, pictures that haven't been hung, even my 8th grade notes. (Yes, the kind you tossed behind your teacher's back.) But the biggest space hog of all has been outdated technology.
My husband and I accumulated an incredible collection of old Macs, old PCs, mice and keyboards we broke or never used, SCSI cables long since abandoned, and monitor upon monitor upon monitor. I've done what I can to find creative reuses for these things (look below for how a dead trackball can find new life as a pull-toy), but if you're committed to keeping up with technology, the inevitable byproduct is an ever-expanding heap of junk.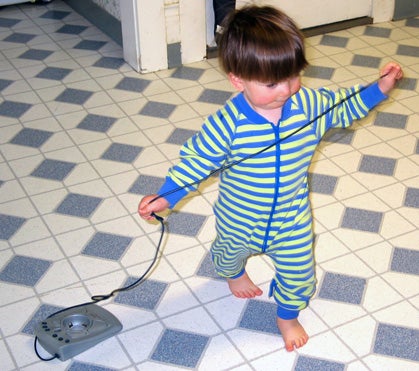 The day after Steve Jobs made his Intel announcement, we packed the station wagon full of boxes and hauled it all to a local non-profit that recycles old computers. The technophile's trash is Free Geek's treasure. Volunteers strip old computers of their components, recycle the things that can't be used, and then build new computers from what's left. Volunteers who work 24 hours in the recycling center or who build six computers earn a FreekBox . These Pentium based systems are loaded with—no surprise—free open-source software (see the specs here ).
Free Geek also donates computers to other non-profit organizations. (And serves as a valuable social outlet for Portlanders with events such as the Geek Prom. Ah, to be young and geeky in the 21st century.)
If you'd like to clean out your attic, check out this list of like-minded organizations to see if there's one in your area. You can also get rid of your old Macs through the Apple Recycle program. Sure, every time Steve Jobs or Bill Gates take a stage it means certain death for many of the computers sitting on desks that day. But with a little effort, not all of them will go to waste.