Over the weekend, Griffin Technology announced iFill, a $20 program by Andreas Pardeike and distributed by Griffin that will download multiple simultaneous Internet radio streams to your iPod. We've taken advantage of the program's one-free-week license to put it through its paces. Here's what we found:
Fill 'er Up
Owners of high-capacity iPods often find that much of their music player's storage sits empty. iFill is designed to easily fill that space with free content from the web; specifically, Internet radio streams. It works this way:
You plug your iPod into your Mac (a Windows version of iFill is in the works), configure it so disk use is enabled, and launch iFill. The main iFill window details how much music is currently stored on your iPod (by number of tracks and total playing time), how much of the iPod's storage is being used for data (contacts, calendars, notes, and any other data you've chosen to copy to the device), how much music iFill has placed on the iPod, and how much space you've set aside in reserve (the program includes a user-configurable field that allows you to reserve a certain number of gigabytes for your own use).
Service Stations
Below is a Choose button that, when clicked, opens the Stations window that displays scads of streaming stations. You can sort these stations by station name, number of listeners, bitrate, and genre. Search fields are supplied that reflect these same four categories. Once you pick a station you can click a Preview button to hear what it's currently playing. If you like what you hear, click the Stations window's Choose button to add the station to the list of stations you'd like to record.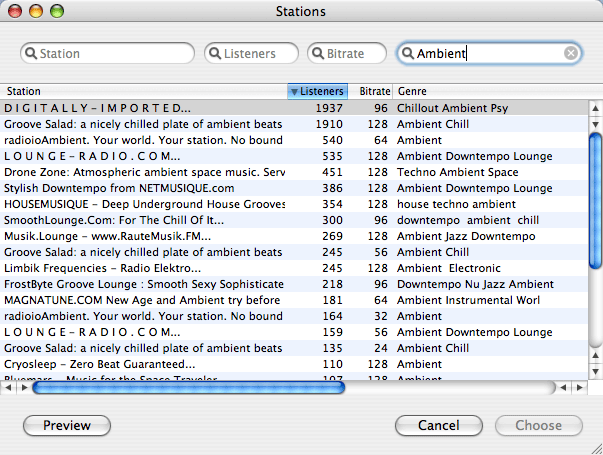 While iFill includes a lot of stations, you're not restricted to just those stations provided with the program. When you hold down the Option key while choosing Add Station from the program's Controls menu, an Open Station via URL window appears where you can add a link to a streaming broadcast (a link provided by Shoutcast, for example). These added links don't appear in the Stations window, however.
Packing the 'pod
iFill supports recording multiple stations simultaneously. Just click the + button at the bottom of the main window and follow the procedure I just described to add another station. When you've added all the stations you care to, click the Record button at the top of the window and iFill will begin recording those stations. Unlike Internet radio recording applications such as RadioLover and Internet Radio Recorder, iFill doesn't include a scheduling component that allows you to tell the program when to start and stop particular recordings.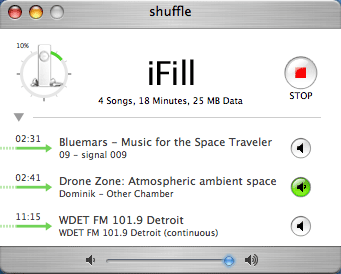 Using track information transmitted by the streaming stations, iFill splits recordings into individual tracks. You can view the recordings stored on the iPod within iFill's Songs on iPod window (view just the iFill songs or all the songs on the iPod). This window acts like a mini version of iTunes—allowing you to search by song name, artist, album/station and play the tracks on the iPod through your computer's speakers. Although the program's author suggests that songs placed on an iPod shuffle should also play back via this window, my 512MB iPod shuffle didn't play back through my Power Mac G5's speakers.
[Update: Playlist has learned that the version of iFill currently available on Griffin's site is darned-close-to-but-not-quite-final and a few bugs, such as this, will be worked out before final release of the program.]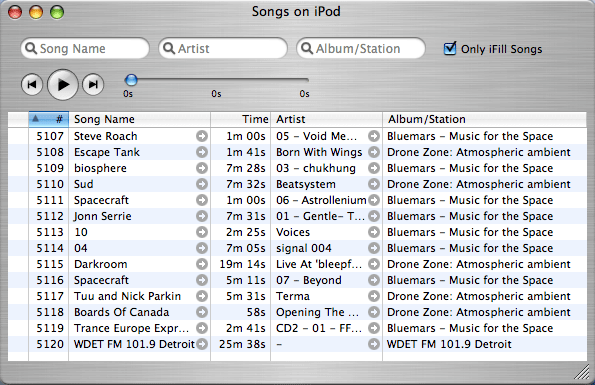 iFill doesn't store its captured music to your computer. Rather, it copies tracks directly to the iPod. Griffin suggests that iFill does this to keep you from cluttering up your hard drive with music files. It also makes sense as much of what you listen to will be tossed after one listening anyway. It's also possible that because iFill can download copyrighted material that's not licensed for redistribution, Griffin is making the material a little bit more difficult to share with others by keeping it off your hard drive (though there's nothing to keep you from moving these files off your iPod as you would any other tracks stored on it).
There was some confusion around the release of iFill where it was suggested that the program uses Apple's FairPlay DRM (Digital Rights Management) scheme to protect files from being copied. This is not the case. In my tests I copied iFill files off my iPod with Whitney Young's Senuti and the files copied to my Mac were simple 128kbps MP3 files—completely unprotected.
When iFill adds music to your iPod it also creates an iFill playlist on the iPod, making it easy for you to find just the music added by the program. When you're ready to clear your iPod of iFill tracks, just click the Clear all iFill Songs button in iFill's main window and all tracks added to the iPod by iFill will vanish. If you care to you can remove individual tracks within the Songs on iPod window.
First Thoughts
iFill looks very cool for the right kind of user—the sort of person looking for a very easy way to load their iPod with new (and free) content. If you prefer to schedule recordings—rather than record whatever happens to be on—and then manage those recordings in iTunes before moving them to your iPod, iFill may not be as fulfilling as you'd like.