At a Glance
Expert's Rating
Pros
Includes phone dialer
Custom e-mail templates
Integrates with Address Book
Shows caller ID for calls coming to a Bluetooth mobile phone
Word-document merging, polished interface
Cons
Skimpy documentation
No calendar features
Can't print mailing labels
Poor iCal integration
Our Verdict
Objective Decision's OD4Contact 2.5.3 bundles powerful contact, task, and communication management abilities in a polished interface. If you're a salesperson or small-business owner—or anyone who needs to forge and nurture lots of relationships—OD4Contact will help you manage your contacts better than OS X's built-in Address Book. as a worthy competitor to all-in-one applications like Microsoft's Entourage.
A few views
OD4Contact centers on one window with three views: Contact, Task, and Communication Center. Finding your way around OD4Contact is mostly intuitive thanks to the well-designed interface. That's fortunate, because the only documentation is a six-page Quick Start Guide.
In the Contact view, you can do almost everything possible in OS X's built-in Address Book—and more—and any changes synchronize dynamically with it. Unlike Address Book, OD4Contact lets you assign custom, color-coded categories to contacts (as you can with other items such as tasks and e-mail messages) or organize them into groups and subgroups. Enterprise Groups can contain shared company information (such as a corporate address or Web site); dragging a contact into an Enterprise Group automatically adds company information to the contact. But editing information in individual contact entries requires switching between different tabs in a separate window, making data entry slower than editing in Address Book.
Open communication
Let's say you're a salesperson tracking your activity with a client. In the Communications pane in Contacts view (or in the Communication Center view), you can scrutinize all communications associated with the client. A plug-in for Apple's Mail automatically finds all related e-mail messages (but you can't see the body of messages in OD4Contact; clicking on them opens the messages in Mail). If you use the OD4Contact dialer to make calls, it automatically logs your calls. It will also track your iChat chats, if you like. If you want to track faxes or physical mail items, you just add them manually.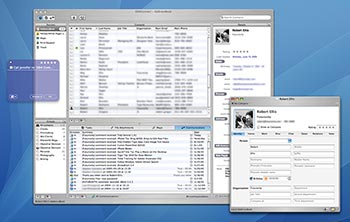 OD4Contact offers powerful contact, task, and communication management. Shown here, you can view all communications associated with a contact (Click image to open full screenshot)
OD4Contact doesn't stop there. All associated tasks or files (such as that all-important proposal) show up together. OD4Contact can produce a map to the client's office or home using Maporama or MapQuest, and then you can save the map with the client record to help you find your way back. You can create letters using Word templates or compose messages using custom e-mail templates and send them via Apple Mail or directly from within OD4Contact. It's easy to send an e-mail message to a group or use Word-document merging to create custom letters for multiple clients.
Getting things done
To print multiple contacts or tasks, just drag them to Print Deposit, a print queue where you can preview multiple items and print them immediately or hold them for printing later. You can search White or Yellow pages. OD4Contact will even notify you of calls coming in on your Bluetooth mobile phone, displaying caller ID information in a translucent window.
OD4Contact also offers flexible task management. It's easy to set reminders in the Task View, attach them to contacts, and have the alarms trigger multiple actions, such as play a sound, display an alert message, send an e-mail, or open a file, just as in iCal. But OD4Contact's iCal integration is spotty. Although you can import tasks from iCal, or create a special calendar in iCal to add your tasks from OD4Contact to iCal, you can't view or manage your iCal appointments from within OD4Contact.
OD4Contact imports and exports vCal and vCard files, making it easy to get your data in and out of the program. OD4Contact can sync your data directly with your iPod (or with a PDA using iSync), and you can share your contacts on your local network using Bonjour (formerly Rendezvous).
Macworld's Buying Advice
OD4Contact 2.5.3 shows a lot of promise. It's still missing some key features, such as label printing and better iCal integration or calendar features. But OD4Contact is worth a serious look if you need a more flexible contact and task manager than Address Book and iCal can provide.
[ Robert Ellis juggles lots of contacts as a freelance writer, frequent Macworld contributor, and management consultant. He publishes the blog Futurosity.]