Apple's decision to replace PowerPC chips with processors from Intel may have long-term benefits for both the company and its customers. But the processor switch could potentially hurt near-term hardware sales, if the attitudes of those surveyed in the Macworld Reader Panel are any indication of what Mac users are thinking.
Asked how Apple's decision to change chip suppliers could affect their decision to buy a new Mac in the next 12 months, a third of the 414 panelists surveyed by market-research firm Karlin Associates said they would be less likely to make that purchase.
The survey was conducted between June 15 and June 17, a little more than a week after the Worldwide Developers Conference keynote where Apple CEO Steve Jobs announced his company's new partnership with Intel. During that speech, Jobs also said the first Macs powered by Intel-built chips would appear in 2006, with the transition complete by 2007.
That two-year gap between Jobs' initial announcement and the completion of the Intel transition poses one of the biggest risks for Apple — how does the company convince Mac users to keep buying new hardware if Intel-powered machines are just on the horizon? And the 33 percent of respondents who identified themselves as less inclined to buy a new Mac in the next 12 months indicate that challenge is a very real concern for Apple.
"I was planning to upgrade my office with the non-existent PowerBook G5 and home system with a dual-2.7GHz tower," said one respondent who described himself as frustrated by the news. "So now I'm in the lurch, especially when there are no new machines ready."
"My concern after already purchasing a Power Mac G5 this year [is] will Apple continue to make software updates [so] that I can get four to five years of life out of my machine like I planned?" another respondent asked.
Still, the results of the Macworld Reader Panel survey do offer some comfort for Apple. A majority of the readers surveyed said the switch to Intel chips wouldn't affect their purchase plans over the next 12 months at all. Another 13 percent said they were more inclined to buy a Mac in that time frame.
"My next Mac will probably still be PowerPC[-based] just so I don't have to upgrade my current software," said a respondent who is more likely to buy a Mac this year.
The reluctance of some Mac users to buy new hardware before Intel chips make their Mac debut could be related to the perceived speed and cost benefits of a "Macintel" computer. Eighteen percent of the panelists surveyed believe Macs with Intel chips will be faster than ones using PowerPC processors; another 15 percent expect the Intel machines to be cheaper. And 29 percent said they believe Intel-based Macs will be both faster and cheaper than their PowerPC counterparts.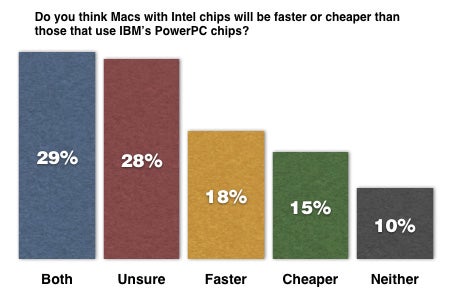 "If it brings us faster, cheaper machines that I can afford on my teacher salary with little problems, I think it will be fantastic," a reader said. "If not, what's the sense in changing a good thing?"
Regardless of the perceived benefit of an Intel switch, Mac users are not expecting an entirely hitch-free transition. Two-thirds of the panelists surveyed anticipate some bumps in the move to Intel chips, though nothing serious. Another 26 percent expect more problems, but believe the transition will be made successfully. Only 4 percent are expecting a chaotic transition.
"I think Apple may have underestimated the challenge of the transition," a respondent said. "Not all apps will require only a tweak and a recompile."
Other panelists were more confident. "I don't think it's as big a deal as the Mac community seems to be portraying it," one said. "For me, as long as my Mac continues to act like a Mac, I don't care who supplies the insides."