At a Glance
Expert's Rating
Pros
Reasonably priced subscription to real-time weather data
Beautifully detailed graphics
Modest system requirements
Makes learning fun
Excellent performance
Our Verdict
Even the loveliest screenshots do a great injustice to 3D Weather Globe & Atlas. You must see this program running to truly appreciate its beauty and capabilities; even then you'll have a hard time believing your eyes. 3D Weather Globe gives you an astronaut's view of the spinning Earth. Mind you, it's not a canned QuickTime movie; this is real-time 3D animation, and you can choose to overlay swirling cloud cover based upon the actual weather.
If that isn't cool enough, you can play God, changing the rotation of the globe, zooming in to see the detailed topography revealed by high-resolution NASA satellite data, and even adjusting the transparency of the oceans so that you can see landmasses on the other side of the world.
Even though 3D Weather Globe & Atlas is arguably the greatest demonstration of the graphics capabilities of modern Macs, its system requirements are quite modest. All you need is Mac OS X 10.3 or later running on a 600MHz or faster G3 processor, a 400MHz or faster G4 (with the exception of the original PowerBook G4), or any G5. Furthermore, it requires a 1,024-by-768-pixel display, 16MB of video RAM (32MB recommended), 256MB of memory, and an Internet connection for weather forecast data. On my 1.8GHz iMac G5, there's no performance degradation, even when the program is running in the background.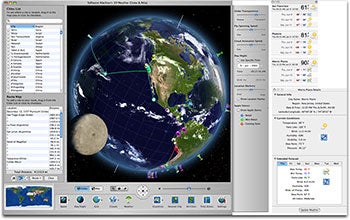 3D Weather Globe & Atlas gives you a realistic view of the world and its weather. Sir Francis Drake's route is plotted here, shown with optional grid lines and astronomy elements such as the moon and stars. (Click image to open full screenshot)
If you're interested in weather, this is the program for you. It comes with a one-year subscription to a real-time data stream and seven-day forecasts for 40,000 cities worldwide (renewals cost $10 annually). You can display temperature, wind speed, humidity, visibility, dew point, and many other weather conditions in a transparent window that remains in the foreground over the windows of other applications, making it more convenient than the Tiger Dashboard widget that's also included.
In addition to providing a window on the weather worldwide, 3D Weather Globe & Atlas is ideal for educators looking for an engaging way to teach geography, astronomy, and history. Superimpose latitude and longitude grids, country borders, and the current night and day line simply by clicking icons. Roll the mouse over land and up pop the names of cities, states, and provinces, as well as time zone borders. Click another icon to toggle between the globe and a flat map, then drag a rectangle to zoom in. Everything happens instantaneously, making exploration a joy.
Speaking of exploration, there's even a route-mapping feature that tallies the distance between cities or geographic coordinates. The program comes bundled with historic journeys such as Magellan's voyage, and you can create, store, and share your own routes.
Macworld's Buying Advice
If you're interested in weather or geography, you absolutely must own 3D Weather Globe & Atlas 1.1. From a practical standpoint, its real-time weather feed is unmatched in scope and reasonably priced. For just plain fun, you can't beat wowing your Windows friends by demonstrating the Mac's graphics with this OS X-only application, and it even comes with a screen saver module that shows an amazing satellite fly-over of the Earth's surface. 3D Weather Globe & Atlas will change the way you think about our small blue marble in space.
[ Owen W. Linzmayer is a San Francisco-based freelance writer who has recently written two Apple Training Series books: Desktop and Portable Systems , 2nd Edition and Mac OS X Support Essentials , 2nd Edition (Peachpit Press). ]