At a Glance
Expert's Rating
Pros
Lots of music storage, supports high-quality audio encoders, high-end models include good audio card
Cons
Bare-bones browser interface, remote control available only through Pocket PC, no support for wma or AAC files
Our Verdict
Don't look now, but we're in the midst of the kind of rush evident in the search for California's gold in the 1840s and a similar search for stock options and venture capital in the 1990s. The currency this time around is digital music. With the advent of the iPod and iTunes, everyone wants into the game as evidenced by the flood of gadgets purported to make consuming music a richer, more enjoyable experience.
Gadgets such as the iPod are immediately useful to just about anyone who enjoys music. Others are better suited to a particular kind of user—one with lots of money or someone who desires the best audio-quality possible, for example. Somewhere in-between falls Digital Techniques' Blackbird digital music player—a set-top box that allows you to store and play mountains of music in a variety of audio formats through a stereo connected to its high-quality audio outputs.
The Black Box
The Blackbird is a black box a bit smaller than your typical stereo receiver that acts as a music server. Within the box are the electronics necessary for it to work its magic, a hard drive for storing music, and a sound card for playing music through an attached stereo.

Currently Digital Techniques offers the Blackbird in four configurations. The $499 and $599 models include a Creative Technology Soundblaster Live audio card and offer 80- and 160GB hard drives, respectively. The $799 and $899 Blackbirds include M-Audio's high-quality 2496 audio card and 160- and 300GB hard drives respectively. All Blackbirds support files encoded in the MP3, MP3PRO, Ogg Vorbis, WAV, and FLAC formats—wma, AAC (plain and protected), and Apple Lossless files are not supported.
Bare-bones Interface
You configure and control the Blackbird over an Ethernet or wireless network via a web browser. (In addition to traditional network addressing Blackbird supports Apple's Bonjour—formerly called Rendezvous—zero-configuration networking standard.) Just log onto http://blackbird.local./ to view a fairly Spartan webpage that provides links to the device's list of songs, artists, genres, and playlists. On this home page you'll also find links for loading music and adjusting the Blackbird's settings.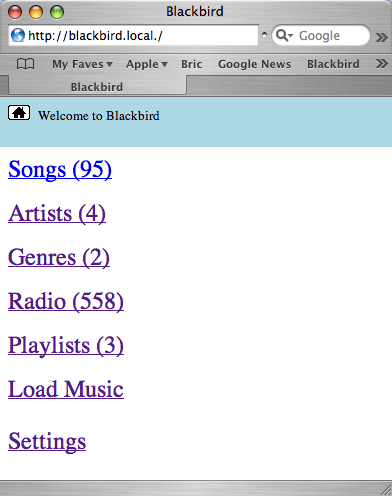 Adding music to the device isn't as easy as syncing an iPod in iTunes, but it's not a terrible chore either. Clicking on the Load Music link takes you to a page that includes a Java applet for loading your music. Just drag and drop a file or a folder full of files into the small File window and the tracks will be transferred over the network. Alternatively, you can mount the Blackbird's hard drive using a command such as smb://Blackbird/Music and drag the files into the resulting directory window. As Ethernet and wireless networks are far slower than FireWire or USB 2.0 connections, loading a lot of music can be comparatively slow going.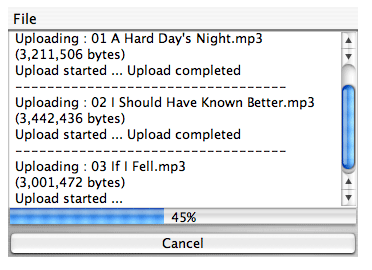 Once you've added that music, the Songs, Artists, Genres, and Playlists links are updated to reflect the number of items they contain—Songs (96) and Artists (4), for example. When you click on one of these links you'll see songs and albums arranged alphabetically. To keep you from having to scroll through an endless list of song titles, the software automatically breaks long song lists into multiple pages that you can navigate through Next and Previous links as well as alphabetical links (A – Z).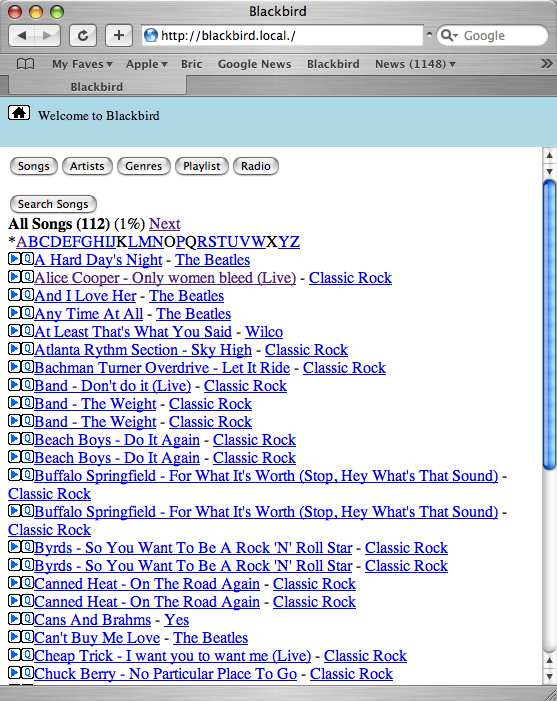 For example, if you click the artists link you'll see a list of all the artists on the Blackbird. Click an artist's name and you'll see albums by that artist listed under an Albums entry and then all the songs by that artist under a Songs entry. To play an album or song, just click the blue Play triangle next to it.When you click that triangle some simple (and small) control buttons appear at the top of the window. You'll also find a Search button on the Songs and Artists pages for easily locating songs and artists.
You can add songs to playlists by clicking a Q (for queue) button next to each track and, once in the playlist, change the order of songs by clicking up and down arrows next to tracks. If this sound primitive, it is. Being able to control the device from any web browser is all well and good, but that convenience is offset by too little convenience in regard to creating and managing playlists.
Like Slim Device's Squeezebox and the Sonos Digital Music System, the Blackbird has built-in Internet radio that doesn't require a connection to your computer (other than choosing the station you want to listen to via the Radio link on the Blackbird home page). Our review unit included 558 stations and you can add more by clicking the Enter URL button on the Radio page and, in the resulting page, entering the URL for the streaming radio station you'd like to listen to.
While the web browser interface is convenient because you can control the unit from any computer, it's not so hot if you need to dash to another room to access that computer. Digital Techniques has made some provision for this by letting you control the Blackbird wirelessly through a Pocket PC's Internet Explorer browser but it's not enough. The Blackbird cries out for its own remote control.
Value
I admit that after playing with the $799 Model 160A Blackbird review unit for awhile, I called up my Mac's calculator widget and punched in these numbers:
$799 – Blackbird with M-Audio card and 160GB hard drive $50 – Optional USB wireless adapter
$849 – Total
versus
$499 – 1.25 GHz Mac mini $79 – AirPort Extreme wireless card option $129 – AirPort Express wireless base station for connecting to remote stereo $180 – 160GB FireWire drive
$887 – Total
and it gave me pause.
The Blackbird has this going for it: Unlike a computer, it's always on and ready to do its one job—play music. It uses a high-quality sound card, can play great-sounding MP3PRO, Ogg Vorbis, and FLAC files; and includes Internet radio that you don't have to muck with.
On the other hand, the computer offers a far more sophisticated music client in iTunes—one that allows you to easily create and share playlists—support for the protected AAC files you purchase from the iTunes Music Store, and, of course, the computer is a tool that allows you to surf the web, send and receive email, make movies, manage your digital pictures, write letters, do your taxes, and entertain your kids.
The Lowdown
The Blackbird digital music player does what it's advertised to do—stores a mess of good-sounding audio files played through a high-quality sound card in a single package and offers the convenience of Internet radio streaming without the necessity of accessing those streams with a computer. What it doesn't offer is a flexible client for managing your music or a much needed remote control. If you're the right kind of user—someone with a massive music collection who wants that music to sound as good as possible—the Blackbird is worth your consideration. If you've already got a computer packed with music and you're satisfied with the sound it makes, this Blackbird may not be your flavor of fowl.