Puppy Games knows a good thing when it sees it, and borrows from the best: Its game Ultratron is, in fact, the second iteration of a Puppy Games-made title that's inspired by Eugene Jarvis' seminal arcade game classic Robotron: 2084.
If you're too young to remember, or if you had better places to be during the mid-80's, Robotron was one of the best arcade games out there. The game pit you against an onslaught of robots that descended from every corner of the screen, and a trick dual-joystick set up let you move and fire in 360 degrees simultaneously. The game has been mimicked and copied innumerable times over the years, by everyone from Jarvis himself (Smash TV) to Freeverse Software (Kill Monty).
Ostensibly the sequel to Puppy's own Puppytron 2084, Ultratron ( ) pits you against a never-ending swarm of evil killer robots — robots that have already laid waste to the human race. You are the one remaining humanoid battle droid, and vengeance is your goal.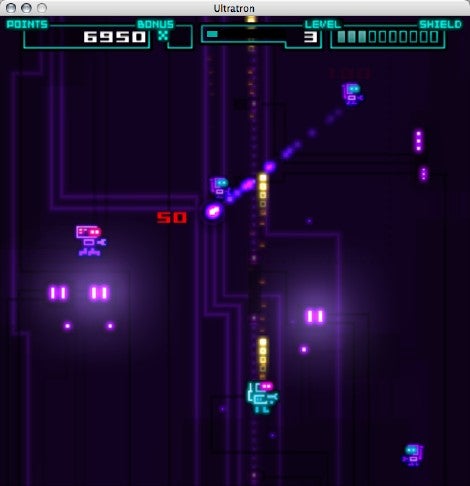 To that end, you must battle wave after wave of marching killer robots until you can finally square off against the "four bots of the Apocalypse:" Ieiunitas, Bellum, Lues and Letum. These "boss" robots are bigger than their minor counterparts and much more tough, but you're not totally defenseless: Along the way you can also pick up "power ups" that will charge up your defensive shields, give you a three way shot, more rapid autofire, more powerful shot or other capabilities.
All told, Ultratron has over 40 levels, populated by 70 different kinds of robots, each with unique capabilities and looks. Ten powerups will help you get through, and the game also features "bonus" stages that let you pick up extra points if you blast everything on the screen. Finally, there's an online high score registry that will let you compare your abilities to other Ultratron players.
Puppy Games has given Ultratron a very retro-futuristic look and feel. The game uses OpenGL for its graphics, so it's hardware accelerated, and it's reminiscent of the vector-based games of yore (like Asteroids, for example). There's more of a neon glow to the characters and visual effects you'll see in Ultratron, along with scrolling background filled with animations (spotlights that are drawn to your character, or laser pointers that find you in the darkness, and so on).
On the downside, there's no support for game pads or other controllers besides the keyboard, which is a real shame, since Ultratron is screaming for dual-joystick action. And what you see is what you get — though there are more than 40 levels, they get repetitious after a while unless you're determined to make it to the end.
Available for Windows, Mac and Linux, Ultratron only costs $10 to register. What's more, the download measures only about 6MB, so it's an easy grab.
The bottom line Ultratron is another homage to one of the best arcade games of the classic era. It embellishes its Robotron heritage with bosses and retro-futuristic graphics, but stays true to its roots.
For more game news, reviews and information, please visit Macworld's Game Room .