Wouldn't you know it, the minute I pack myself onto an intercontinental flight bound for Denmark for this week's Baltic Blast Geek Cruise, Apple ups and releases the much-anticipated iTunes 4.9 and coalesces the iPod line. Oh sure, I supposed I could have taken advantage of SAS' new in-flight Internet service to be completely on top of things, but I was far too preoccupied by my snoring seatmate's elbow jammed between my third and fourth ribs.
Thankfully, the crew at home has this one well under control. Cyrus Farivar has run iTunes 4.9 through its paces and Playlist's reviews editor, Dan Frakes, has already had his way with a new 20GB color iPod. Because I feel just the tiniest bit left out of the action (and, thanks to jet-lag, I'm also fully awake at 4:00 AM), I thought I'd shove my oar in and note a couple of things I haven't seen mentioned elsewhere.
The first is that Apple appears to have made allowances for podcasts and low-capacity non-shuffle iPods. As you undoubtedly know, if your iTunes library exceeds the capacity of an iPod, iTunes will create a playlist of music chosen randomly from your library and download that playlist to your iPod. When it does so under iTunes 4.9, podcasts appear to be given priority so that they're always placed on the iPod.
The same can not be said for the iPod shuffle. iTunes 4.9 won't automatically download its podcasts to the shuffle. Even after I created a smart playlist for my iTunes' podcasts (you do so by creating a condition that reads "Genre is Podcast") and instructed the shuffle to autofill from that podcast playlist, no podcasts were transferred. Instead, I had to manually drag the podcasts onto the shuffle icon in the iPod Source list. If my observations are correct and podcasts must be moved manually I hope that Apple will address the issue and make automatic updating of podcasts possible on the shuffle.
My second observation is that Apple has made a subtle change to iTunes' Importing tab. If you select AAC Encoder from the Import Using pop-up menu within this tab and then click on the Setting pop-up menu, you'll see a new Podcast option. This option encodes audio in the AAC format at 32 kbps (mono)/64 kbps (stereo), 22.050 kHz, using voice filtering, optimized for Velocity Engine.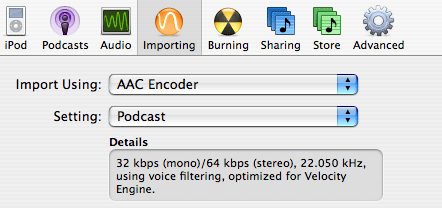 If you're intimately familiar with Apple's AAC Encoder settings this "voice filtering" option is new to you. Me too. If you choose Custom from the AAC Encoder's Setting pop-up menu you'll find a new Optimize for Voice option that, presumably, filters the audio to favor the human voice. I can only assume that Apple's added this option so podcasters can more easily convert their broadcasts to a format Apple believes is optimal for iTunes' distribution.