MacSoft's Tropico 2: Pirate Cove brings the world of real-time strategy gaming to the Caribbean during the Age of Sail. You're the Pirate King, leader of a burgeoning pirate empire, and you oversee everything from the training and care of your scurvy pirate crews to the "staffing" needs of the local brothels, farmhouses, mines and more, all of them dependent on a ready supply of captive labor.
Yo ho, yo ho, a bureaucrat's life for me
Put simply, Tropico 2: Pirate Cove ( ) is what happens when the Pirates of the Caribbean and Sim City meet. You're the Pirate King, de facto ruler of this land, and it's your job to oversee every detail of how your burgeoning island empire is run and managed.
At the most basic level, you must manage resources like timber, food and iron — using captives your crews have grabbed during their raids as slave labor to man the mines, chop down the trees and plant and harvest crops.
As you acquire resources you can build your empire, creating new docks, shipyards and structures that will improve both your coffers and the quality of life on your island. Eventually you'll be able to harvest sugarcane, which you can turn into rum (and rum makes for happier pirates), turn iron ore into pig iron, which can then be used to make muskets and cannon, and even harvest tropical fruits — in the hands of a skilled baker, these can be turned into tasty pastries that the pirates love, too.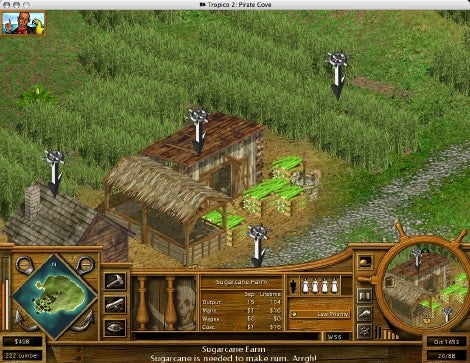 Matching your facilities to your population is also crucial. It might be sufficient to simply set up a chuck tent to feed slop to your captives, but the pirates will demand more varied forms of repast. And a tavern that serves beer and simple fare will work well for basic pirate crews, but as your population expands, their tastes will get more sophisticated: They'll eventually demand casinos, cigars and other diversions.
Once your buccaneers have plundered and amassed fortunes, you can even set aside land for them on the island and let them build personal mansions. What's in it for you? Taxes, of course. More money for your treasure chest.
A place for everything…
Everything has its place in Tropico 2 — some resources, such as brothels, have a tendency to generate a bit more anarchy, especially when drunken pirates are on shore leave. And other objects, such as forts, gallows and stockades — have a deleterious effect on the morale of your captives. This can be good, keeping them in line. But keep them too squashed under your thumb and your raise the risk of resentment and rebellion. So you have to be careful about where some buildings are placed.
What's more, some natural resources will yield better results in certain locations — mines are only good in mineral-rich areas, for example, while papayas, sugarcane and corn only grow well in certain spots. Tropico 2 features an overlay mode that lets you view those elements and many others on a grid, to help find the position for your buildings, farms, mines and other structures.
As Pirate King, you're omniscient — you don't just know what people are doing and where they're going, but what they're actually thinking. Clicking on any individual on your island will yield information about them — what they do, where they've been, where they work, and what state of mind they're in. It's a good way to get a quick snapshot of how your population (captive and free) is doing, and, in turn, how well you're doing.
Micromanagement has its downsides, too — there's a ton of details to keep up on, and if you don't pay attention, you can get swamped pretty easily. Like they say, it's not the elephants that bite you most, but the fleas. Nowhere is that more true than in Tropico 2.
All I ask is a tall ship and a star to sail her by
The Caribbean is a big area, especially for a little pirate enterprise — in fact, Tropico 2 has divided the region into 18 separate territories, each with strategic alliances to a big European power (England, France and Spain are superpowers). You can massage your strategic alliances, swearing fealty to a specific power, or showing amnesty to prisoners of particular national origins, for example, which might curry favor with other powers. Or, you can be a brutal and violent leader — assassinating those who get in your way, or committing wholesale executions of captives who hail from enemy lands.
You can't do it all yourself, so sailing and plundering on the high seas is left to captains under your command. You can give them general orders, like exploring a specific area, going on a raid, trying to abscond with a tradesperson of particular skills and more, and you can even given them specific strategic advice, like try to board the enemy vessels you encounter or pound the heck out of 'em with your cannon and teach 'em a lesson. But the actual nitty gritty is left to each captain.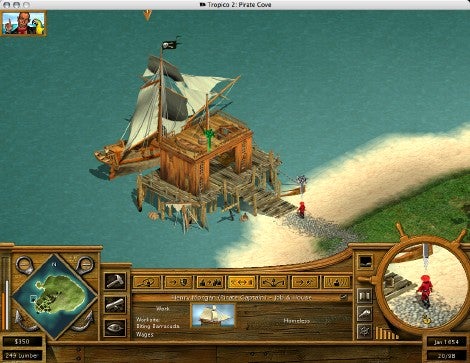 A campaign mode leads you on a rags-to-riches story as the Pirate King: You've escaped a condemned life of toil only to be elected the leader of a burgeoning pirate colony. You may be in charge, but for how long? The brigands who populate this land won't think twice about making you walk the plank if you're not up to the task. Tropico 2 also features the ability to play single scenarios with a specific goal in mind, such as plundering a certain amount of treasure in a specific time frame.
Finally, there's also a Sandbox mode that lets you customize your island's topography, vegetation, the stability of your pirates and captives, game lengths and goals. you can also choose one of more than a dozen and a half different pirates from myth, legend and fiction (everyone from Anne Bonney to William Kidd is represented) — each with unique management styles and strategic strengths and weaknesses. You can also create a Pirate King of your own liking, if you prefer — balancing specific attributes depending on what you think is important. It isn't the same as Sandbox modes you might find in other games, because there's still an ultimate goal and a set duration, but it's a ton of fun.
A tutorial mode gets you up and running and understanding the basics of how your island works, all through the lyrical brogue of your trusty mate Smitty. Smitty also can optionally help you during normal gameplay, alerting you of specific problems you might be having and offering suggestions for how to deal with them. "To shiver me timbers, we must have timber," he points out, for example.
Graphics, sound and music are all improved over Tropico 2's predecessor, with up to seven levels of magnification depending on your graphic card's capabilities, a soundtrack rife with Caribbean music and little details that both interest and engage you as you play.
MacSoft took its own sweet time getting Tropico 2 to the Macintosh: It's been out for the PC since 2003. The good news is that Westlake — which was acquired by MacSoft shortly after this port was completed — has done a competent job on the conversion — it ran quite well on a Tiger-equipped G5. Tropico 2 demands a G4/800MHz or faster Mac with Mac OS X v10.2.8 or later and a 32MB video graphics system — enough for flat panel iMacs and eMacs to handle the game with ease. Tropico 2's age doesn't diminish the game's playability at all, especially since there's no online multiplayer component, so you don't have to worry about pitting your newbie skills against more experienced PC gamers. The game is rated T for Teen by the ESRB, because of suggestive themes and violence.
The Bottom Line Tropico 2 is the kind of simulation-based strategy game that lets you lose hours, if not days, making sure every element of your empire runs well. If the idea of being a Pirate King appeals to you, make sure to check it out.