At a Glance
Expert's Rating
Pros
Comprehensive statistics
Nested journals
Blogging support
Encryption
Smart quotes
Full-screen mode
Inspirational Taco
Automatic lists
Cons
Differences between this version and free version (version 2.6) may not justify additional cost
Our Verdict
MacJournal 3.1 allows you to maintain multiple journals (including text or rich media, such as images, audio, and movies) inside a straightforward interface. It's been a personal favorite since I first reviewed the free, shareware version 2.1 in 2003 ( ). This new commercial version, MacJournal 3.1, offers some convenient new features, such as nested journals, auto lists, and full-screen mode, but they may not be enough to justify the price. (Version 2.6, although not actively developed, continues to be available for free directly from creator Dan Schimpf ).
You can now nest journals inside other journals (for example, a journal devoted to client notes could have a subjournal for each client). MacJournal also offers some new formatting options, including smart quotes, automatic list numbering, and a new Highlight toolbar button that lets you quickly highlight text. You can add wiki-style links to other entries (for example, you can easily convert the word MyNote to a link to the MyNote journal entry), or links to external files or Web sites.
A new full-screen mode displays your current entry over the entire screen (not like full-screen mode in Word, for example, which leaves your menus and Dock visible). The default appearance is green text on a black background. It looked like a throwback to the early DOS days except for my chosen font, but you can customize the appearance in the program's preferences.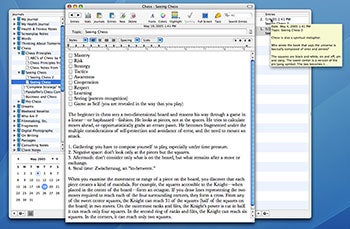 The commercial version of MacJournal offers a number of enhanced features, including nested journals, smart quotes, and auto list detection. (Click image to open full screenshot)
Finding your entries is easy enough. You can quickly search entries, but Spotlight doesn't index them unless you choose to save them as text backups. A Calendar view highlights days that contain entries so you can navigate to your entries by date, and you can search for an entry in a range of dates just by selecting them on the calendar.
And MacJournal retains one of my favorite features: the inspirational Taco. Clicking on the Taco brings up an inspirational quotation from The Simpsons TV show, such as "You can't keep blaming yourself. Just blame yourself once, and move on." If you want something more highbrow, you can receive inspiration from Shakespeare by holding down the Option key when you click.
You can protect your journals with a password to keep them from prying eyes, or keep them top secret by encrypting them with 256-bit encryption, which is strong enough for the National Security Agency. But if you want to share your thoughts, you can easily export journals to a .Mac account or post entries to your blog using LiveJournal, Blogger, WordPress, or MovableType. And MacJournal exports to text, Rich Text, HTML, Word, or MacJournal format files.
Macworld's Buying Advice
The added features in the commercial version are welcome additions—and worth the upgrade price for devoted MacJournalists—but some users may find the freeware version enough to meet their needs.
[ Robert Ellis is a freelance writer and frequent contributor to Macworld . He's been keeping a dream journal using MacJournal since 2002, and publishes the blog Futurosity.]