Apple's iPhoto 5 is anything but another ho-hum digital shoebox. You can use it to create an efficient workflow for managing all your pictures. No more fumbling with folders of obscurely named pictures—iPhoto takes images directly from your camera and presents them to you in an orderly manner. From there, you can do just about anything with them: make prints, build Web pages, create slide shows, and more.
Understanding and using iPhoto's organizational tools will help you get the most out of the program's creative side. I'll show you how to enhance your photos, as well as how to use iPhoto to sort them so they're ready when you need them for any type of output.
Take Control of Your Collection
Do you spend all your time scrolling through your image library looking for shots you need? Just like a garden, a photo library left untended can quickly become overgrown and uninviting. Unless you instill order early and often, you're likely to spend as much time searching for a photo as you do polishing it.
Before the days of digital photography, I used a light box to sort my slides. I'd lay them out side by side on the glowing surface and, with magnifying loupe in hand, rate each image by putting one, two, or three dots in its lower left corner. Great shots had three dots; outtakes, one dot. iPhoto lets you use this procedure on your Mac—but makes it even better. You can not only assign ratings, but also use those ratings as filters to keep your favorite images within easy reach. It takes just a minute or two, and the rewards are well worth the extra effort.
After you've uploaded a new batch of images, click on the Last Roll icon in iPhoto's Source list (on the left side of the interface). All the pictures you just transferred from the camera will appear in the photo-viewing area. Create a new album by clicking on the plus-sign (+) button in the lower left corner of the iPhoto window. Give the album a logical name. Now go to Edit: Select All. iPhoto will highlight all the pictures you just uploaded. Drag them into your new album, and you're ready to sort.
Cast a Critical Eye One of the best ways to sort your images is by their star ratings. You have your five-star award winners at the top of the album and your one-star duds at the bottom. This is a huge time-saver for future projects. Instead of having to open each picture in Edit mode to see whether it's the good one, you can find out just by breezing through the thumbnails and looking at the images' star ratings.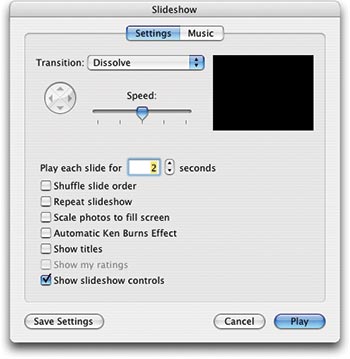 Slideshow Settings View your album as a slide show, and use the Slideshow controls to rate your pictures as they appear on screen.
iPhoto's slide-show controls are perfect for quickly assigning ratings. The slide show presents each picture at full screen so you can get a good look at it, and you can use the slide-show controls to rate the images as you view them. That way, you don't have to click and scroll from picture to picture.
To enter Slideshow mode, click once on your album title to highlight it—or select Last Roll if you just imported the images—and then click on the Play triangle beneath the Source list (not the big Play button on the Slideshow toolbar). The Slideshow dialog box's Settings pane will greet you. Deselect all the slide-show options except Show Slideshow Controls. You don't want anything fancy for this presentation, just a good look at the pic-tures and a way to rate them. I usually choose 2 Seconds for each slide, but I'm speedy (see "Slideshow Settings").
You'll notice that the control bar lets you pause or play the slide show; go to the previous or next slide; and rotate, rate, and delete the image on screen. To rate a picture, simply click on the dots to assign a star rating. (Once you click, the dots turn into stars.) Don't fret over this for too long—you can always change your mind later. Just go with your first reaction. Remember, the object here is to move fast and assign a first-impression rating. You can even save yourself the extra mouse click by assigning star ratings from the keyboard. Press Command-1 for one star, Command-2 for two stars, and so on.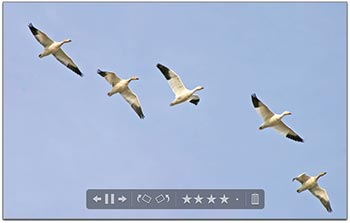 Fly through Ratings When you use a slide show to evaluate your pictures quickly, you not only get to see much bigger images, but also can rely on your gut reaction to their quality. This image got four stars because I really like it. (Click image to open full screenshot)
One advantage to this method is that the slide show gives you big pictures to evaluate. The images appear at a higher resolution than they do in the little preview thumbnails or even in Edit mode (see "Fly through Ratings").
When the slide show ends, you'll be returned to the main iPhoto window. Make your ratings visible under your thumbnails by going to View: My Rating. Now you can easily see the best shots without having to open each in Edit mode (see "Star Shots"). Even better, go to View: Sort Photos: By Rating, and your very best thumbnails will appear at the top of the album.
Use Some Smarts iPhoto also lets you organize your image library by grouping similar photos from different film rolls into smart albums. Similar to iTunes' smart playlists, iPhoto's smart albums automatically build collections based on all sorts of criteria, such as date, file name, comments, and so on. I recommend building a smart album that contains all your best pictures. Just think, when it's time to make holiday books for the relatives, if you have a "Best Shots" smart album, for instance, you can just open it up instead of scouring your collection for decent photos.
Star Shots By selecting View: My Rating you can see how many stars you've assigned to each picture in thumbnail mode. You can take this even further by choosing View: Sort Photos: By Rating. The thumbnails will be rearranged with your favorite shots at the top. (Click image to open full screenshot)
Start by holding down the option key. The plus sign (+) in the lower left corner of the iPhoto window will become a small gear symbol. This is the Smart Album icon. Click on it. In the dialog box that appears, name your album and choose My Rating as the condition. Use Is Greater Than, and click on three stars. Then click on OK, and iPhoto will instantly build a smart album containing all the pictures from your library that have a four-star or higher rating (see "Only the Best").
Enjoy a Daily Display Now that you've located your best photos, why not enjoy them all the time? To show off your photographic prowess, open System Preferences and go to the Desktop & Screen Saver pane. Click on the Screen Saver tab, and select your new smart album from the list. You've just created a dynamic, automatically updating screen saver of your prized images. I bet you'll catch plenty of people slowing down as they pass your desk.
Don't Use Bad Data
Now that you've found your best shots, it's time to edit, right? Not quite. The weak link in any image-editing routine is the monitor. The colors on a monitor shift over time—and there's little point in editing if the on-screen colors aren't the colors you'll get in print. You'll get much better results if you spend a few moments adjusting your monitor before you fiddle with your pictures.

Only the Best You can use iPhoto 5's Smart Album feature to create an album that contains only your favorite pictures.
If you're already using a screen-calibration device, such as ColorVision's $299 Spyder2Pro ( ), you're in great shape. (To see a comparative review of screen-calibration devices, go to macworld.com/0488.) But if you aren't, you're still in good shape. OS X includes some handy built-in tools that can get you off to a good start. They're worth exploring before you get into serious photo editing.
The 3-Step Makeover
Now it's time to take your best pictures and make them better. You can use an external image editor, such as Adobe Photoshop Elements 3 ($90). (Choose iPhoto: Preferences and select the Double-Click Photo option to set the default image editor for your photos.) However, thanks to the new Adjust palette, there's plenty you can do without ever leaving iPhoto 5. In fact, iPhoto now includes many of the tools, such as a Levels histogram and color-correction tools, that you once needed an external editor for. ( Click here for an Adjust-palette primer.)
I'll walk you through the process I use to adjust pictures. Every image is a little bit different, so pay more attention to the steps I take than to the settings I use. While I may increase the saturation in this example, I might decide to decrease it in another image. Adjusting the saturation is the step, but how you adjust it depends on the image and your aesthetics.
To improve an image, select it in the library, click on the Edit button, and then click on the Adjust button. Now you're ready to take the three simplest steps to image enhancement:
1. Examine the Exposure Take a look at my image of a heron (see "Steps to Perfection"). The overall tones are "flat"—meaning that the middle tones dominate this scene: there isn't much highlight or shadow detail. The Adjust palette's histogram, to the right of the original shot, confirms this: bars representing the tonal information are bunched up in the middle ( A ). What I'd like to see is a tonal scale that stretches more evenly from shadow detail (on the histogram's left) to highlights (on the right).

Steps to Perfection The original image of the heron suffers from flat colors and soft image details ( A ). To improve it, I adjusted the Levels slider ( B ) to create stronger shadows and highlights; then I tweaked the Temperature ( C ) and Saturation ( D ) sliders to improve the color. Finally, I sharpened the image ( E ). (Click image to open full screenshot)
First, I dragged the Exposure slider a little to the right, to move more of the data to the center of the histogram. Then I could've either used the Contrast slider to spread out the tones, or moved the shadow and highlight endpoints inward ( B ). I chose the latter for this picture. I didn't want to bring the endpoints all the way out to the edges of the histogram, because things would still be changing a bit with the next few adjustments, as you'll see.
2. Correct the Color I took this picture on an overcast day, so the tones are a little "cool" (or bluish). I warmed them up by moving the Temperature slider a little to the right ( C ). I also wanted more saturation, so I dragged the Saturation slider to the right to intensify the colors ( D ). You may notice that the temperature and saturation adjustments pushed the bars in my histogram a little to the left. I readjusted the highlight and shadow endpoints again, using both the histogram and the colors in the image as a guide. (If the process of adjusting colors seems intimidating, and if your photo includes a neutral gray tone, you might be able to have iPhoto do the work for you. See "One-Click Color Correction.")
3. Sharpen Up Then it was time to sharpen up the image. I moved the Sharpness slider a little to the right until the picture was nice and crisp ( E )—don't drag it too far, or your images will have an unpleasant "digital" look.
If you want to peek at the original any time during the editing process, hold down the control key—iPhoto will reveal it. That way, you can tell whether you're going in the right direction with your adjustments.
When you like the way your picture looks, either click on the Done button or simply click on the next thumbnail at the top of the editing window. iPhoto saves your changes. Don't be concerned if you change your mind and decide that you don't like the edits you've made—choosing Photos: Revert To Original at any time will take you right back to square one.
You can bring out the best in any photo in your library just that quickly.
Crop for Printing
Since your photo is looking so darn good after these adjustments, you might decide to make a print right now. To make sure the image is positioned correctly, crop your photo to the same proportions as the paper you'll be using.
Let's say that you're going to make a 4-by-6-inch print. Return to Edit mode and select 4×6 from the Constrain drop-down menu on the iPhoto toolbar. The edges of the images that don't fit will be grayed out. Enlarge or reduce the cropping area by clicking on and dragging any corner. Once you've set the cropping area, click on the Crop button, and iPhoto will trim the excess. When the image comes out of the printer, it will be composed in the same way it appears on your Mac's monitor.
If you plan on printing your picture in different sizes and proportions, you may want to duplicate it before cropping (Photos: Duplicate). It's true that you can always return to the original image if you want to undo the cropping, but you'll also lose the image edits that you worked so hard to perfect. Duplicating the photo before cropping is more efficient.
Pretty as a Picture
Just a short while ago, you had a camera full of digital images and no real procedure for dealing with them. Now you've uploaded the pictures, rated and organized them, adjusted your favorites, and cropped them to fit your output medium—and you're ready to enjoy the fruits of your labor. You did it all within iPhoto 5, and it was almost as much fun as taking the pictures in the first place.
[ Derrick Story coauthored iPhoto 5: The Missing Manual with David Pogue (O'Reilly, 2005). He's the editor of O'Reilly's MacDevCenter.com , and he runs his own photo business .]
One-click color correction
Adjusting the histogram can mean fiddling endlessly with the Temperature and Tint sliders to get colors right. If you don't have the patience for that, you might be able to get iPhoto to make the adjustments for you. The trick is to use iPhoto's Auto Gray Balance tool.
Search your picture for an area that should be a medium to dark gray. Hold down the Command key, and click on that area of gray. iPhoto will automatically adjust the tint and temperature for the entire picture. If you don't like the results, click on the Reset Sliders button at the bottom of the Adjust palette, or use the Undo command (Command-Z), and the image will revert to its original colors.
I sometimes try a few different gray areas and pick the results I like the best. When this trick works, the results are amazing.
Should you go raw in iPhoto?
One of iPhoto 5's most talked-about additions is the ability to process Raw files. But just because iPhoto can handle this format, does that mean you ought to use it? Understanding the differences between Raw files and processed JPEGs will help you decide.
JPEG versus Raw Most compact digital cameras capture picture data, process the information right away, and write it to the memory card as a JPEG. Equipment manufacturers have worked hard to perfect in-camera processing, so data is transformed into a pleasing photograph. Conveniently, JPEGs are also compressed, so you can squeeze more of them onto a memory card.
Advanced cameras (in other words, expensive ones) often let you save image data in a Raw format as well. Unlike JPEGs, which are written to the memory card as "whole pictures," raw images aren't processed at all. You do that later on your Mac, using additional software. Before iPhoto 5, you had to use Adobe's Camera Raw—included with both Photoshop CS2 and Elements 3—or the program that came with your camera to convert this raw data into a photograph. Now iPhoto 5 offers similar tools.
Unlike with JPEGs, where you essentially reprocess the images when you edit them, every time is like the first with a Raw file. There's no image degradation. The downside is that raw images are much larger than JPEGs. A high-quality JPEG from a 6-megapixel camera takes up about 2MB. When saved as raw data, the same image takes up more than 8MB. Time to start shopping for memory cards!
The Right Quality Do you need this level of quality and control for snapshots of Aunt Susie's birthday party? Probably not—that is, unless you plan on making a 20-by-30-inch poster of her blowing out the candles. In most cases, you can continue letting your camera do the photo processing, and focus instead on taking great shots.
When you want the highest quality and most accurate color balance possible—as well as the flexibility to change your mind later—consider using the Raw format. See whether iPhoto supports your camera and click here for more information about the Raw format.
iPhoto keyboard shortcuts
Want to really speed up your iPhoto workflow? Take the time to learn these handy shortcuts. Cut out this list and keep it nearby while you work.
Press These Keys
To Do This
Command-,
Open iPhoto's Preferences
Command-N
Create a new album
Command-option-N
Create a new smart album
Command-I
Get information about a selected photo
Command-shift-B
Batch-change selected photos
Command-R
Rotate selected photo(s) counterclockwise
Command-option-R
Rotate selected photo(s) clockwise
Command-D
Duplicate photo
Command-shift-E
Export selected photo(s)
Command-shift-T
Toggle titles shown in thumbnail view
Command-shift-K
Toggle keywords shown in thumbnail view
Command-shift-F
Toggle film rolls shown in thumbnail view
Command-shift-R
Toggle ratings shown in thumbnail view
option-click on the triangle
Show or hide all photos within the film roll next to any film roll
click on the film-roll icon
Select all photos within that film roll
Command-] (right bracket)
Go to the next photo's Comments field when editing text
Command-[ (left bracket)
Go to the previous photo's Comments field when editing text
press 1 while in Edit mode
Zoom in to 100 percent (one pixel on screen equals one pixel in photo)
press 2 while in Edit mode
Zoom in to 200 percent (two pixels on screen equal one pixel in photo)
press 0 while in Edit mode
Zoom out to normal Edit-mode size for photo
right arrow
Skip to the next photo while in Edit mode
left arrow
Skip to the previous photo while in Edit mode
double-click on photo
Open photo in preferred image editor
Command-Z
Undo last action
Command-shift-delete
Empty Trash