One of the great things about digital photography is that you can choose to print only the photos you truly love—and then leave the other 20 shots of your cat perched precariously on the windowsill stored safely away for posterity. Far too often, though, even our best pictures never leave the confines of our computers. But if you have an Internet connection and a few minutes, you can turn your great shots into finished prints—without a photo printer, and without even leaving the house. Just upload them to an online photo-printing service and place your order.
There are a lot of online photo services out there, but there can be a huge difference in results from one online photo finisher to the next. To find the best option, I took a look at nine online photo ser-vices: Kodak EasyShare Gallery, Mpix, PhotoCheap, PhotoWorks, Shutterfly, Snapfish, Wal-Mart, Webshots, and the Order Prints option built into Apple's iPhoto 5. I sent five different images to all of the services and then asked a jury of Macworld editors to evaluate the prints' image quality. I incorporated their opinions into my overall evaluation of the services.
While I was hoping to find a clear winner that always produced superior prints, the frustrating truth is that most services produced good prints at some times and bad prints at other times. However, once you weigh price, speed, ease-of-uploading, and a few other considerations, some services stood out from the pack—in particular, Snapfish.
Submitting Your Images
All the services I tested accept JPEG files, the standard format for digital cameras. Mpix, PhotoWorks, Wal-Mart, and Webshots also accept TIFF files. However, since TIFF files are substantially larger than JPEGs, they take much longer to upload. Unless you're printing a large image and are extremely picky about image quality, I recommend sticking with JPEG. If you're shooting in your camera's Raw format, you'll need to convert the images before uploading them to any photo service. iPhoto 5 does this automatically during the upload process.
Uploading With the exception of iPhoto 5, which handles uploading for you, all the sites I tested let you upload images via a Web interface. However, I don't really recommend doing so unless you have only a few images or are looking for a tedious way to pass the time. Having to locate each file one by one is cumbersome. What's worse, you can upload only small batches of images at a time—which can make for a very time-consuming process. But while none of the Web interfaces were a pleasure to use, PhotoCheap's clunky, and at times confusing, Web site was the worst of the lot.
To make uploading easier, Kodak, Mpix, PhotoWorks, Shutterfly, and Snapfish offer either stand-alone applications or browser plug-ins. Kodak, PhotoWorks, and Snapfish take the lead here; their well-designed upload tools let you simply drag and drop files from the Finder (see "Painless Uploads").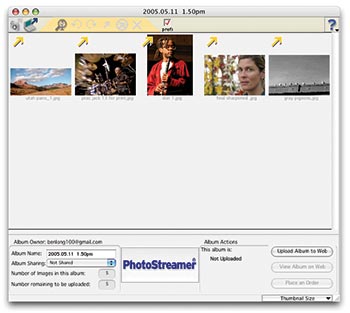 Painless Uploads PhotoWorks' stand-alone client makes it easy to upload large batches of images to specific albums. You simply drag and drop images from the Finder and then click on the Upload icon.
(Click image to open full screenshot)
Sharing One great advantage a Web-based photo service has over your local photo developer is that it lets you share your prints with others. All these services let you create online albums, fill them with images, and then send announcements to friends and relatives. Guests can look at your images and even order prints of their own—saving you the hassle and expense of creating and mailing duplicate pictures to multiple people. Most sites will leave your photos up indefinitely as long as you order prints at least once a year.
All but one of the services I looked at offer very good sharing services: PhotoCheap forces you to upload your images a second time, to a separate area designated for sharing. iPhoto's built-in sharing option requires membership in Apple's $99 .Mac service, and it doesn't allow visitors to order prints. However, some iPhoto plug-ins will let you upload your images to a dedicated photo-sharing service; for instance, Fraser Speirs's free FlickrExport uploads photos to Flickr.com.
Preparing Your Order
Just as your local photo lab provides a variety of printing options—from glossy paper to artsy borders—many online photo services let you customize your order; some offer an astounding array of options.
Print Sizes and Finishes All the sites I tested offer the basic print sizes—including 4 by 6 inches, 5 by 7 inches, and 8 by 10 inches. Mpix offers the greatest variety of sizes, with 20 choices ranging from wallet size to 20 by 30 inches. PhotoWorks offers the largest size: 24 by 36 inches.
However, depending on the size of your files, not all of these options will be practical for your images. If you try printing a two-megapixel image at 8 by 10 inches, for example, you're going to be sorely disappointed with the results; the image will likely suffer from blocky details and fuzzy compression artifacts. All these services provide guidelines that explain how many pixels you'll need for specific print sizes (see "Counting Your Pixels" ). And all but Mpix and PhotoCheap will warn you if you don't have enough pixels for the job.
In addition to standard glossy prints, Mpix, PhotoCheap, PhotoWorks, Shutterfly, and Snapfish offer a matte option. PhotoWorks and Shutterfly also offer a Canvas option. The texture of matte papers can vary—some are more pebbled than others. One editor on our panel of jurors, for example, disliked the matte finish from Mpix; he thought it made the image look blurred. I recommend ordering a small sample before committing to a big matte order.
Cropping to Fit Traditional photo sizes, such as 4-by-6-inch and 5-by-7-inch prints, were created to accommodate the 3:2 aspect ratio of 35mm film. However, most digital cameras use a 4:3 aspect ratio—the same as a TV screen. (Digital SLRs, such as the Canon Digital Rebel, are an exception here. They usually shoot at 3:2.) Because of this discrepancy, most digital images won't fit traditional print sizes without cropping. If you forget, some of the services will crop for you—though not with any real thought given to the composition of the image. Others will leave white borders along the sides of your image.
Of the sites we tested, Mpix, PhotoWorks, Shutterfly, and Wal-Mart provide the most flexibility when it comes to cropping or zooming. All offer easy-to-use controls that can be applied either to an entire batch of photos or on an individual basis. Kodak also provides good cropping controls that let you crop each image separately—to either predefined or custom sizes—but it doesn't work in Safari. You'll need Microsoft Internet Explorer or Mozilla's Firefox.
PhotoCheap doesn't offer Mac-compatible cropping features. Instead, it gives you the option of printing at a 4:3 aspect ratio, such as 4 by 5.3 inches. PhotoWorks also offers special 4:3 sizes, including 3.75-by-5-inch and 4.5-by-6-inch prints. These options save you the trouble of cropping. However, the prints won't fit a standard picture frame. That's not as much of a problem as it used to be, thanks to online frame vendors, such as Framesbymail.com, which provide 4:3 frames.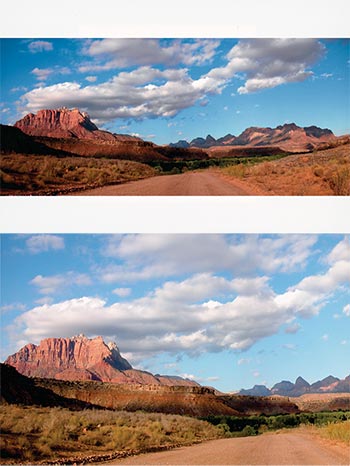 Going Wide When you order odd-sized images, such as this panorama, PhotoWorks gives you the option of fitting the entire image on the paper. Mpix, however, automatically crops to fit.
(Click image to open full screenshot)
At the bottom of this pile are Snapfish and Webshots—neither of which provides zooming or cropping controls. Surprisingly, iPhoto also offers weak support in this area. Unlike the other online services, iPhoto gives no warning if your images don't fit your chosen print size. And once you're in the ordering process, there are no zooming or trimming options. You must have your images properly cropped and adjusted before you click on the Order button.
If you have any panoramic images, or if you've cropped your pictures to a different aspect ratio—say, to fit a square frame—you'll want to have the service letterbox your photo so the entire scene fits on the page, rather than cropping (see "Going Wide"). Of the services I tested, only Mpix didn't offer such a feature.
The Waiting Game
Delivery times differ greatly from service to service. And because of your geographic location, you may find that your delivery times differ from ours. When I had prints shipped to my office in San Francisco, I got the fastest results from Kodak and iPhoto (not surprising, since Apple uses Kodak for iPhoto prints), which delivered the prints to my door the next day. Most services delivered within two or three days. The slowest responses were from Webshots and PhotoCheap; their photos took six and eight days, respectively. In all cases, the prints were sturdily packaged and arrived intact.
If speed is of the essence and you live near one of Wal-Mart's more than 3,600 outlets, Wal-Mart may be your best option. The company lets you upload your photos from your computer, prepare your order, and select a store, and within an hour your prints will be ready for pickup at your chosen location. You'll also avoid the shipping charge.
Image Quality
Of course, the true test of any photo service is the quality of its prints. I submitted a variety of images to each service, including a bright landscape shot, a couple of indoor portraits, a low-light test, and a black-and-white image (see "Proof in the Print"). Although no single service gave me the best version of every print, I did find some clear winners and losers.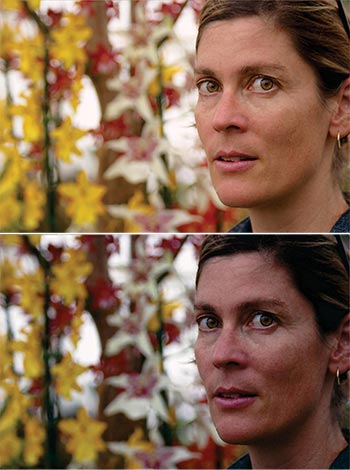 Proof in the Print Image quality can vary dramatically between services. This is the same image printed by Mpix (top) and by Webshots (bottom).
(Click image to open full screenshot)
Overall, Snapfish sent the best images. Its prints all had good exposure, contrast, and detail. The saturation was nice, too. Mpix, which also handled exposure and brightness very well, was a close second. Despite being the slowest service and offering the fewest features, PhotoCheap's prints were good overall but slightly low on contrast and saturation.
As Macworld has seen in past reviews of photo services ("Turn Pixels into Prints," June 2002, and "Hot Shots," October 2003), there was a slight difference in quality between prints ordered from iPhoto and prints ordered directly from the Kodak site, despite ostensibly coming from the same place. Kodak's print was slightly better than iPhoto's, but the differences were subtle, and both delivered good results overall—though not as strong as results from Snapfish or Mpix.
The worst of the bunch was Webshots. Its photos were consistently dark, low on contrast, and just plain dingy. Although not as bad as Webshots, both PhotoWorks and Wal-Mart also yielded images that were a little too dark.
The most difficult service to judge was Shutterfly. It provided an almost even balance of acceptable and unacceptable prints. Although no service provided perfect prints for all of my samples, Shutterfly was more varied in quality than any of the others. Before relying on any of these services for a huge order, I recommend trying out a few shots and judging the quality for yourself.
Macworld's Buying Advice
For getting the best print quality possible, Snapfish and Mpix are my services of choice. While Mpix offers an amazing array of sizes, Snapfish's excellent image quality and Mac-friendly interface make it the all-around standout.
If ease of use is your top priority and you already own Apple's iLife suite, iPhoto is your best bet. Although the pictures weren't the jury's favorites, they will satisfy most customers, and the time you save on uploading images to the Web may compensate. If you absolutely must have your prints right away, Wal-Mart's walk-in service may be appealing. However, you'll get comparable quality by just walking into a nearby photo center. If you go either of these routes, I recommend brightening your images before submitting them.
[ Based in San Francisco, Ben Long is the author of Complete Digital Photography , third edition (Charles River Books, 2004). ]
Note: When you purchase something after clicking links in our articles, we may earn a small commission. Read our affiliate link policy for more details.