Even though the Boston edition of Macworld Conference & Expo pales in comparison to January's CES, and is small even when compared to Macworld Expo San Francisco, that doesn't mean the East Coast show was at a loss for iPod accessories. In fact, some of the best new products at the Expo were aimed not at Macs, but at Apple's "other" product, the staggering-sales-statistics-generating iPod. Here are those that made an impression as I walked the show floor.
Harman Kardon Drive+Play. The most significant new product—judging by the constant line of people waiting to get inside the booth (OK, a nicely equipped BMW)—was Harman Kardon's Drive+Play iPod solution for the car, which the company says should be available in September for approximately $200. Like other systems we've covered or reviewed in the past, the Drive+Play is designed to allow you to play your iPod through your car's stereo. However, the Drive+Play is unique in three ways. The first is its connection flexibility: It can connect directly to any car stereo with an auxiliary input jack (via a standard audio cable); to most stereos with a CD changer connecter (using an optional third-party adapter); or, for those who don't want to go to the trouble of a more complex installation, via the Drive+Play's built-in FM transmitter.
But the two features that had people talking were the unit's screen and its controller. A backlit, 5-line, monochrome LCD display, approximately 4″ x 2.5″ (from memory; I didn't get a chance to measure it), mimics your iPod's own display—when navigating the iPod, it shows the familiar menus, and when listening, it displays track information. The display can be mounted on your dash, on your window, in your center console—anywhere you like. (Although it's connected to the system's main console via a cable.) The system's five-button, circular controller—affectionally referred to as "the knob" by many show attendees—mirrors the iPod's own interface: a large select button in the middle surrounded by forward, back, menu, and play/pause buttons. Instead of scrolling through menus via a Click Wheel, you rotate the knob itself.
Besides the screen and knob—or, perhaps more accurately, because of the two—attendees were excited about the system's ease of use. Unlike most other car interfaces and adapters, which require you to learn an un-iPod-like interface based on your car stereo's own controls, the Drive+Play's controller knob and screen function almost exactly like the iPod's own interface. During our demo, we sat down in the Harman BMW and immediately started navigating menus, choosing items, and playing and skipping songs. My only complaint was that—as with other car solutions and unlike the iPod's Click Wheel—the Drive+Play demo model couldn't accelerate through track/album/artist names; the scrolling speed was constant, no matter how many tracks were on a connected iPod, making it difficult to quickly find a song among several thousand. However, Mike Griffin, president of Harman's Mobile Systems division, told Playlist that the Drive+Play being shown at the Expo was using an early version of the system's software and that one of the company's priorities is to implement some sort of acceleration feature for navigating iPods with large music libraries.
JBL On Stage with Remote. Sharing the booth with the Drive+Play was Harman Kardon's sister company, JBL, which was displaying a new version of the popular On Stage desktop speaker system for the iPod. The updated product, to be priced at $179 and available in September, now includes an RF-based remote control. (The company has licensed Griffin's AirClick technology.) This addition rectifies one of the most common criticisms of the On Stage—the lack of a wireless remote control. (See our review of the original On Stage.)
DLO TransPod for iPod shuffle. Another promising automobile-focused accessory debuting at the show was Digital Lifestyle Outfitters $60 TransPod for iPod shuffle. Like the company's full-size TransPod, the TransPod for iPod shuffle plugs into your car's accessory outlet (a.k.a., cigarette lighter plug) and provides a "docking port"—in this case, a USB plug. When you place your shuffle in the TransPod, the shuffle is charged while the TransPod's FM transmitter broadcasts the shuffle's audio to your car stereo. A backlit LCD display lets you choose any FM frequency from 87.9 to 107.9; you can also store up to four preset frequencies. Two useful features are a line-out jack, for sending higher-quality audio to your car stereo via an audio cable or cassette adapter, and a line-in jack, which lets you broadcast any other audio source to your car stereo via the TransPod. (You can also use the TransPod to charge any other device that can be charged via a USB cable.)
DLO mini fling. DLO also debuted their new $35 mini fling case, described as a "fashion wristlet case for iPod mini." The company told Playlist that the mini fling was designed to fill a gap in the case market: stylish and functional cases specifically designed for women. The mini fling is a standard flipcase, but is available in a number of unique finishes, including mini-matching metallic pink, blue, green, and silver; three "psychedelic" models; and four "crocodile" textures. The inside of the flipcover hosts a small cosmetic mirror, an elastic loop on the back accommodates earbuds or a tube of lipstick, and a matching wrist strap can be used to carry the case.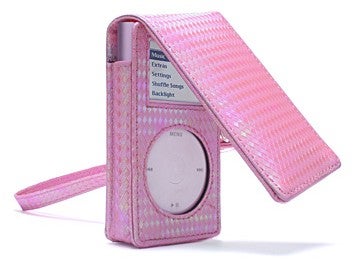 (DLO also gave Playlist a sneak peak at a line of rugged but stylish leather cases—"for guys"—that will debut in the near future. Urban Outfitters fans will want to check these out when they're available.)
Delarew Designs Delapod Accesspak. Speaking of iPod accessories for women, we've got one of Delarew Designs' Delapod handbags in our review queue, but the company announced the addition of AccessPak backpacks to the Delapod line at the Expo. Like the handbag models, Delapod backpacks are made of leather—available in a number of colors and textures—and feature a clear external window that allows you to view the screen and access the controls of an iPod stored inside the bag. The backpack version places the screen on the side of the bag that sits against your back, making it less conspicuous —likely a good approach in these days of iPod-inspired muggings.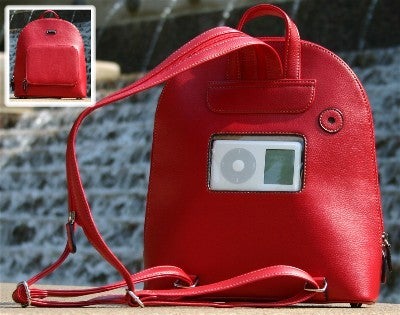 BTI Tunestir. Battery Technology, Inc. was showing off their new $70 iPod Tunestir, a unique product that combines an FM transmitter, FM radio, and iPod remote in a single unit. The Tunestir's 10.5-inch cable plugs into the headphone/remote jack of dockable iPods; the actual Tunestir unit, which measures just over 2.5″ x 1.5″ by .75″ in size (including the cable management clip), includes a set of iPod and radio controls, as well as an LCD display for choosing a listening or broadcasting frequency. A switch on the side of the Tunestir lets you designate which mode to use (remote/transmitter/tuner), and you can store up to 5 transmission and 5 reception FM frequencies
Macmedia ETCHamac. Hidden in the Apple Specialists Showcase was a gem of a product: Macmedia's ETCHamac service for iPods and PowerBooks. You send Macmedia your iPod or iPod mini, along with your choice of text, a logo, or an image, and for a fee of $20 to $50 (depending on the design) the company will use a special laser to permanently etch the design into the back of your 'Pod. The sample iPods on display looked very cool and very professional. (We'll be getting a sample for review here at Playlist.) Alternatively, you can buy a new iPod from Macmedia and have them "etch" the design into the iPod before they ship it to you.
KeychainPod iKeychain. A while back, KeychainPod sent us a few samples of their machined aluminum iKeychain cases for the iPod shuffle. Although we liked the original version—see our review —our biggest complaint was that the headphone jack opening was too small to accommodate many third-party headphones. The company has partially rectified this issue with a new version of the iKeychain that features a much larger headphone opening. The case itself is still too thick to use with L-shaped headphone plugs, but many straight plugs that didn't fit before now do. KeychainPod will also custom-engrave your iKeychain for an additional fee.
Protective Solutions Invisible Shield. Protective Solutions was demonstrating their $25 Invisible Shield products—thin skins to protect against scratches—for full-size and mini iPods. The Shields are made of material from 3M that was originally designed to protect military helicopter blades from abrasive and corrosive substances—so it should be able to keep your iPod scratch-free. Although the instructions for applying the Shields are a bit more involved than applying a sticker to your iPod, the demonstrations being shown by the company's president were impressive: He asked passersby to try to poke a ball-point pen through an outstretched Shield; the Shield stretched over the pen for nearly a foot but didn't puncture. The company also guarantees Invisible Shields against wear and tear for life.
We'll be reviewing these products and many more in the weeks to come; keep an eye on the Playlist Product Guide for the latest in iPod accessories.